Fresh Tracks in Kamas – Utah's Snowcountry
Just east of the busy Park City resorts lies the Kamas Valley and Uinta Mountains, an uncrowded recreational motherlode bursting with Western charm.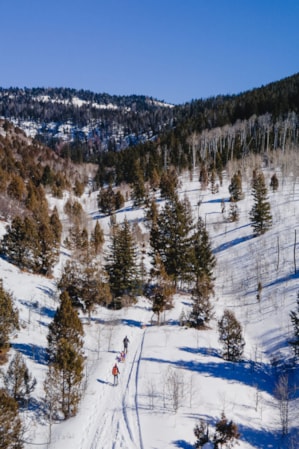 If you were to stand at either of the highest points and gaze eastward of what are arguably Utah's best known ski and snowboard resorts — Park City Mountain and Deer Valley — the view you'd see is a bit like looking into a different world. In the Kamas Valley and Uinta (pronounced you-in-tah) Mountain foothills that's often referred to as the Wasatch Back, instead of manicured mountain slopes, designer boutiques and a raucous nightlife, you'll find this: rolling, sage-covered pastures and the occasional cluster of modest homes framed by craggy, pine tree-covered mountainsides.
A string of small towns — Peoa, Oakley, Kamas and Woodland — dot the Wasatch Back's main thoroughfare, the scenic and single-lane State Route 32. Locals proudly preserved the area's traditional western ranching culture, but have melded it with a deep-seated love for outdoor adventure. And though life commences at a distinctly slower pace than it does in nearby Park City, the things to do within the Wasatch Back offer a different spin on a wintery getaway in Utah's snowcountry, replete with warm authenticity, a rugged wildness and ample elbow room.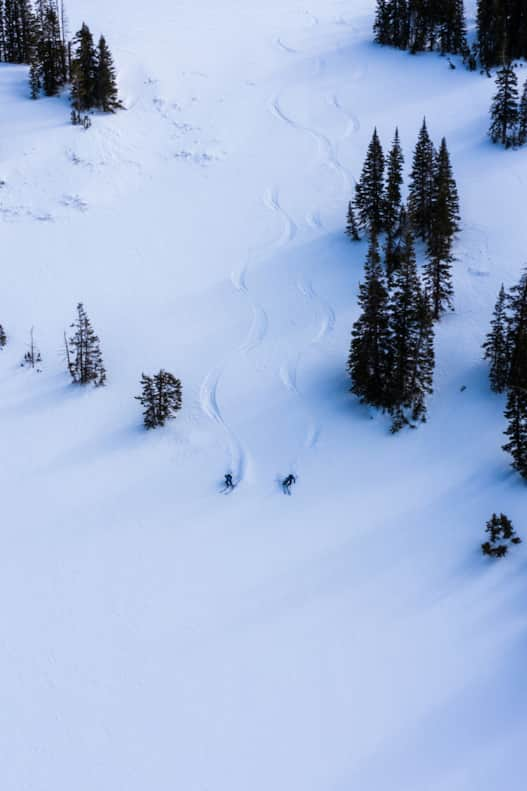 Skiing Outside the Lines
"How about you lead us out, Melissa?"
I'm standing at 10,598 feet above sea level at the top of the wide and sweeping Giant Steps Bowl. A light breeze dances sparkling snowflakes across the unbroken slope descending gently in front me and the rest of the group. A cloudless, endlessly blue sky gleams above our heads. I turn to look at Ron Baldis, our guide and co-owner of Park City Powder Cats, to make sure I've heard him correctly. He gives me a nod and a grin. I turn, point my skis down hill and push off into the cold, knee-deep fluff. (Read: "Deep Powder, Open Bowls: The Best Utah Cat Skiing")
Located on the privately owned Thousand Peaks Ranch, Park City Powder Cats has led guided, snowcat-served skiing and snowboarding into bowls, chutes and old-growth glades adjacent to the High Uintas Wilderness for the last 25 years. My magical day there began at the outfit's rough-hewn-log-cabin base camp just outside of Peoa. (Fun fact: Scenes from the Netflix series "Yellowstone" were filmed there.)
There I met Baldis and the rest of the group I'd be skiing with and was taken through a backcountry skiing safety briefing and equipment check. We then trundled into the spacious and airy cab of the snowcat (a fully tracked vehicle designed to travel on snowy terrain) and were on our way. We saw no one else for the rest of the day, which was filled with an euphoric series of glorious powder runs, all, like Giant Steps Bowl, through deliciously untracked snow.
After the day's final descent, Baldis asked our group if we'd prefer to return to the cabin by riding in the snowcat or by skiing along the Weber River, which runs through the Thousand Peaks' valley floor. The consensus was to return via our own steam. As we poled our way back to where we started the day, I paused more than once to take in the serene contrast of the darkening foothills set off by ridgetops lit with an orange-hued alpenglow.
"As we poled our way back to where we started the day, I paused more than once to take in the serene contrast of the darkening foothills set off by ridgetops lit with an orange-hued alpenglow."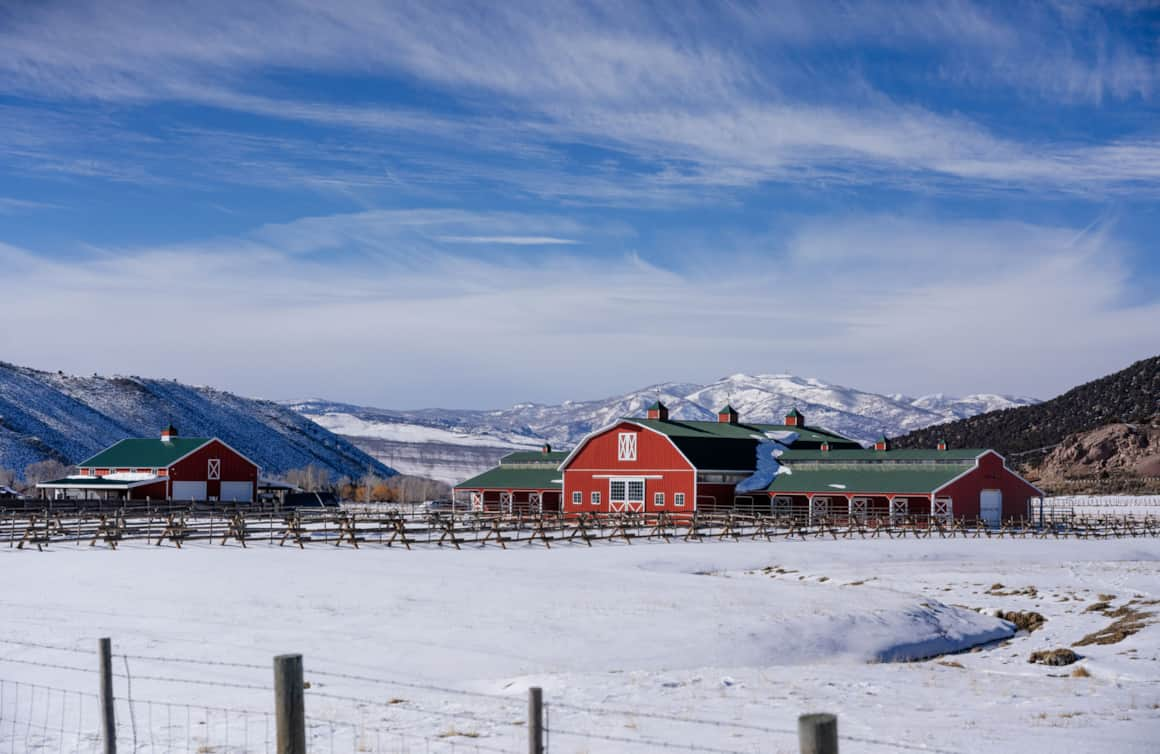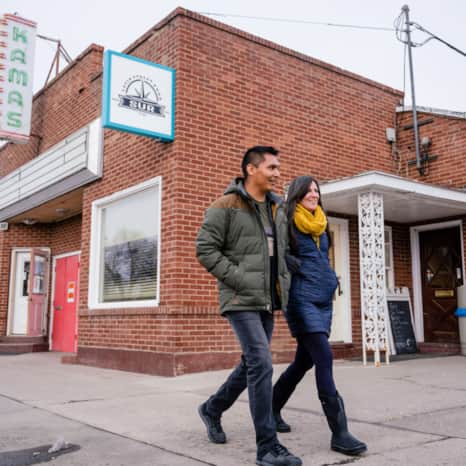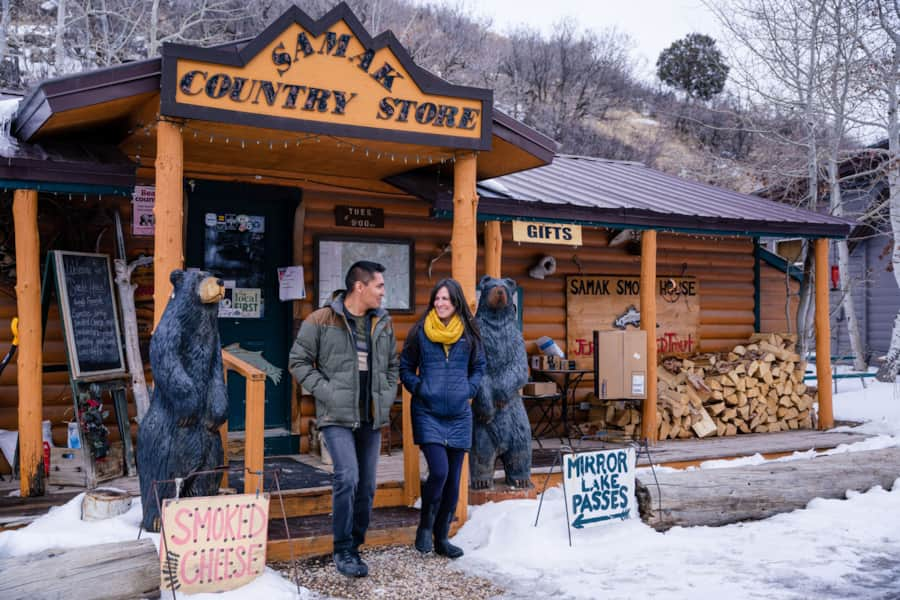 Lower-Skill-Level Snow Immersion
Not all outdoor sojourns in the Wasatch Back have a skills prerequisite, however. A snowshoe hike along one of the many trails off the Uintas' Mirror Lake Scenic Byway is a winter sojourn triple threat. It's a great workout done at a pace allowing maximum nature immersion with a virtually nonexistent learning curve — if you can walk, you can snowshoe.
To get to the Mirror Lake Scenic Byway, travel through Kamas along Main to Center Street. Stop at the Mirror Lake Service-Chevron (2 N. Main Street) for a cup of coffee and a homemade donut; all varieties are heavenly, but the glazed fritters have made this gas station bakery famous.
Continue two-and-a-half miles east along Center Street until you reach the Samak Smokehouse & Country Store (open daily 9 a.m. to 5 p.m.). There you can rent snowshoes, purchase a Uintas' access pass ($6 for a three-day pass) and grab a made-to-order deli sandwich or a bag of house-smoked jerky to throw in your pack for lunch. The staff at the Smokehouse will also happily provide information about one of the several snowshoeing trailheads along the byway just east of the store.
Among the dozen or so snowshoeing routes past the Samak Smokehouse, the gently rolling Beaver Creek Trail is the best for beginners, but is also the most popular. You'll see lots of families there, particularly on the weekends. Be advised that dogs are allowed along this groomed trail on odd-numbered days. The four-mile, out-and-back North Fork Trail is a little less traveled and features pleasantly undulating terrain.
Hands down, my favorite way to end a wintery day in the Uintas is at the family-friendly Notch Pub (Open daily, noon to 8 p.m., and the only restaurant in the area open on Sunday evenings.). Inside this slightly divey, log-cabin tavern — strewn with Christmas lights, signs from long-closed Park City bars and a wood-burning river rock fireplace — you can sip a cold beer and shoot a game of pool while you wait for a well-earned Western Philly, a basket of smoked chicken wings or a rack of fall-off-the-bone ribs.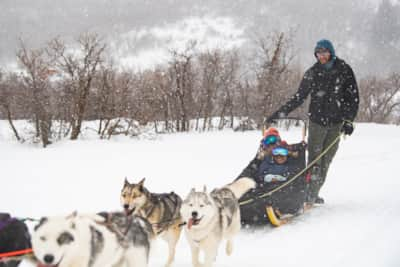 Adventure Steeped in Tradition
Few scenes are a more apt illustration of sheer joy than a team of dogs preparing to pull a dogsled. As the pooches are leashed to the sled's tug line, the air is thick with anticipatory yapping, snarling and whining. Until the handler calls out "Hike!," and the separate personalities are merged into one. The sled jolts forward and the only sound becomes the swish of the sled runners cutting through the snow.
This scene is the daily routine at Luna Lobos, a dogsled kennel just outside of Peoa in Brown's Canyon. There, after meeting the dogs, hearing their stories (every member of the 70-dog pack is a rescue), and perhaps even helping harness them up, you'll be bundled with thick blankets into a lightweight carbon-fiber sled for an exhilarating 90- to 120-minute tour of Luna Lobos' stunning 60-acre property. Or you opt for just a glimpse at how these canine athletes spend their downtime while learning a bit about dog sledding with a hands-on hour-long kennel tour — where lots of cuddling is encouraged. For the chance to met other local huskies, check out the tours offered at Bear Ridge Adventures, where the huskies are hard workers, but they are also friendly and eager to meet guests. Tours run on privately owned scenic land, conveniently located 25 minutes away from Park City. Bear Ridge Adventures is a family run business focused solely on dog sledding, which they believe is a great way to really dive in and get to know more about mushing, the huskies, and dog sledding. They offer authentic tours with a full 10 to 12 dog team.
Another Wasatch Back winter adventure that's steeped in both tradition and solitude is ice fishing. Utah Ice Fishing offers four-hour excursions on Rockport Reservoir, located just north of Peoa along S.R. 32. All the equipment you'll need to angle for lake perch and trout is included — rods, gas-powered ice augers, chairs, snacks, hot chocolate and even a heated ice fishing tent. Choose to keep what you catch (up to two fish per person) or leave plenty for those coming after you by practicing the preferred catch-and-release method.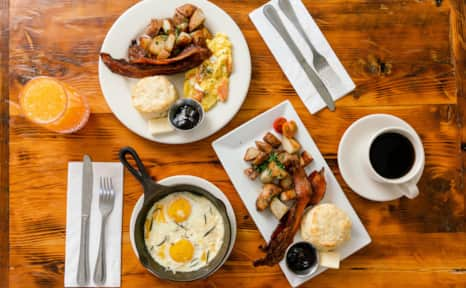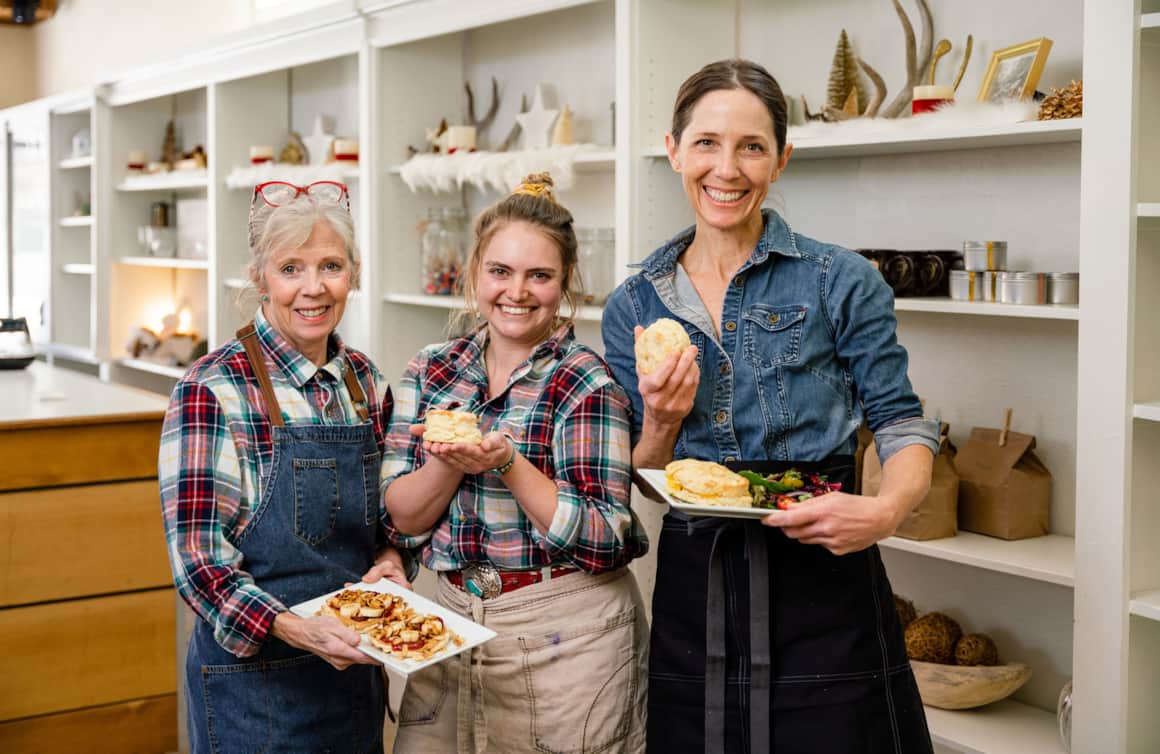 Homespun Sustenance
You'll understand why people drive from all over Utah to breakfast or lunch at the Woodland Biscuit Company, located in the tidily restored Woodland Cash Store. (Open Tuesdays, Thursdays, Saturdays and Sundays; reservations highly recommended.) Most of the familiar but slightly elevated dishes served here are centered around, you guessed it, made-from-scratch biscuits. My favorites include the Messy Biscuit (a fabulous interpretation of a peanut butter and jelly sandwich), the biscuits-and-smoky tomato gravy or, when I'm in the mood for something a bit lighter, the Sweet Miss Jacquie, a big biscuit served with organic strawberry jam, house blueberry jam or honey.
The cheery yellow walls inside the super-casual SUR Latin Street Food in Kamas belie the friendly service and flavorful dishes served there. Though known for their empanadas and tacos, SUR's ceviche is as refreshing as the burritos and fajitas are deliciously filling. Wash it all down with Mexican Coca-Cola or Modelo.
"The things to do within the Wasatch Back offer a different spin on a wintery getaway in Utah's snowcountry, replete with warm authenticity, a rugged wildness and ample elbow room."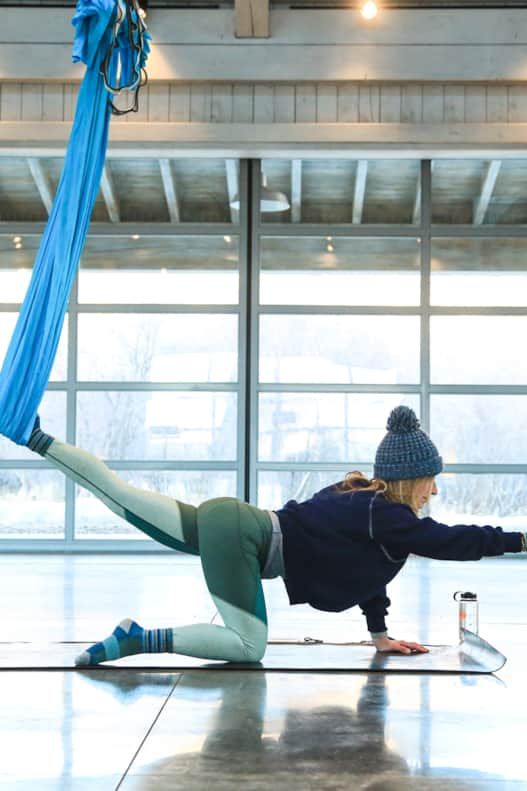 Nature-Imbued Mindfulness
I peer through the silk folds to the skylight above as I sway gently back and forth and watch fat snowflakes meander lazily around the glass pane under a steely sky. "Let your breath take on a natural rhythm," said Julia Geisler, owner of Park City Yoga Adventures. "You can stay here in savasana as long as you want." I contentedly oblige by settling into the hammock, closing my eyes and letting the last bits of tension drain from my body.
At the 4U Ranch in Peoa, Geisler and her staff of outdoorsy yogis lead restorative yoga-in-silk-hammocks sessions within the ranch's heated white-timber-and-glass barn. For the uninitiated, this kind of yoga is done using a soft-fabric hammock suspended from the ceiling as a prop. Geisler guided the class I took through familiar yoga poses — including downward-facing dog, forward fold, pigeon and back bends — all modified to utilize the support of the hammock. I giggled more than once as I got used to using the silk, but then quickly got the hang of it, so to speak, and noticed how much deeper and more soothing the stretches felt supported by the hammock than in a traditional mat-yoga class.
Following the silks yoga session, we bundled up and pulled on snowshoes for a hike along the section of the Weber River bisecting the 4U Ranch. At a clearing along the way, framed by views into a rocky arroyo on one side and bucolic winter pastures on the other, Geisler paused and passed out pottery mugs of hot tea. The conversation made a comfortable pause as we sipped our tea and drank in the view.