Ways to Enjoy Nature and Wildlife
There isn't just one way to enjoy nature and wildlife. Lace up your hiking boots, grab your fishing pole, pack your binoculars and get ready to enjoy a plethora of outdoor and wildlife-focused adventures.
Where to See Wildlife and Nature
In the northern reaches of the state, national forests and wildlife refuges offer incredible opportunities to spot wildlife. In the southern part of the state, check out some of Utah's world-famous national parks for prime viewing opportunities. In the Southern Utah desert, broiling hot summer temperatures mean many animals have unique adaptations to survive. One of these adaptations is being most active when the weather is most hospitable: at night or at dusk or dawn.
In Arches National Park, keep an eye out for lizards, snakes, birds and squirrels during the day, while nighttime offers chances to see kangaroo rats, skunks, ringtails, mountain lions, bobcats, owls and other animals.
Zion National Park is home to a wide array of wildlife with 68 mammal species living there. Keep your eyes peeled for bighorn sheep, mule deer, foxes, rock squirrels, bats and other animals. To see the full array of wildlife, keep an eye out after dark. Due to the hot summer days, many of Zion National Park's animal inhabitants are nocturnal and best seen at night. Mountain lions, bobcats, coyotes and ringtail cats are just some of the park's nocturnal residents. During the day, you may even be able to see signs of their nighttime outings, such as tracks and scat.
Explore Utah's array of public lands for prime wildlife viewing opportunities.
"Any time you're outdoors, you may have the opportunity to see some of the state's over 600 wildlife species, so keep your eyes peeled."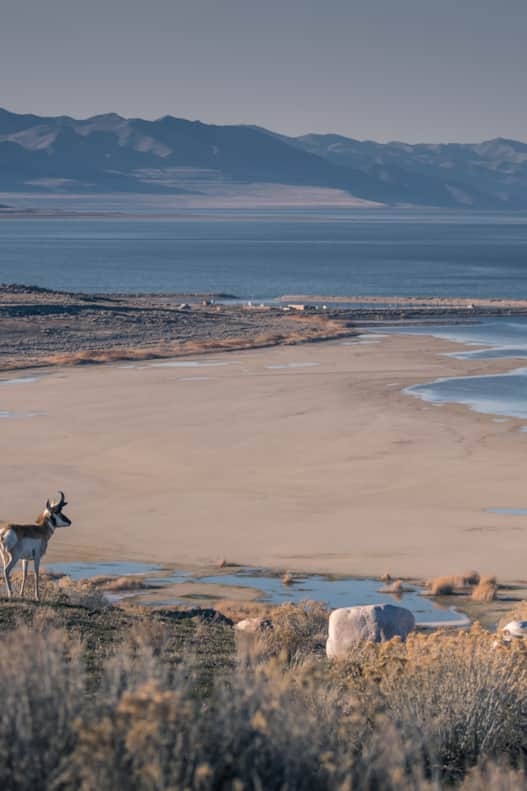 National Parks, Forests and Monuments
Utah is home to world-famous national parks, national monuments, national recreation areas, a national historical park and national historic trails. Zion and Arches national parks and Antelope Island State Park are just a few locations known for good wildlife viewing.
Utah is also home to several national forests, including the very popular Uinta-Wasatch-Cache National Forest.
State Parks
Utah's state parks are the perfect place to see a wild variety of wildlife species.
Check out Antelope Island State Park for a chance to see bison, pronghorn antelope, mule deer, bighorn sheep and countless bird species.
Willard Bay State Park is a good spot to spy nesting eagles during the winter.
Wildlife Refuges
Utah is home to three incredible wildlife refuges.
Bear River Migratory Bird Refuge hosts millions of birds a year, with more than 200 different avian species stopping by.

Fish Springs National Wildlife Refuge in Utah's West Desert, off the Pony Express National Historical Trail, features 10,000 acres of wetlands and incredible viewing opportunities.

Ouray National Wildlife Refuge is an oasis in the desert, and it entices birds from all around.
Things to Know
Before heading out in nature, be sure to prepare for a safe and successful outing.
Safety and Outdoor Ethics
Give Wildlife Space
Never approach or feed wildlife.

Bring binoculars and long-range camera lenses to enjoy the views from a safe distance.

Learn how to stay safe around wildlife.
Prepare for the Conditions
Check the weather before venturing out, but know the weather can rapidly change. Be prepared for a wide mix of conditions. To learn more, visit out Utah weather page.

Be sure to dress appropriately for the conditions, and bring everything you will need including a first aid kit, emergency supplies, sun protection, warm clothes and ample food and water.

Prepare for a safe trip by knowing about possible situations you may face ahead of time (from flash floods to hypothermia and hazard trees) and knowing how to deal with them.