5 Best Ways to View Wild Horses in Utah
Increase the likelihood you will spot these majestic creatures and get the most of your adventure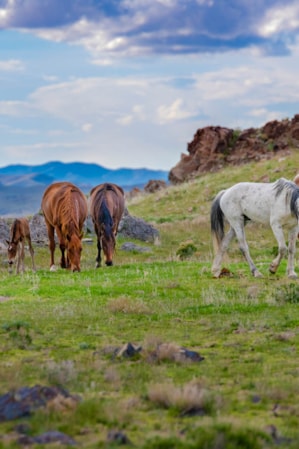 You may think that wild horse herds in the United States are a seemingly rare occurrence, however, in Utah it's quite the contrary. Utah is home to 22 herds of wild horses that graze in desert plains and congregate at watering holes. These herds came into existence in the 1800s when domestic horses escaped from local ranchers and settled into lives of freedom. These mustangs soon came to be considered an indispensable part of Utah's public lands. In 1971, Congress passed the Wild Free-Roaming Horses & Burros Act to protect these horses as "living symbols of the historic and pioneer spirit of the West." Today, these wild horses live in herd management areas (HMAs) around the state.
The opportunities for viewing wild horses are plentiful. Embarking on an adventure to track wild mustangs, however, requires planning, patience and self-sufficiency. Here are five things you need to do to increase the likelihood you will spot these majestic creatures and get the most of your adventure.
"Utah is home to 22 herds of wild horses that graze in desert plains and congregate at watering holes. "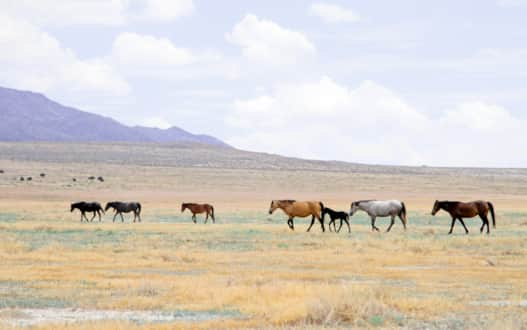 1. Know Your Herd
Wild horse herds are elusive. Unless you know where to look, your mustang-viewing adventure could turn up fruitless. Make sure you read up on wild horse herds and learn all you can about them before you hit the road to get the most of your trip.
In addition to knowing about the herd you are visiting, research horse behavior so that you'll know where to find them. Horses travel the same path frequently, and the careful observer will notice worn-down brush and faint trails.
Watering holes provide the greatest opportunity to observe natural horse behavior. The Bureau of Land Management (BLM) maintains these desert oases, so horses here are more accustomed to humans. Although watering holes are a great place to view horses, they are an integral part of the ecosystem, and visitors should observe respectfully and quietly. Limit your time so that mustangs feel comfortable in this vital environment.
If this is your first time visiting an HMA — or even thinking about wild horses — the Onaqui Herd in Tooele County, one hour west of Salt Lake City, is an excellent starting point. The Onaqui Herd consists of almost 450 horses: two large packs made up of smaller families. Often, this group lives and grazes within sight of dirt roads along the old Pony Express Trail (Read: What Hasn't Been Found). Their roadside accessibility makes them renowned as one of the most photographed herds in the United States.
2. Plan Your Route
In Western Utah, long, sagebrush-filled basins stretch as far as the eye can see, bordered on either side by rolling, velvety mountain ranges. Mustangs graze in these valleys, seeking the oases that pop up in the sun-parched desert. Traveling through these dramatic landscapes is often difficult. Unpaved roads climb up and over mountain passes, while the straightaways through the basins lack shade, getting baked in the summer sun.
Take the time to map out your route before you leave. It's important to look into road conditions so that you have an idea of the types of roads you'll encounter. Most HMAs are located in wilderness areas or wilderness study areas, so motorized travel is limited to established roads. Many HMA routes are along rough dirt roads that often require 4WD and high clearance so you need to make sure your vehicle is up to the task, or choose a different path. It's also important to remember that the areas you will be traveling in are fragile desert environments, so be sure to keep your vehicle on the road to limit your impact on nature.
After you've mapped out your route, visit the BLM field office that oversees the HMA you're seeking. Knowledgeable staff members can provide specific details and maps of the area and may offer valuable insight into recent herd sightings.
Once you're out on those dusty backroads, you'll encounter fences and gates to restrict the movement of both cattle and horse herds. Always check for signs and close the gate behind you.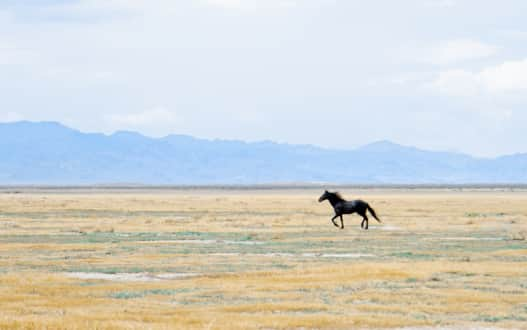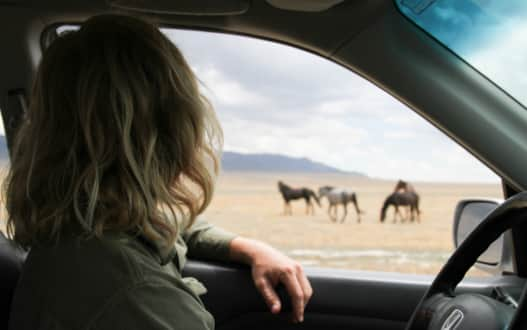 3. Be Prepared
Most of the viewing locations are on very rural dirt roads, so making sure you and your vehicle are prepared for the adventure is crucial. While you can visit the Onaqui Herd as a day trip from Salt Lake, other herds are much more remote. Another large group, comprised of the Conger and Swasey herds, grazes two and a half hours from SLC in the undulating hills beneath Swasey Peak in Central Utah. The Range Creek HMA, three and a half hours from Salt Lake, requires an even more adventurous viewing experience. To catch sight of these mustangs, you'll have to weave through nearly 20 miles of steep dirt roads: past petroglyphs, through forested canyons, and atop windy plateaus.
If you decide to plan a longer excursion into the backcountry, be sure to get your car tuned before you leave, and gear up with extra water, food and gas. Always fill your gas tank in the nearest town — you'll often go miles without seeing a station.
In addition, check recent weather conditions, especially during the winter or the rainy season. Roads often become washed out and impassable after heavy rains, and in the summer, temperatures can rise to over 100 degrees. These high temperatures are not only dangerous, but they decrease horse activity. Stick to mornings and evenings to avoid the midday heat, to get your best chance at sighting these wild mustangs.
Lastly, like any outdoor adventure, tell someone your travel plans and give them a copy of your intended route.
4. Respect Horse Herds
Horses are prey animals, meaning they are instinctively wary of people. You need to allow them adequate space — at least 100 feet or more — and maintain a respectful viewing distance. It's important to treat horse sightings as you would any other wildlife encounter—never get between a mama and her baby, or a stallion and his mares.
As you're viewing the herds, keep in mind that animals have the right of way. It is your responsibility to move if one gets too close. While Mustangs are gentle creatures, they are also quite powerful. If you spook them, they can injure you. Never chase a horse or provoke them for the sake of photos.
Additionally, as cute as they may be, don't feed or pet the horses. They will lose their fear of humans if they begin to associate them with food and close human-wildlife encounters can result in injury or death of either the person or the animal.
Engaging in respectful behavior will not only honor the herd and their home, but you'll walk away with a more enriching experience. If you move slowly and speak in whispers, horses will behave more naturally. Turn your vehicle off when you're viewing horses to help keep the noise down. You'll not only put the herd at ease, but save gas as well.
Side Note: As tempting as it is, you'll want to leave the pup at home for this adventure. If you do end up traveling with your dog, keep them on a leash at all times in the HMA.
"No matter if you are a wild mustang newbie or a seasoned viewer, witnessing horse herds in the vast deserts of Utah can be an exhilarating experience."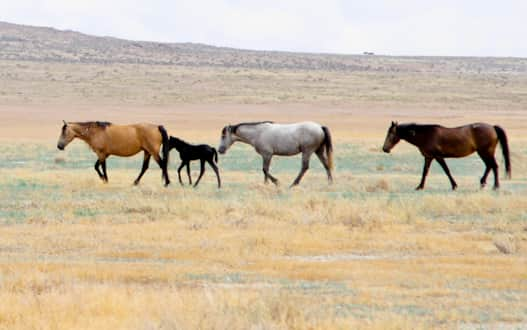 5. Get Great Photos
Up-close photos of wild mustangs are almost guaranteed to be some of your favorite shots ever.
You want to make sure you are prepared for a successful photo shoot. First, you'll need to bring a camera where you can control the shutter speed — a fast shutter speed is crucial, at least 1/1000th of a second. Shoot on shutter priority mode so that you only have to adjust the ISO as necessary. For fast-moving action, shoot in bursts so you won't miss the exciting moments. Most importantly, a telephoto lens can turn a mediocre photography outing into a successful one.
Other times, you'll be shooting the whole herd instead of an individual horse. In this case, expand the focus point range instead of setting a single focus point. For fast-moving horses, use autofocus and set your camera to AF-lock.
Sunset is a fantastic time to get photos of the herds because these horses are active in the evening. Golden light floods the plains and enlivens the landscape. If you aim your camera just right, you may be able to catch a stallion's mane illuminated by the setting sun.
As mentioned above, it is very important not to get too close to any of the horses or bother them when you are taking pictures. Staying a safe distance away and letting them take comfort in their natural environment will give you better results than any selfie, and it's much safer.
No matter if you are a wild mustang newbie or a seasoned viewer, witnessing horse herds in the vast deserts of Utah can be an exhilarating experience. So, study up, map your route and then hit the road in search of these elusive animals.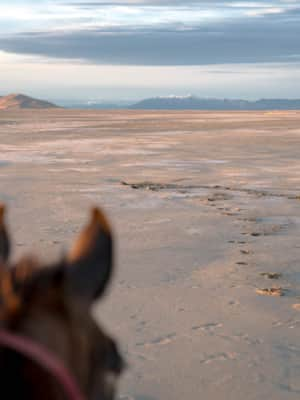 Best Trails for Horseback Riding Within an Hour of Salt Lake City
Here's a list of the best trails for horseback riding within an hour of Salt Lake City, Utah. Note, these five trails are for those with access to horses and trailers.