How to Take a Kayak & Camping Trip at Yuba State Park
Pristine sandy beaches, warm water temperatures all summer long and serene mountain views make Yuba State Park an appealing destination for campers and kayakers in sunny Central Utah.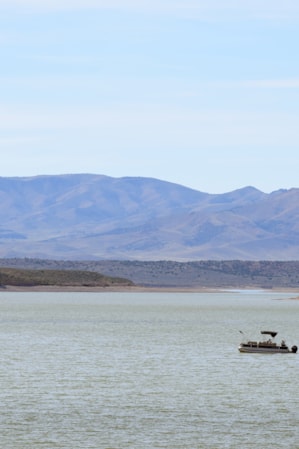 Warm air rolls through the open windows as we turn off the pavement and onto the sandy road bound for the water. There are no road signs, nor highway noise: All is quiet on this small network of twisting roads in central Utah, each leading to its own shady picnic spot and an untouched stretch of beach. I pick one with a generous grove of willows and an uninterrupted view of the mountains across the reservoir. Towel in hand and my gaze fixed on the brilliant aquamarine water, I kick off my sandals and sink my toes into the soft, golden sand, then dip them into the cool water, whose color is equally surreal close up.
We're standing on the West Beach of Yuba State Park in central Utah. Situated 25 miles south of Nephi just off I-15 (about 90 minutes south of Salt Lake City), Yuba Reservoir is the largest water storage on the Sevier River. Traces of ancient Native American life — the first inhabitants along what used to be the free-flowing Sevier River — can be seen around the park today: stone tools, pieces of pottery and impressive rock art displays. In 1902, local farmers and ranchers began construction on the Yuba Dam for agricultural and industrial uses. By 1970, Yuba was opened to the public as a state park and has since become a local favorite for camping, water sports, fishing and nearby off-highway vehicle riding.
Today, it's a coveted, yet still somewhat undiscovered, spot where active types and those simply looking for an escape from the hustle and bustle of city life to take advantage of all that's on offer in this outdoor playground.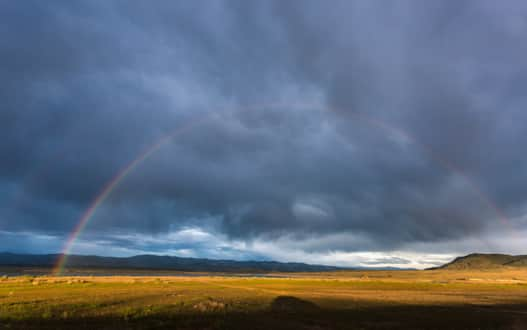 Where and How to Get on the Water
With pristine sandy beaches, warm water temperatures all summer long and relaxing mountain views, Yuba State Park makes for the perfect kayaking destination in sunny central Utah. Bring your own kayaks or rent one for the day from The Docks at Yuba Lake, a small store and rental shop conveniently located at Oasis Campground next to the main park entrance. Book a rental for two to eight hours (starting at $40 for single kayaks and $45 for double kayaks).
Start your adventure at Oasis Campground, or drive for a few minutes over to the park's North or West Beaches and pick any spot to put in along the sprawling shores. Both beaches offer plenty of space; simply choose any track on the network of sand roads (four-wheel drive recommended) and rest assured that you'll end up right by the water.
If solitude is what you're after, head to the small stretch of beach at Painted Rocks Campground and Day-Use Area on Yuba's east shore. Here, you'll be treated to a more rugged desert landscape with mountain vistas. Plan your trip around mid-May, and you'll be treated to an especially memorable view: Native American pictographs painted on the rocks along the water's edge, which you can paddle right up to for a close-up view (during spring, the reservoir's water levels begin to drop, which unveils the ancient markings; you'll need ask a park ranger for detailed directions on where to see them). Keep in mind, however, that by late June or early July, the water level on this side tends to drop too low for kayaking or boating.
If you have your Utah fishing license, feel free to bring along a fishing pole, too, to try your hand at snagging a walleye, perch, northern pike, rainbow trout or catfish, just a few reasons why Yuba Reservoir is a top-notch angling spot.
"Traces of ancient Native American life — the first inhabitants along what used to be the free-flowing Sevier River — can be seen around the park today."
In addition to kayaking, Yuba Reservoir is a favorite for canoeing, SUPing and windsurfing, not to mention boating in motorized watercraft, which is available on the lake's Oasis side late into the summer (be sure to check the park website for water level updates before your visit). It's not uncommon to see speedboats towing wakeboarders and water skiers, sailboats cruising in the wind and kayakers sharing the aquamarine waters of the reservoir.
The Lowdown on Camping
To fully experience the beauty and serenity of Yuba State Park, make it a weekend — or longer — adventure. With four camping areas to choose from, it's easy to find the right option to fit your style for sleeping under the stars. Oasis Campground, the park's most established and most popular, features spacious sites with plenty of trees, several RV hookups and easy access to a boat launch and The Docks, which offers added convenience with its store and rentals. To camp in even more comfort, reserve one of the cabins near the group site area, which can accommodate six people each.
If Oasis is full, head to Painted Rocks Campground on the east side of the reservoir, which has its own boat launch, a large group site and a cluster of 41 sites with bathrooms (no showers), drinking water, shaded picnic tables and firepits.
Meanwhile, Eagle View Campground offers an appealing option for campers who are happy with basic beach camping. Boat docks allow boat-in (or kayak-in) access to this collection of 20 primitive tent sites with vault toilets but no drinking water. Those with 4x4 vehicles can access Eagle View via a rough dirt road from Painted Rocks or Temple Road.
Primitive, open beach camping is allowed at Yuba's North and West beaches as well. In lieu of established campsites, campers are welcome to pick their own spot on the beach to pitch a tent and enjoy a social evening telling stories around one of the shared firepits. (Check for current fire restrictions.) Reservations can be made to guarantee camping, though specific spots cannot be reserved.
Trip Planning & Logistics
The best way to access Yuba State Park is through the main entrance and Oasis Campground right off County Road, a few miles from exit 202 on I-15. Temple Road, a six-mile gravel road, connects County Road to S.R. 28 along the north end of Yuba Reservoir (heading south from here on S.R. 28 brings you to the Painted Rocks Campground and boat launch). Visitors towing boats may opt to avoid the gravel road by crossing through Levan instead.

A day-use entry fee is required, purchase in-person or online. The Annual Utah State Park Pass is accepted for park entry.

Advance camping reservations are recommended.

Check the current conditions on the Utah State Parks website to see if water levels near Painted Rocks are still high enough for kayaking and boating (especially if you're planning a trip after May).

Pets are allowed on leash at Yuba State Park.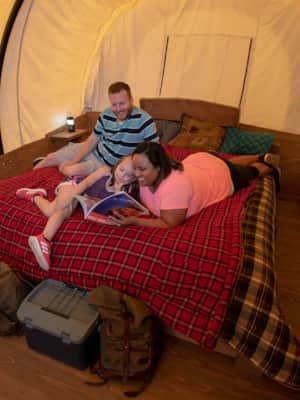 Utah's Scenery Offers A Backdrop for Inclusive Family Camping
While Utah is known for its amazing outdoors, it also has resources that ensure that families and individuals of all abilities can access these places.