U.S. Federal Shutdown Information
At this time, all of Utah's national parks, monuments and recreation areas remain open.
Learn more.
A Quick Guide to the Bonneville Salt Flats
Visitors from all around the world have traveled to see this pristine, otherworldly landscape about an hour and half west of Salt Lake City.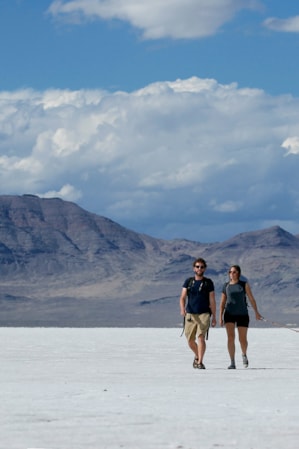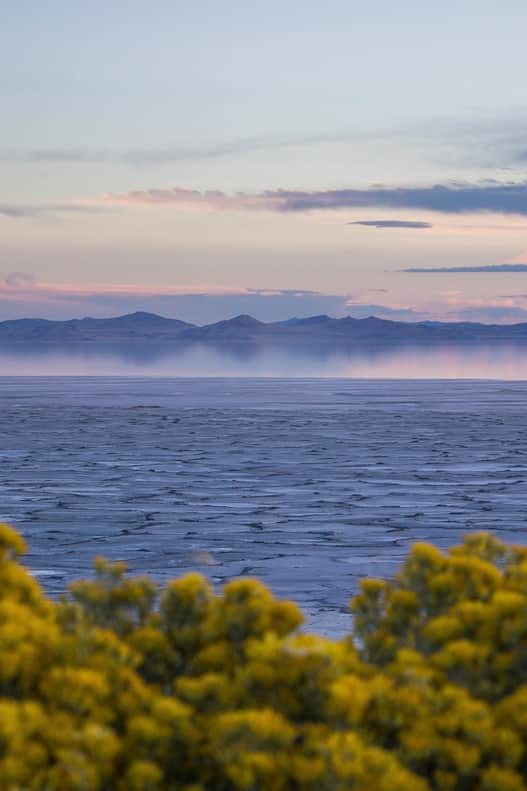 A 12-by-5 mile stretch occupying 300,000 acres of Utah's pristine west desert, the Bonneville Salt Flats is like no other place on earth. A salt crust ranging from a few inches to 5 feet thick forms a perfectly flat, uniform, blindingly white crust as far as the eye can see. The flats are about 12 miles long and five miles wide, covering about 46 square miles in total. Visitors from all around the world have traveled to see this pristine, otherworldly landscape about an hour and half west of Salt Lake City. (See the itinerary: West Desert Ramble)
Aside from the beautiful views, the salt flats are an international hub for car racing (Read: Salt & Speed). Several speed records have been set at the flats, including the one-time land-speed record of 630 mph, established in 1970 and standing until 1983.
When to Visit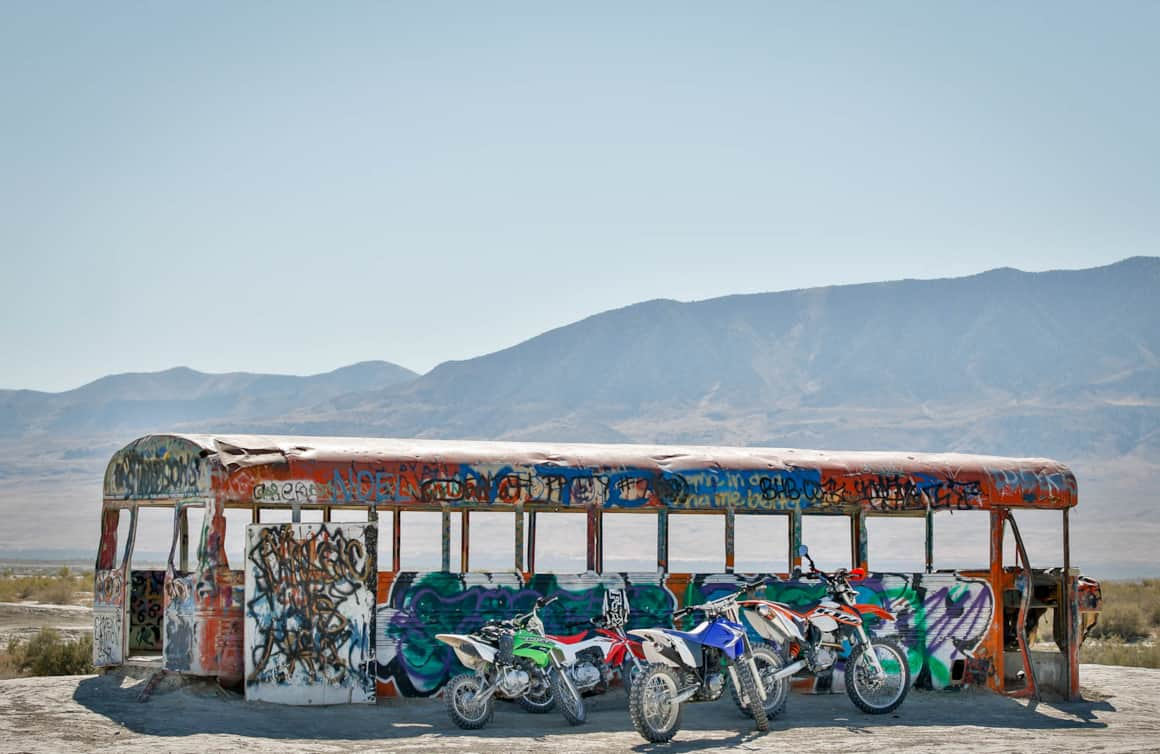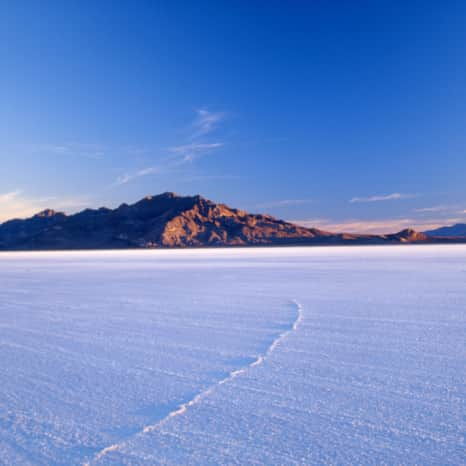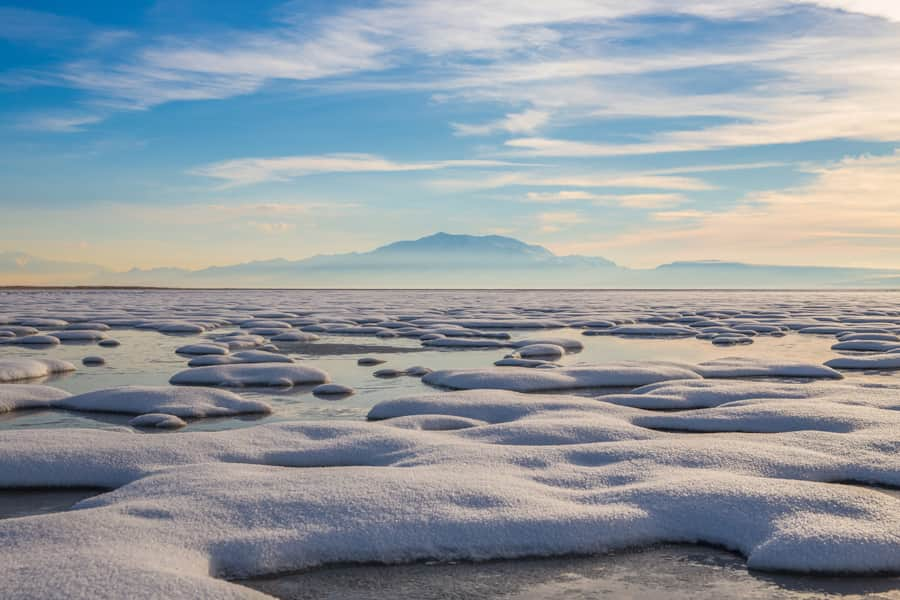 Packing List
The Bonneville Salt Flats are remote, so plan accordingly. Temperatures at the flats can range from sub-zero in the winter to more than 100 degrees Fahrenheit in the summer. Come prepared with a variety of layers for different temperatures. Sunscreen is a must-have, and needs to be applied to the bottom of your nose and chin — the salt crust can reflect the sun upward. Wide-brimmed hats and sunglasses are also critical.
If you're visiting for Speed Week or another event, bring chairs and a shade tent if possible. Being a spectator at Speed Week means several hours in the sun, so be sure to bring shade and water options accordingly. Bring plenty (more than you think) of water, no matter the season. If you're renting a car, check with your rental company before driving on the flats as the salt can corrode the car and always pay attention to seasonal closures on the flats which prohibit driving on them.
The aesthetic of the flats are very popular for photography, so bring your camera. Sunrise and sunset offer wonderful lighting to capture this otherworldly place and the nighttime sky, far from the lights of the city, is so dark you can capture the millions of stars above. Hollywood has found this spot to be a perfect destination for fashion shoots and dozens of films have been made with the Bonneville Salt Flats as the backdrop.
Travel Tips
There are no facilities at the flats, so be sure to use the restroom before you go.

There are also no restaurants or vendors of any kind, so be sure to buy food and water before leaving Salt Lake City, at the gas station off Exit 4 in Wendover.

Drive at your own risk — many unsuspecting drivers have gotten stuck in thick mud near the edge of the flats. Only enter from the directions below and never when posted signage prohibits it.

Cell phone coverage can be limited, depending on the carrier.

There is no overnight camping, so plan to return at the end of the day or find accommodations outside the salt flats.

Most importantly, you are visiting a fragile, one-of-a-kind place, so be sure to leave no trace. Pick up trash, don't light fires and minimize vehicle impact to the flats.
How to Get There
To get there, take Exit 4 off Interstate 80. Head north and follow the signs to the Speedway. Take a right on Leppy Pass Road towards the flats. There is a parking area at the end of the road (40°45'45.3"N 113°53'46.3"W). Driving is permitted on the flats, although there are sometimes seasonal closures when the salt is moist or there's standing water on the surface — signs will be posted.
Visitors should only venture beyond the road when the flats are completely dry. The edges of the flats are significantly thinner than other sections, and driving near them can result in getting stuck in thick mud. (If you're driving to the salt flats from Salt Lake City, consider making a quick stop at the Tree of Utah, located about 25 miles east of Wendover along the west-bound side of Interstate 80. The 87-foot-tall sculpture by Swedish artist Karl Momen features six colorful spheres set atop a sheer vertical trunk. You won't be disappointed.)
As you can see, the Bonneville Salt Flats aren't your typical tourist destination. But if you're willing to do a bit of planning, you'll find yourself in one of the most unique — and beautiful — places in the country. There's a reason people travel from around the world to experience this environment. You won't ever forget it. Just be prepared for what it takes to spend time unsupported in the harsh environment.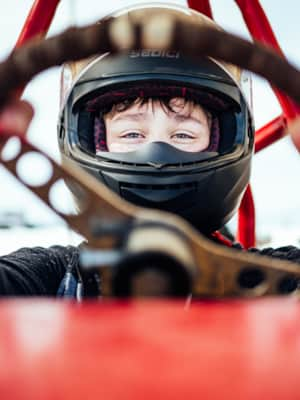 Salt & Speed
Utah's Bonneville Salt Flats are home to three annual speed events where racers can go all in with whatever speed device meets their fancy.