Snowshoeing the Wasatch
Exploration, Exercise and Endorphins to Shake off the Winter Blues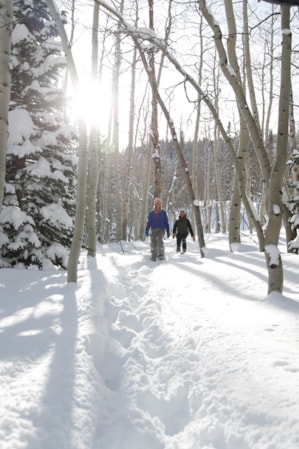 I climb my way past the bold evergreens and the naked aspen, while the occasional bird interjects a thought across the air. I'm hiking through the forested Wasatch Mountains, accompanied by the feel of the sun, the breeze on my skin. But it is not summer. Far from it. I have escaped to serene forest surroundings, blanketed with pure white snow. I have traded in the valley inversion for high-elevation clarity in the cradle of nearby nature — the phenomenal snowy peaks, icy streams and turquoise blue skies burning with the brilliant sun. Among this grandeur, I swiftly fend off a creeping winter hibernation with the invigorating action and eye candy of the outdoors.
I stand in my snowshoes looking across Big Cottonwood Canyon, southeast of Salt Lake City, toward the peaks rising on the other side like jeweled sentinels of winter, snowflakes flutter around me filling the air with pinwheels of ice. They say that no two snowflakes are alike. I wonder how "they" decided this. No matter. I am becoming aware of the growing sense of strength and renewal the falling snow creates in me.
Snowshoers quickly discover that exercise and crisp air, in surroundings that lift the soul for a few hours, allow one to shake off the blues of a dull winter perspective. See the crystal snow sparkling in the sun, hear the birds and silence and experience winter in a fresh and healthy way. Exploration. Exercise. Endorphins.
In a journal entry dated January 6, 1858, Henry David Thoreau briefly succumbs to the doldrums of winter before a minute detail elevates his spirits: "...My attention was caught by a snowflake on my coat-sleeve. It was one of those perfect, crystalline, star-shaped ones, six-rayed, like a flat wheel with six spokes, only the spokes were perfect little pine trees in shape, arranged around a central spangle. This little object, which, with many of its fellows, rested unmelting on my coat, so perfect and beautiful, reminded me that Nature had not lost her pristine vigor yet, and why should man lose heart?"
"Hiking through scenic mountain forests, accompanied by the feel of the sun, or the breeze on your skin, is not just a summer opportunity."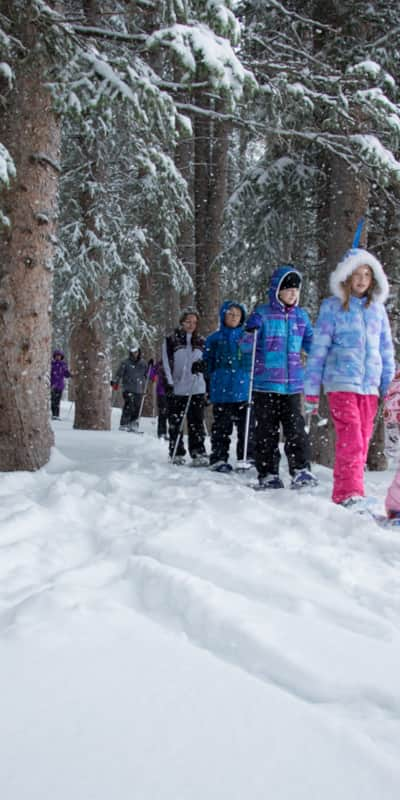 Thoreau's words make me think of how the early nights and cold days too often drive us indoors; and of all the people who are home missing adventures in this fresh air, these vast, majestic mountains; and equally important, an outing that imbues nature's "pristine vigor." We definitely need not lose heart in the midst of winter. Snowshoeing strengthens the heart.
In Utah, snowshoe trails crisscross the Wasatch Range in a beautiful map of seemingly endless exploration. Some days I take off through deep powder and scale peaks in the backcountry with a serious crampon bite on my large snow shows. On weeknights, I often feel called to lace up trail-running snowshoes for a morning run on packed trails. On my contemplative days, you'll find me snowshoeing through a peaceful forest, connecting with nature's Zen and wildlife. All these options are fuel to my heart courtesy of Utah's mountains.
Up in the canyon, I pull out my camera to take a photo of the snowflakes landing on my glove, tiny spokes and all. A minuscule work of art. They live a limited life, but I'm here to see it. I have taken time to step away from the city, to explore, and to notice the beauty of winter.
"Snowshoeing is as accessible and as close as the gym. No special lessons or years of practice are required — it beckons beginners and experts alike."
How to Get Started
For many Utahns (and visitors to the area), snowshoeing is as accessible and as close as the gym. No special lessons or years of practice are required — it beckons beginners and experts alike. It's family-friendly, affordable and good for body and spirit.
If you're trying snowshoeing for the first time, or you're more comfortable in controlled environments, sticking to established trails is a great way to begin. Northern Utah has a selection of commercial snowshoe venues that provide groomed or marked trails. The advantages of going commercial include having safe trails that are easy to follow, being close to other people, being in an environment where you are unlikely to encounter avalanche conditions, and often the Nordic centers and commercial trails have facilities where you can rent equipment or find expert guides if needed.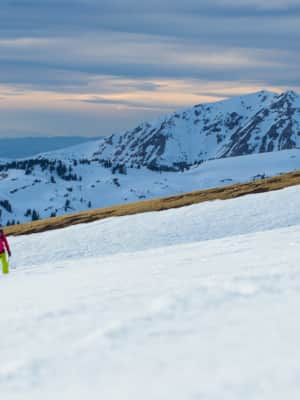 Explore the Tushars on Snowshoe
Ready to experience snowshoeing in Utah? Eagle Point is a Utah favorite location. Check out this snowshoe excursion then plan yours today for fun and adventure.