Best Snowshoeing Trails
Grab your own snowshoes, or rent a pair at one of the many local shops, and enjoy Park City's trails. These safe, easily accessible snowshoe trails provide a sampling of the local fare.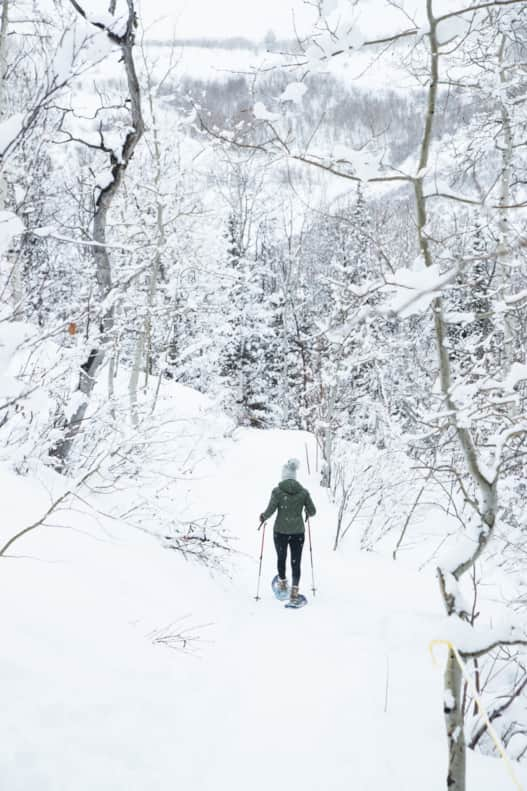 East 224 Connector and McCloud Creek Trails
The East 224 Connector was established by the Mountain Trails Foundation. This trail, and the McLeod Creek trail, were established to connect Park City from one end to the other. The wide, flat pathway takes trail-goers through wooded areas, over bridges with scenic views, past old barns and next to the Swaner Nature Reserve. Pleasant, flat and easily accessed, this stretch of trails begins in Park City and winds along the road out to the Redstone Center at Kimball Junction. The East 224 trail is 3.7 miles and McCloud Creek is 6 miles. Dogs are allowed on leash.
Gambel Oak Loop
Gambel Oak Loop is a 3.9 mile loop located near Park City. Wildlife is often seen along this trail. This easy loop is great for beginners but still fun for the more experienced. Dogs are welcome but must be leashed.
PC Hill
PC Hill trail is a 1.3 mile intermediate level trail right in Park City. It provides scenic views of the city and surrounding area. Other local trails are available in this area as well. Dogs are welcome but must be leashed.
Rockport Lake Trail
Rockport Lake Trail is a two-mile, out-and-back trail located near Coalville, Utah. The trail runs near Rockport Lake. Appropriate for all skill levels, this almost flat trail makes for a pleasant traverse. Dogs are welcome but must be leashed.
Round Valley
Round Valley is 700 acres of preserved open space just northeast of Old Town. There are five trailheads from which you can access the maze of trails found in this area. They include: Quinn's Junction (the most popular trailhead), Round Valley Way, The Cove, Old Ranch Road and Highland Drive. Parking is available, the trails are free and there are year-round restroom facilities.
"If you wear enough layers and do at least 15 to 20 minutes on snowshoes, you will break a sweat every time...It's never too cold to snowshoe."
– Scott Gall, North American Snowshoe Champion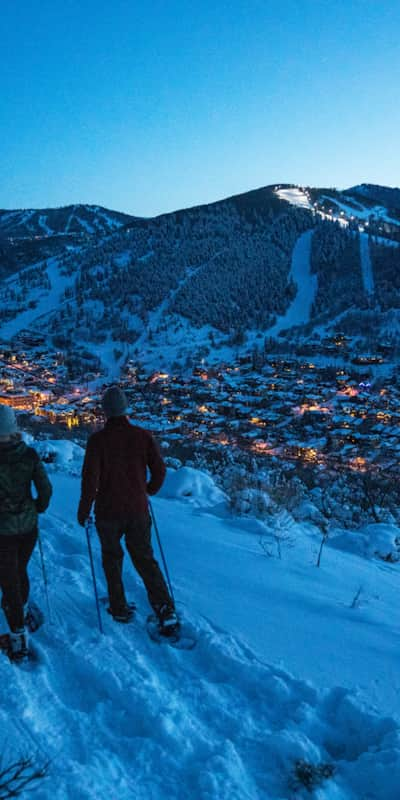 Guided Tours & Rentals
Snowshoeing can be done on regular snow-covered hiking trails, parks and other snow-covered terrain, but if you are unfamiliar with the area a guide may be the way to go. When you hire a guide you can expect they will cover route finding, planning, providing your snowshoes and poles and the proper safety precautions required for spending a half day in Utah's winter environment. All guide companies provide tours for beginner to expert experience levels.
All Season's Adventures
All Seasons Adventures caters to families and corporate groups staying in or around Park City. All trips include round trip transportation, top of the line snowshoes, waterproof booties, hiking poles, water, snacks and your guide.
Destination Sports and Adventures
Destination Sports and Adventures take snowshoers across their 9,000 acre ranch or around the foothills of Park City. Choose from a private or group tour. Tours include snowshoes, poles and your guide. Just come dressed warm. Reservations available online.
White Pine Touring
White Pine Touring provides a range of tours including local, backcountry, moonlight and historic. Choose your poison and they'll set you up with snowshoes and poles before you hit the trail with your guide.
Utah Outdoor Adventures
For your convenience, Utah Outdoor Adventures offers tours multiple times a day, seven days a week and provides transportation to your destination, snowshoe gear, and of course, the guide. Tours are two hours long and you can go with a group or book a private tour. Reservations available online.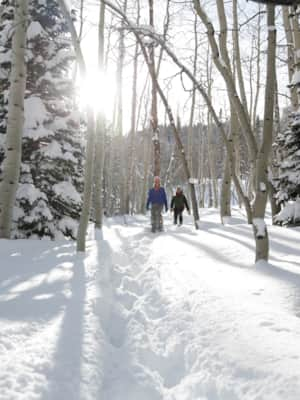 Snowshoeing the Wasatch
Wondering where to go snowshoeing? Utah's Wasatch Mountains are a popular destination. Learn more and plan your visit!
Things to Know
What to Pack
Guided tours require you to bring just the basics as your guide will often supply your other needs.
Lip balm

Water
Snacks
Trekking poles
If you head onto the trails without a guide you will need to pack additional safety items.
Plenty of water/sport drink
Extra food: often used to revive in an emergency situation
Sun protection: sunscreen for lips and skin, and sunglasses
Compass, map of the area, GPS if you need it
Cell phone for emergencies
All the right layers of clothing
Safety and avalanche gear when appropriate
Small first-­aid kit
Duct tape for binding mishaps
Headlamp and batteries
Matches or lighter in waterproof casing
Pocket knife
What to Wear
Worried that it's too cold to play outside? In the words of Scott Gall, professional snowshoer and former North American Snowshoe Champion, "Snowshoeing is great because no matter how cold it is outside, if you wear enough layers and do at least 15 to 20 minutes on snowshoes, you will break a sweat every time. No excuses like it's too cold. It's never too cold to snowshoe." Layer up then remove and add layers to adjust your temperature.
When to Visit
Park City snowshoe season varies by snowfall, but in general you can count on good coverage December through March. The Uinta Mountains often have good snowpack into April and May.