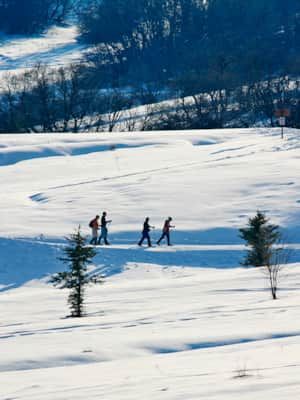 Cross Country Skiing in Park City
Park City has long been a destination for cross-country enthusiasts. With over 70 kilometers of groomed trails in the town and surrounding mountains, there's ample room for a strenuous cardio workout or a casual moonlit glide.
About Utah's Backcountry and Sidecountry
Remember that the gift of backcountry also comes with responsibility for avalanche safety. Each day, hard-working ski patrols make the terrain inside of ski area boundaries extremely safe from avalanches. Those leaving the ski area boundaries or entering the backcountry from a trailhead need standard avalanche rescue gear, avalanche training and should regularly consult the Utah Avalanche Center website for critical avalanche safety information before venturing out in search of the goods. If you don't own avalanche equipment or feel that you have the right skills, no problem. You can utilize local guides listed below that can set you up with the proper gear, keep you safe and lead you to the good stuff to make the most of your vacation.
Know Before You Go:
Get the Equipment: Everyone should have a transceiver, shovel and probe on their person and know how to use them.
Get the Training: Take an avalanche course to learn obvious clues to danger and how to read the terrain.
Get the Forecast: Consult the Utah Avalanche Center website before heading out for critical avalanche information and education resources.
Get the Picture: Recent avalanches on similar slopes mean dangerous conditions.
Get out from Harm's Way: Travel one at a time on avalanche slopes and get out of the way at the bottom.
Utah Avalanche Center
No matter where you are in the state, always make sure to check local conditions before entering Utah backcountry. For current avalanche conditions throughout Utah, please visit: utahavalanchecenter.org