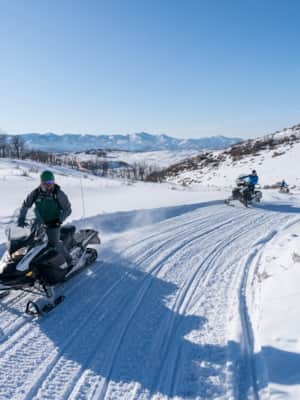 Snowmobiling in Park City
Are you ready for a thrilling mountain adventure in Park City? The back of the majestic Wasatch Mountains and the Uinta Mountains provide a natural and exhilarating backcountry experience for beginners and experts alike when you hop on a snowmobile.
More Utah Snowmobiling Information
Visit the Utah Snowmobiling Association for more information on where to go snowmobiling on your winter vacation.
Additional resources:
About Utah's Backcountry
If you plan to ride in avalanche terrain, you will need standard avalanche rescue gear, avalanche training and remember to regularly consult the Utah Avalanche Center website for critical avalanche safety information and the latest conditions before venturing out. Let someone know your itinerary and the time you expect to return. Know the information for search and rescue, and bring a spot device. Learn more about how you can support Utah's local search and rescue teams with a Utah Search and Rescue Assistance card.
And always remember these tips:
Get the Equipment: Everyone should have a transceiver, shovel and probe on their person and know how to use them.
Get the Training: Take an avalanche course to learn obvious clues to danger and how to read the terrain.
Get the Forecast: Consult the Utah Avalanche Center website before heading out for critical avalanche information and education resources.
Get the Picture: Recent avalanches on similar slopes mean dangerous conditions.
Get Out of Harm's Way: Travel one at a time on avalanche slopes and get out of the way at the bottom.