U.S. Federal Shutdown Information
At this time, all of Utah's national parks, monuments and recreation areas remain open.
Learn more.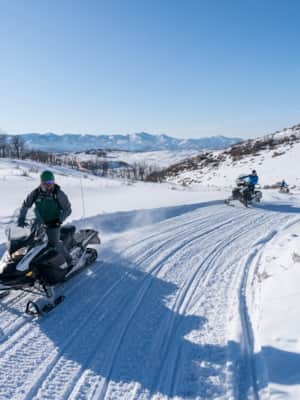 Snowmobiling in Park City
Are you ready for a thrilling mountain adventure in Park City? The back of the majestic Wasatch Mountains and the Uinta Mountains provide a natural and exhilarating backcountry experience for beginners and experts alike when you hop on a snowmobile.
Utah Snowmobiling Resources
How to Register Your Ride
Snowmobiles must be registered in Utah — even if you're visiting from out of state. For a non-resident permit, you'll need your out-of-state driver's license and snowmobile title or bill of sale. Registration costs $22 for Utahns or $30 for non-residents. Permits must be purchased online through the Utah Division of Outdoor Recreation.