Popular Snowshoeing Trails
For your snowshoeing pleasure here are five highly recommended trails.
Wheeler Creek to Art Nord | Ogden Canyon
Distance: 3.5 miles round-trip
Difficulty: Easy
This quick trail makes for a pleasant jaunt that begins next to an enchanting half-frozen stream and ends with southern views of the steep mountains near Snowbasin Ski Resort.
White Pine Lake Trail | Little Cottonwood Canyon
Distance: 10 miles round-trip
Difficulty: Difficult
A strenuous trail that climbs through high alpine forests to a small Wasatch Mountain lake. This hike may be passable with microspikes early in the season, but snowshoes are recommended.
The Pipeline Trail | Millcreek Canyon
Distance: 3.8 miles round-trip
Difficulty: Moderate
A nice easy climb up the hollow will hook you onto the Pipeline Trail in Millcreek Canyon where you can partake of the south-facing slope and enjoy any winter sun you may find on your day in the mountains.
Round Valley | Park City
Distance: Variable
Difficulty: Easy - Moderate
Spruces Campground is covered with deep snow during the winter months and it's a perfect place to plan your own trip across the snow. This is a great place to find wildlife, beaver dams, blue grouse, snowshoe hare, coyote, ermine, bobcat, owl and other wildlife that can handle the deeper winter snow up canyon.
Rim Trail | Bryce Canyon National Park
Distance: 2.25 miles
Difficulty: Easy
This scenic, groomed trail starts at Ruby's Inn, just outside Bryce Canyon National Parks. After a mile of snowshoeing beneath tall ponderosa pines you'll be rewarded with views into Bryce's snow-capped amphitheater of hoodoos and spires. This trail can also be connected with nearby trails to extend your hike.
Northern Utah
In addition to the unmaintained forest routes (Read: "Fresh Tracks in Kamas – Utah's Snowcountry"), Northern Utah has a variety of groomed trails that can be accessed from the resorts or dedicated winter recreation areas. These trails are excellent for beginners and well-documented, so you'll know exactly what to expect. Plus, many of these resorts and facilities can help you find the rental equipment and guide services you may need.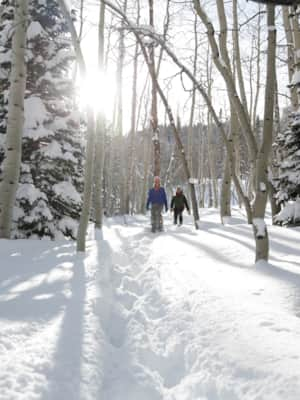 Snowshoeing the Wasatch
Wondering where to go snowshoeing? Utah's Wasatch Mountains are a popular destination. Learn more and plan your visit!
Southern Utah
It may come as a surprise, there are plenty of snowshoeing trails in Southern Utah, and they may be the most scenic you've ever hiked. Southern Utah is breathtaking, and oftentimes less crowded, during the winter months. While you're in Utah, don't miss these bucket-list snowshoeing destinations.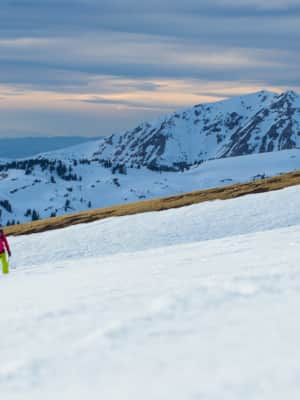 Explore the Tushars on Snowshoe
Ready to experience snowshoeing in Utah? Eagle Point is a Utah favorite location. Check out this snowshoe excursion then plan yours today for fun and adventure.