Winter Weather in Arches
Even though Arches is in Southern Utah, winter temperatures can be quite cold. Typical daytime highs average between 30 to 50 degrees Fahrenheit, with lows averaging 0 to 20 degrees Fahrenheit. Snow and ice do occur, but large amounts of snow are fairly rare. However, any amount of snow or ice can make trails and roads difficult or impassable. Temperatures can fluctuate quite a bit within a single day, so dressing in layers will be helpful.
Average Daily High and Low Temperature
Oct.

Nov.

Dec.

Jan.

Feb.

74/42 F
23/5 C

56/30 F
13/-1 C
45/23 F
7/-5 C
44/22 F
6/-5 C
52/28 F
11/-2 C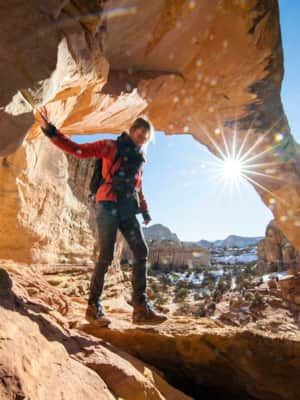 How To Visit Southern Utah in Winter
Southern Utah in the winter offers many possibilities, from hiking and camping to skiing and snowshoeing. Learn how to prepare yourself for a winter adventure.
Winter Camping Near Arches
Devils Garden Campground is first-come, first-served from November through February, and reservable during the rest of the year. The campground is 18 miles from the park entrance and individual sites cost $25 per night. Campers should be prepared for below freezing temperatures and have all the equipment, supplies, skills and knowledge they need for a safe and fun winter camping trip. No RV hookups are available. A number of campgrounds are also available outside the park, as well as other lodging options like hotels, motels, lodges, bed and breakfasts, resorts and boutique properties in Moab and beyond.
Winter Travel Tips
A winter visit to Arches National Park is rewarding, but you have to plan ahead to ensure a safe and successful trip.
The park is open year-round, and the visitors center is open most days, though hours vary.
Check the park website or call to get the most up-to-date information on current conditions. Areas and roads can be closed or restricted with little notice, and some areas can become hazardous in certain weather conditions. Roads, parking lots, pullouts, trails and other areas can be icy, even well after a storm, so always use caution.
Practice good stewardship and don't touch or climb on the arches, mark any rocks, or step on biological soil crusts or ephemeral pools.
The park encourages visitors to carefully plan their trip and leave a trip plan with an emergency contact.
Be flexible with your plans. Check the forecast the day of the trip and be prepared to switch to Plan B (which could be staying indoors) depending on conditions.
Always bring appropriate winter gear, including plenty of warm clothes for layering along with extras in case your clothes get wet, as well as sunglasses and sunscreen. Be sure to properly prepare for a winter visit.
Make sure you are prepared for winter driving — mind the weather and know when your car might not be adequate for winter storm conditions.