U.S. Federal Shutdown Information
At this time, all of Utah's national parks, monuments and recreation areas remain open.
Learn more.
The Complete Winter Camping Packing List for Staying Warm in Southern Utah
Come winter, it can get a little chilly in parts of Southern Utah. But with a little extra planning, good layers and the right equipment, you can enjoy Utah's national parks in the solitude of winter, whether you're camping or not.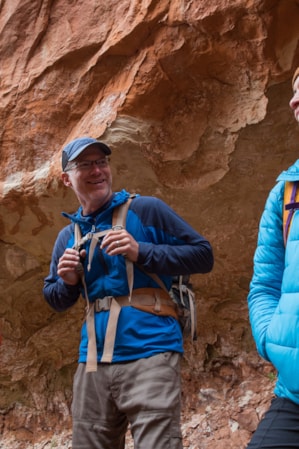 The arid, high elevation climate of Utah's Colorado Plateau means long stretches of brilliant sun with only sporadic bouts of dramatic weather. Come winter, things can get chilly, especially at night. For most travelers, Southern Utah winters prevent comfortable camping, and occasional snowfall can make outdoor adventure a little more challenging. With a little extra planning, good layers, and the right equipment, however, you can enjoy Utah's state and national parks in the solitude of winter.
Note: Southeastern Utah tends to be a little cooler during the winter months (due to a higher elevation) than southwestern Utah (which shares some climate patterns with the warmer Mojave Desert) but both areas require some attention to staying warm and dry. Keep this list in mind as you set off for your Southern Utah winter ramble. (Read: How to Visit Southern Utah in the Winter)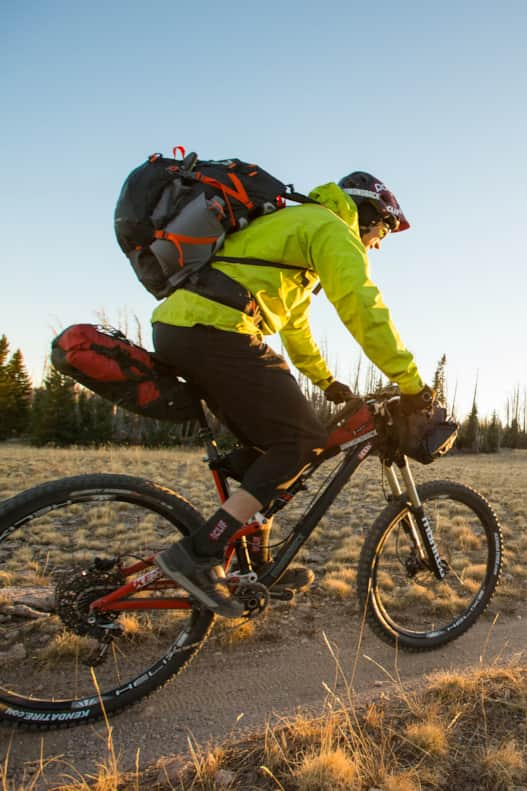 What To Wear This Winter in Southern Utah
Base Layers
Wicking fabrics, generally a polyester blend of some sort, are required. Unlike cotton, synthetic fabrics keep moisture away from your skin as you sweat on a strenuous hike. After you stop moving you'll cool down quickly and want to keep yourself as dry as possible. Base layers — moisture-wicking long underwear, socks, hats and neck gaiters — woven with synthetic fabrics and wool keep winter travelers extra warm and dry.
Outer Shell
A breathable, waterproof or highly water-resistant jacket is a must. Gore-tex is the gold standard in this department but most outdoor clothing brands have some version of the breathable waterproof fabric. Think lighter here — something you can stuff into your day pack. Your perfect jacket will also have venting zippers in the armpits that you can open when you heat up.
Rain Pants
Pack a thin breathable layer you can pull on and off if you're caught on the trail in snowy or rainy weather.
Hats and Gloves
Your extremities get cold and you lose most of your heat out of the top of your head. A nice pair of running gloves will do the trick for your hands and a fleece or wool beanie that can easily be stashed in an outside pocket as well as a rain hat will keep you toasty.
Hiking Boots
This is one area not to skimp. Those light-trail hikers or running shoes you use for summer rambles won't work. You'll need a good boot, ideally breathable and waterproof with a grippy sole. Slickrock, turns out, is actually slick when it gets wet.
"With a little extra planning, good layers, and the right equipment, however, you can enjoy Utah's state and national parks in the solitude of winter."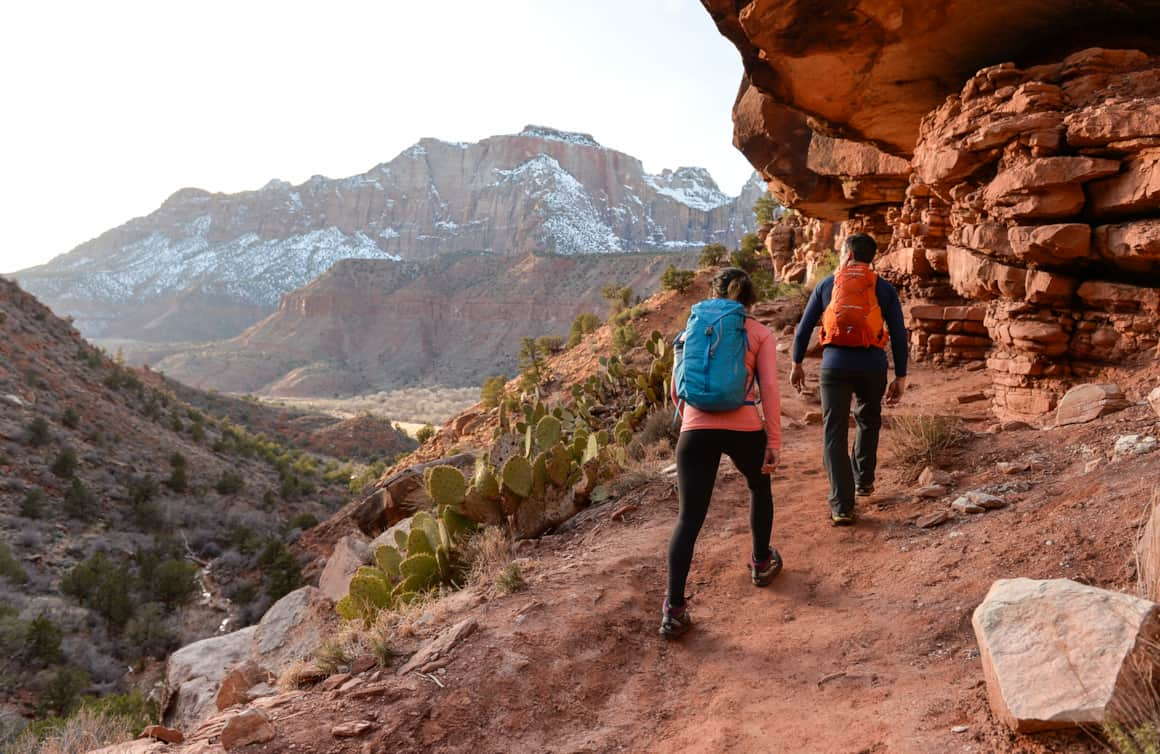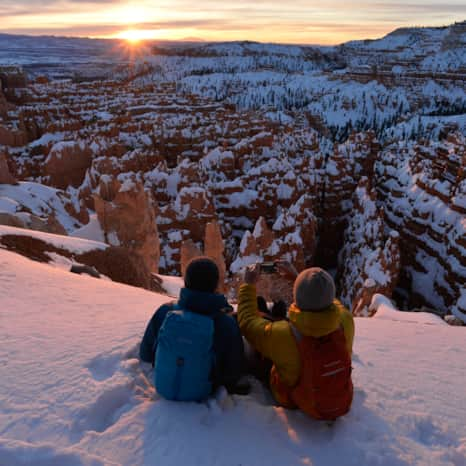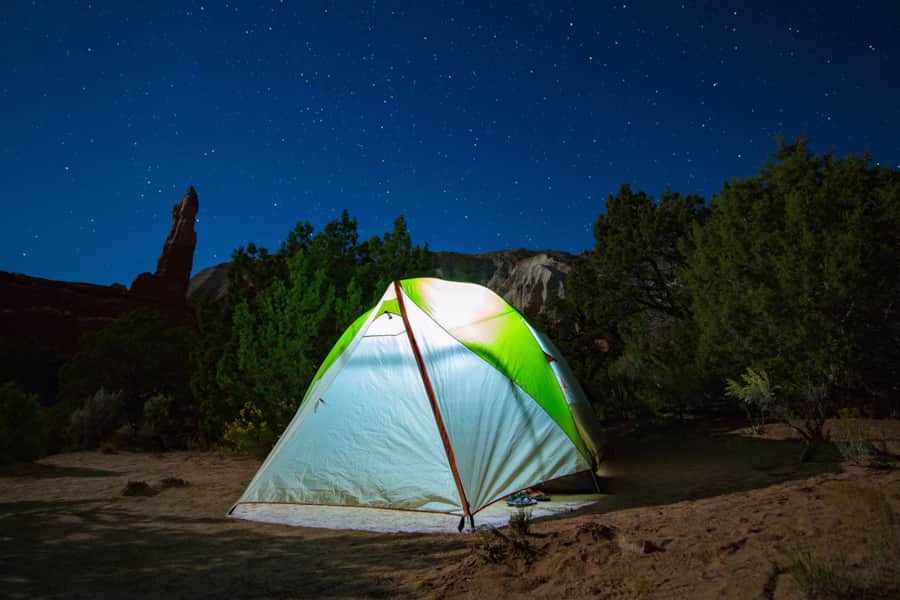 What to Pack
Day Pack
This needs to be a large enough pack that you can stash those warmer layers you put on before you warmed up.
Yaktrax
These are basically "chains" for your boots that will help you on snowy trails and dangle nicely from your day pack if conditions are mellow.
Trekking Poles
Clawing your way up snowy and, at times, icy trails and across wet slick rock can be tricky. Some nice sturdy, collapsible poles with a rubber tip will give you an extra place to put weight down while on slippery descents.
Emergency Kit (Driving)
Pack extra layers, blankets, emergency food supplies, water, jumper cables and a first aid kit. The roads are generally clear but on remote highways you may be out there before the plows are and you may also be out of cell phone range. It's best to be prepared.
Water Vessel
Don't forget water bottles or a hydration pack. Winter explorers may not sweat as much as they do in the summer, but that doesn't mean they drink less in the winter. Pack more water than you think for the whole trip, but for the day, plan on at least 16 ounces of water per person, per hour.
Sunscreen
Southern Utah's mild winters often bring out the sunshine. Apply sunscreen to avoid those sneaky rays that beam through the chilly air and reflect off the snow.
Navigation
Bring printed maps (in a waterproof sleeve), a compass or a GPS. As with all exploring in the desert, cell phone service is not always a guarantee.


Cold Weather Campsite Checklist
Although a warm room at the end of a day spent traipsing around the wintry red rock desert is a thing of beauty, it is entirely possible to camp your way across the land. Campsites on public lands and within national parks are easily found during the winter season. And many Southern Utah parks are certified as International Dark Sky Parks, making them perfect for winter stargazing. (Read: Winter in Southern Utah Like a Local)
Note, however, that developed campgrounds in the higher elevations of the national forest are seasonal, typically open May through October.
All-Season Tent
All-season tents differ from three-season options in that they can be used year-round due to their stronger poles, fabric and design that enable the shelters to withstand strong winds and the weight of snow. They're a little heavier to carry, but worth it for the warmth and protection.
Low-Temperature Winter Sleeping Bag
Sleeping bags comes in a variety of shapes and fabrics, but all retailers group sleeping bags by temperature: Summer and low-elevation bags protect at 32°F and above, three-season sleeping bags shield temperatures of 20°F to 32°F and cold-weather and winter sleeping bags insulate 20°F and below. Purchasing a low-temperature sleeping bag tends to be more costly than a standard sleeping bag, but for the extra winter protection, it's worth it.
Sleeping Pad
No matter the season, a sleeping pad does wonders for a good night's sleep when camping. In the wintertime, roll-up and inflatable mats provide a soft surface to sleep on, and they add an extra layer of insulation from the cold ground.
Campfire Supplies
Ah, the campfire. Sure it's synonymous with camping, but in the winter, it's essential to staying warm. Bring plenty of materials to build a fire and don't forget to have a bucket of water nearby to extinguish it. See more
winter camping tips
.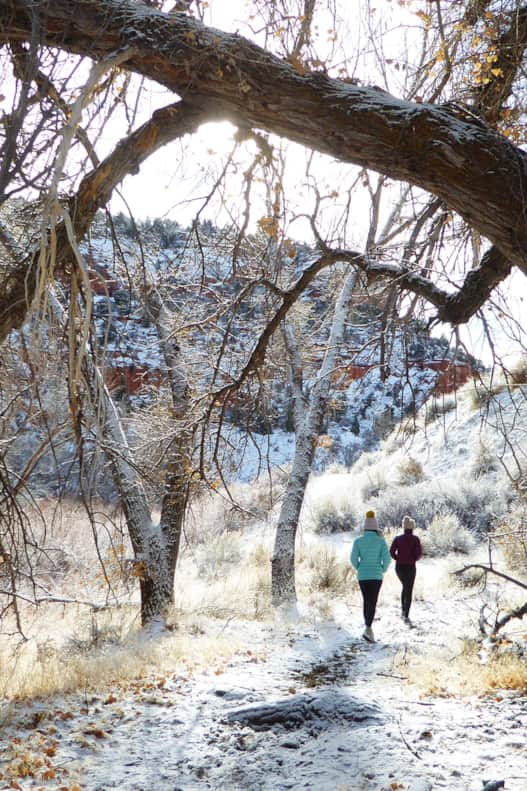 Winter Camping Packing List
Winter Hiking Attire
Base Layers
Outer Layers
Rain Pants
Hats and Gloves
Winter Hiking Gear
Day Pack
Waterproof Hiking Boots
Traction Cleats
Trekking Poles
Water Vessels
Sunscreen
Winter Travel Essentials
Emergency Car Kit
Navigation (with printed or offline option for remote areas)
Winter Campsite Equipment
All-Season Tent
Low-temperature Sleeping Bag
Sleeping Pad
Campfire Supplies