The Complete Packing List For Staying Warm in Southern Utah This Winter
Come winter, it can get a little chilly in parts of Southern Utah. But with a little extra planning, good layers and the right equipment, you can enjoy Utah's national parks in the solitude of winter, whether you're camping or not.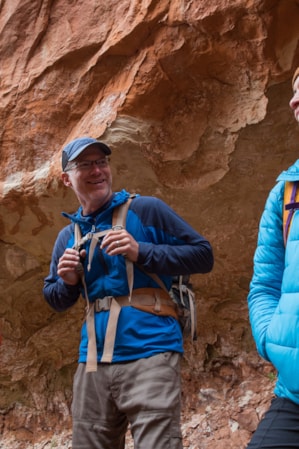 The arid, high elevation climate of Utah's Colorado Plateau means long stretches of brilliant sun with only sporadic bouts of dramatic weather. Come winter, things can get chilly, especially at night. For most travelers, Southern Utah winters prevent comfortable camping, and occasional snowfall can make outdoor adventure a little more challenging. With a little extra planning, good layers, and the right equipment, however, you can enjoy Utah's national parks in the solitude of winter.
Note: Southeastern Utah tends to be a little cooler during the winter months than southwestern Utah (which shares some climate patterns with the warmer Mojave Desert) but both areas require some attention to staying warm and dry. Keep this list in mind as you set off for your Southern Utah winter ramble.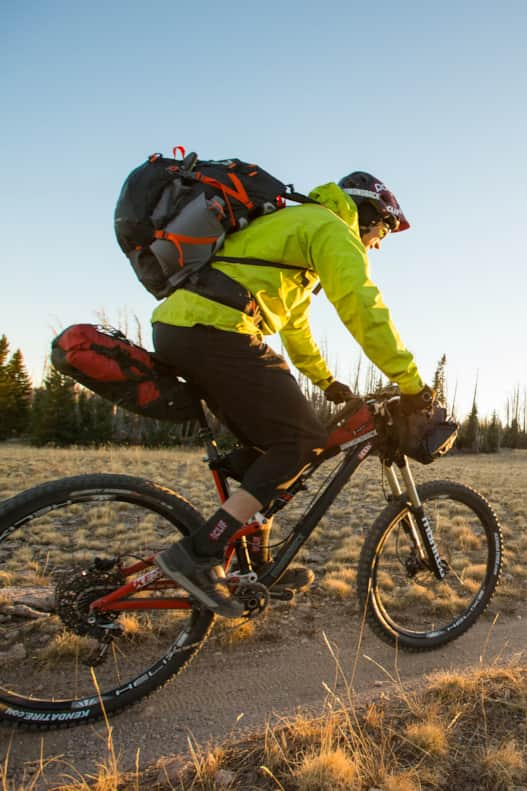 What to Wear
Base Layers
Wicking fabrics, generally a polyester blend of some sort, are a required. They'll keep the moisture away from your skin as you sweat on a strenuous hike. After you stop moving you'll cool down quickly and want to keep yourself as dry as possible.
Outer Shell
A breathable, waterproof or highly water-resistant jacket is a must. Gore-tex is the gold standard in this department but most outdoor clothing brands have some version of the breathable waterproof fabric. Think lighter here — something you can stuff into your day pack. Your perfect jacket will also have venting zippers in the armpits that you can open when you heat up.
Rain Pants
Pack a thin breathable layer you can pull on and off if you're caught on the trail in snowy or rainy weather.
Hats and Gloves
Your extremities get cold and you lose most of your heat out of the top of your head. A nice pair of running gloves will do the trick for your hands and a fleece beanie that can easily be stashed in an outside pocket as well as a rain hat will keep you toasty.
Hiking Boots
This is one area not to skimp. Those light-trail hikers or running shoes you use for summer rambles won't work. You'll need a good boot, ideally breathable and waterproof with a grippy sole. Slickrock, turns out, is actually slick when it gets wet.
"With a little extra planning, good layers, and the right equipment, however, you can enjoy Utah's national parks in the solitude of winter."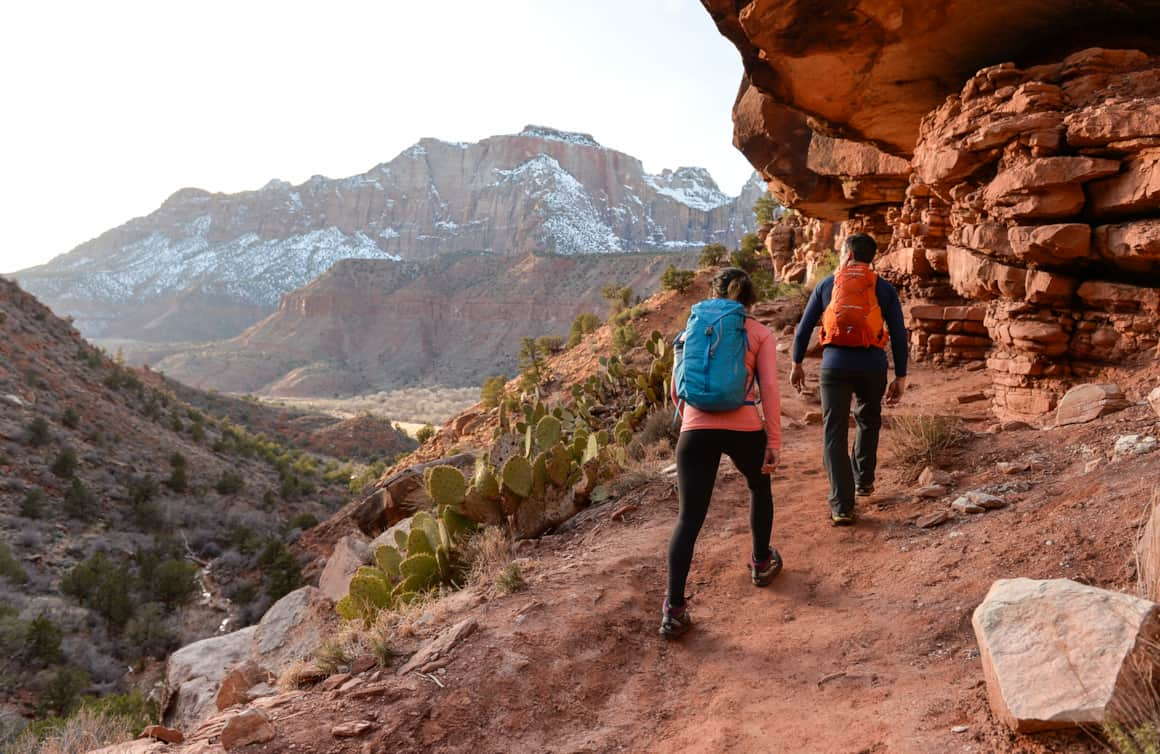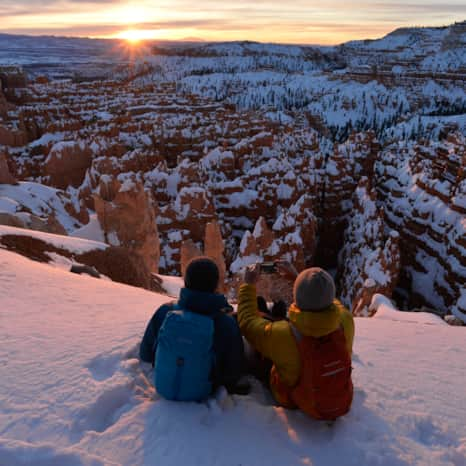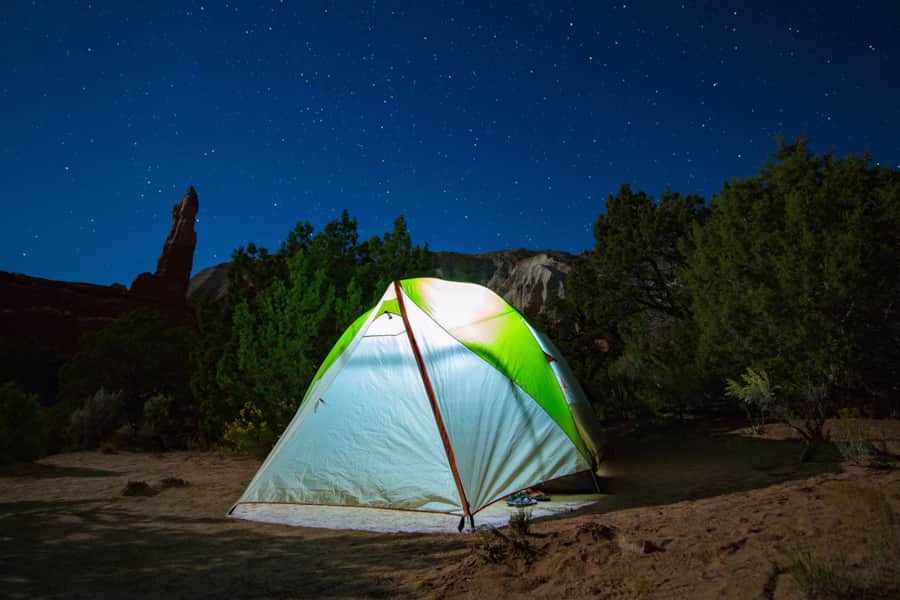 What to Pack
Day Pack
This needs to be a large enough pack that you can stash those warmer layers you put on before you warmed up.
Yaktrax
These are basically "chains" for your boots that will help you on snowy trails and dangle nicely from your day pack if conditions are mellow.
Trekking Poles
Clawing your way up snowy and, at times, icy trails and across wet slick rock can be tricky. Some nice sturdy, collapsible poles with a rubber tip will give you an extra place to put weight down while on slippery descents.
Emergency Kit (Driving)
Pack extra layers, blankets, emergency food supplies, water, jumper cables and a first aid kit. The roads are generally clear but on remote highways you may be out there before the plows are and you may also well be out of cell phone range. It's best to be prepared.
Get Rugged
And Do Some Winter Camping
Although a warm room at the end of day traipsing around the wintery red rock desert is a thing of beauty, it is entirely possible to camp your way across the land. Campsites on public lands and within the national parks are easily found during the winter season. And many Southern Utah parks are certified as International Dark Sky Parks, making them perfect for winter stargazing.
You'll need: a good all-season tent, a low-temperature sleeping bag and plenty of materials to make a roaring fire. See more winter camping tips.
Note, however, that developed campgrounds in the higher elevations of the national forest are seasonal, typically open May through October.