U.S. Federal Shutdown Information
At this time, all of Utah's national parks, monuments and recreation areas remain open.
Learn more.
Mystic Hot Springs and Music Festival
If there ever were a place that lived up to its name, it would be the Mystic Hot Springs. The place is saturated with history, charm and quirks. Disconnect from the rest of the world, letting the soothing hot springs work their magic.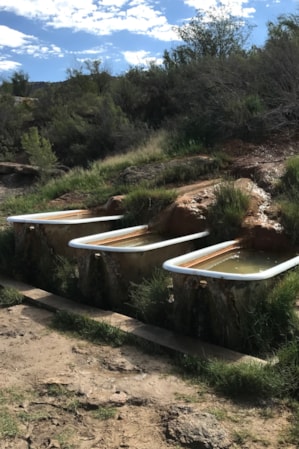 If there ever were a place that lived up to its name, it would be the Mystic Hot Springs. The place is saturated with history, charm and quirks that make you feel like you're stepping into every past era at once. It's also a prime place to disconnect from the rest of the world, letting the rambling landscape and soothing hot springs work their magic on your muscles and mind. There are multiple soaking areas, grassy tent campsites, pioneer cabins, tropical fish ponds and options to get out hiking and biking in this former resting site of the Old Spanish Trail.

The springs have, of course, been around forever. They were used by Native American tribes, then early white settlers, then they became a destination for "merriment and mirth" in the early 1900s, until finally the land was purchased by its present-day owners. The current atmosphere is partly a throwback to the psychedelic age, and partly antique Western-pioneer era.

The water spring this spot is known for has been flowing for millions of years, creating a brilliantly hued mineral buildup as 168-degree water flows over the rocks. These days, the water flows from its source spring through a channel and finally into a series of eight bathtubs and concrete pools. (Yes, the tubs and pools are cleaned regularly, so the place is germaphobe-certified.)

Accommodations are right in line with Mystic's funky charm. You can choose between tent or RV camping, or rent out an old pioneer cabin for the night (a couple of which have been outfitted with electricity and heaters), or even rent out a converted hippie bus to sleep in.

As far as activities are concerned, there's ample hiking, biking, and fishing in the surrounding area. Monroe is perfectly perched between multiple national forests and national parks, offering easy access to some of the biggest and most memorable adventures around.
Mystic Music Festival
But the flagship to-do of the year is surely the Mystic Music Festival. The outdoor stage offers full views of the surrounding hills, and since the venue is small, the shows are intimate. Not only can you watch from a hotspring-fed bathtub, but you can soak in the larger pool with the band members after the performance. Since the atmosphere is informal and intimate (and usually the band members have enjoyed a relaxing soak), you'll see performers at their most creative.

The festival happens in July, but you'll want to reserve accommodations and tickets well in advance. (Rumor has it that they're opening up walk-in-style camping areas for those who don't mind trekking a little farther from the car.)

The lineup is impressive for such a remote location — musicians just really love coming here. As the festival has grown to include more activities and food vendors, it personifies even more what an exceptionally unique place this is. (Nowhere else will you see "Yoga, Fireworks, Pioneer Heritage, and Geothermania" on the same festival poster.)

Ultimately, it's the Mystic folks who sum this experience up the very best: "Come to the edge of the wilderness to rediscover why you are alive."

GPS Coordinates: 38.633798, -112.108774
Read about one local's journey to find the elusive Butch Cassidy hide-out Robbers Roost, and topping it off with a visit to the Mystic Hot Springs: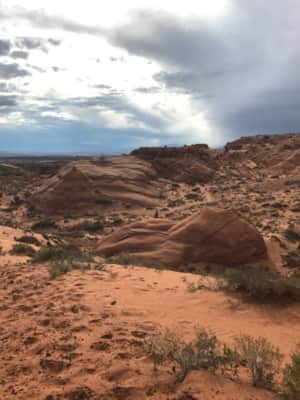 The Return to Robbers Roost
Are you intrigued by the old American West legend involving Robbers Roost? Want to find an alleged hideout of the infamous Butch Cassidy and Gang? Explore Utah.