Kolob Canyons Road Closed for Construction
The road and all trailheads next to it will be closed to drivers, hikers, horse riders and bicyclists. Work is scheduled to be finished in winter 2023.
Learn more.
A Visitor's Guide to Zion's Kolob Canyons
How and when to experience the lesser-visited corner of Zion National Park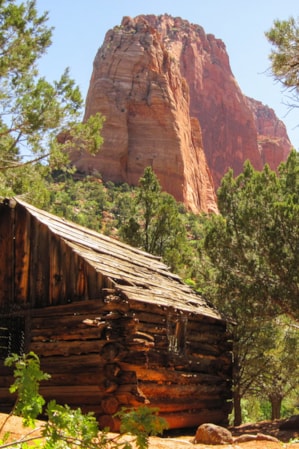 Utah's Mighty Five national parks are home to some of the state's most incredible scenery: think Island in the Sky District in Canyonlands, or iconic Delicate Arch — featured on Utah license plates — in Arches National Park. It's no wonder visitors from all over the world flock to these beautiful places for vacation. In a way, part of the experience of the Riverside Walk to The Narrows is counting the many different languages you'll hear on the hike — the experience of awe is a universal human emotion here. But sometimes it's nice to enjoy America's Best Idea in solitude. Utah's got you covered there, too. For travelers in the Cedar City area (approximately 45 minutes north of St. George and the S.R. 9 junction to Zion Canyon) look no further than the Kolob Canyons corridor of Zion National Park. It requires some extra effort to explore Kolob Canyons, but it is well worth it.
There are no services at the Kolob Canyons Visitor Center, so Cedar City, 20 miles north of the entrance at the edge of the Mojave Desert, is the best place to start a trip. Cedar City is home to a handful of lodging options, grocery stores and outdoor gear retailers.
Visitors will need to stop at the visitor center to pay the Zion National Park entrance fee. The Kolob Canyons Visitor Center, open daily, has a small bookstore, some interpretive exhibits and an information desk, where a helpful ranger is stationed to answer questions and issue permits. The NPS website also regularly updates flow levels and the condition of various water sources in the park, so to avoid the danger of dehydration, be sure to check whether your intended source is flowing before heading into the desert, especially for a multi-day trip.
There are no campgrounds in Kolob Canyons; it's all backcountry camping, and wilderness regulations apply. Despite its remote, road-less-traveled feel, Kolob Canyons is home to nearly a dozen hiking trails. Hikes in this district of the park range from the easy stroll to Timber Creek Overlook to the longer, more strenuous overnight out-and-back to Kolob Arch — and, for those with some technical experience, a canyoneering expedition in Beartrap Canyon.
Get a feel for Kolob Canyons by taking the five-mile Kolob Fingers Road Scenic Byway, the only paved road in this section of the park. The road ends at the Kolob Canyons Viewpoint, which doubles as the trailhead for the Timber Creek Overlook Trail. It's just a half-mile each way to the overlook, which offers sweeping vistas of brilliant red 2,000-foot cliff walls and a panorama of the canyon country that makes up this section of the Colorado Plateau — including, on a clear day, Mt. Trumbull, 100 miles away at the north rim of the Grand Canyon.
"It requires some extra effort to explore Kolob Canyons, but it is well worth it."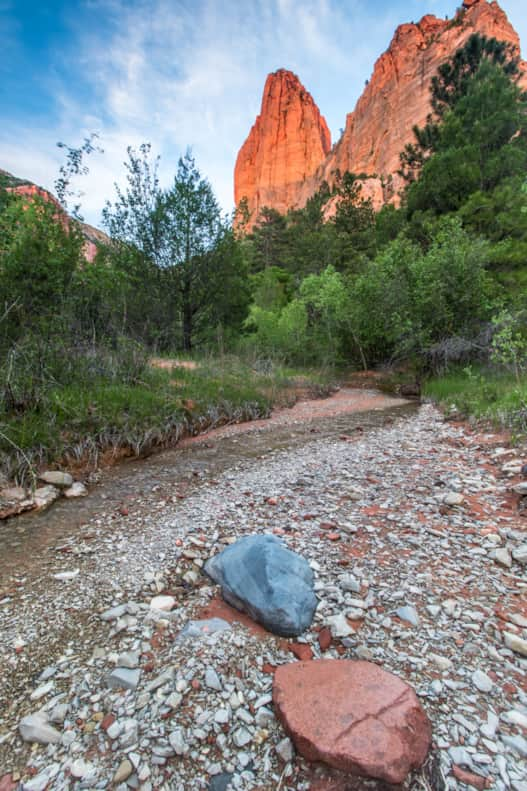 Hiking, Backpacking and Rappelling
The Taylor Creek Trail, which heads up the middle fork of Taylor Creek, is the most popular trail in Kolob Canyons. Park at the obvious lot two miles beyond the entrance station, then head the 2.2 miles upstream to Double Arch Alcove, a Navajo sandstone formation sandwiched between the towering walls of Tucupit and Paria, which rise 1,700 feet above the trail. The trail also passes the historical Larson and Fife cabins, both built in the 1930s.
In addition to slot canyons and vermillion cliffs, Kolob Canyons is home to one of the longest natural arches in the world — at 287 feet long, Kolob Arch is second only to Arches National Park's Landscape Arch, which is just a few feet longer. The hike to Kolob Arch is about eight miles each way; it's a long day hike, but an excellent overnight backpacking trip.
Day hikers should plan to bring all the water they'll need, but those heading out a bit farther can expect to find water at one of the 17 campsites along La Verkin Creek or at Beatty Spring. Plan to treat water from the creek, as the sites are downstream from the agricultural zone higher on the plateau. Backcountry camping is allowed only in these designated sites, and a permit — $15 for one or two people, $20 for groups of three to seven backpackers — is required. On an overnight trip to the Kolob Arch vicinity, take a spur trail to Beartrap Canyon Falls (about five additional miles round trip) or add an extra day to explore the Willis Creek area.
For a unique experience, check out the north and south forks of Taylor Creek, both accessible from the main Taylor Creek parking area. These "finger canyons" are more remote than some of Kolob Canyons' more popular hiking trails, but they're still not quite slot canyons—that distinction falls to Beartrap Canyon. A three-day loop to Beartrap requires some technical skills, including navigating off-trail routes, third-class scrambling, and a 40-foot rappel down a wall, so it shouldn't be taken lightly.
When to Visit
Broadly speaking, the season for Kolob Canyons is March through November. Kolob Canyons can offer a respite from the crowds in the better-known areas of the park. To further minimize encounters with other hikers and backpackers, an off-season visit is the best bet. Average highs in the area hover in the mid-60s Fahrenheit in October, and, as a bonus, fall colors are in full swing. Depending on the year, visitors may continue to hike well into November and get an early start in the spring. Kolob is at a higher elevation than Zion Canyon so winter snowfall frequently leads to road closures. With the privilege of solitude, of course, comes some responsibility: it's crucial that visitors to the park follow Leave No Trace principles to keep Kolob Canyons beautiful — if you pack it in, you must pack it out.