U.S. Federal Shutdown Information
All of Utah's Mighty 5 national parks will remain open.
Learn more.
Off the Eaten Path: Dining Between the Mighty Five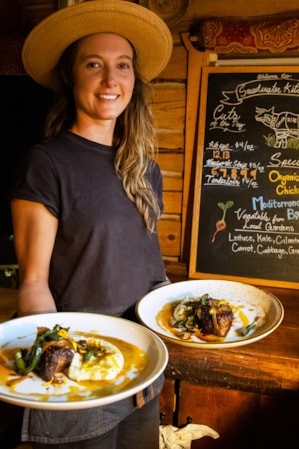 Known as The Mighty 5, Utah's national parks — Arches, Bryce Canyon, Canyonlands, Capitol Reef and Zion — are the rock stars of the rock world. And just like hearing your favorite band or tasting a memorable meal, the moments of anticipation throughout your visit are a slice of the experience, ones that you savor long after you returned home.
Savvy travelers know that experiencing The Mighty 5 a la carte or as a multi-course meal is more than stamping your visitors' pass, snapping photos at the must-do viewpoints and then exiting through the gift shop. It is observing each park in context: its geology, history and culture, both ancient and contemporary.
The parks are more than exquisite rock formations and iconic hikes; petroglyphs and dwellings are found throughout. Indeed, people have always been a part of where The Mighty 5 stand today, and the roads and trails that connect them tell stories of the inhabitants and their foods that settled in these incredible and, sometimes, inhospitable lands. So, whether you're visiting a single park or all of them, take time to explore and enjoy a coffee, pastry, meal or dessert on the spectacular routes between The Mighty 5, prepared by those drawn to these remote, rugged and romantic surrounds. To paraphrase Anthony Bourdain, you haven't experienced Paris if you've only seen the Eiffel Tower. Eat the croissant!
Local Tip: In Utah, folks enjoy pie all day long, but some restaurants are not open year-round. Many are closed during the winter months. Check each restaurant's website for seasonal hours.
"I think food, culture, people and landscape are all absolutely inseparable."
– Anthony Bourdain, Author & Chef
Why Eat Local (Capitol Reef near Boulder and Torrey)
Visitors don't often associate 'foodie' with the remote, desert landscape of Southern Utah, where The Mighty 5 are located. The fancy five-star alpine resorts of Park City or urban Salt Lake City north of I-70 command the attention of most dining publications and influencers. But ask industry folks and locals where the best restaurant in Utah is, and they'll shout, "Boulder!" the home of Hell's Backbone Grill. This James Beard nominee, about 40 miles south of Capitol Reef, is a destination of its own, featuring locally-grown produce, protein and every other edible owners Jen Castle and Blake Spalding can procure. This single restaurant has not only brought tourists to this remote section of south central Utah but, like pied pipers, other chefs and purveyors of fine foods have been drawn to these ancient landscapes to unearth flavors and techniques beyond the scope of Le Cordon Bleu.
Haylee Haning and Garin Apperson met while working at Hell's Backbone and decided to plant roots nearby and open Magnolia's Street Food. The big, blue school bus parked at Anasazi State Park Museum offers delicious bites, such as "the burrito for your 100-mile trek to the Henry Mountains," homemade kimchee or spiced beef picadillo, using the area's best and organic ingredients served on outdoor picnic tables to hungry hikers and amateur archaeologists.
Burr Trail Grill, another Boulder favorite owned by Nichole Shrives, pays homage to one of the park's most scenic drives with food and ambiance, featuring locally-sourced lamb burgers and made-from-scratch pies, many with seasonal fruits harvested nearby.
Boulder's culture and landscape have similarly influenced Brandie Hardman, owner of Sweetwater Kitchen at Boulder Mountain Guest Ranch. Named for the creek running through this rustic resort, Sweetwater has embraced a "watercourse" approach to cuisine, allowing fresh and local ingredients to lead the menu and connect diners both to "ranch-to-table" food (95% organic with beef raised on-site) and the Capitol Reef region.
Guests of these and other area eateries, including Capitol Burger, Color Ridge Farm & Creamery, Hunt & Gather, Etta Place Cider, Torrey Grill and BBQ (all in nearby Torrey), realize that the connection runs both ways: the food introduces them to the land and its people, and their tourist dollars support this unique and fragile environment.
These restaurateurs are stewards; visitors are patrons in the classical sense, and they cannot exist without each other. As rancher Andy Rice eloquently explained this symbiosis, "If the people spending those dollars could take a minute to ask themselves, 'Is the money I spend going to stay in this community, or is it going to leave,' that kind of thinking right there would make a big difference for everybody." Unlike a homogenous theme park vacation, supporting businesses between The Mighty 5 becomes part of the local lore and, in very real terms, determines the next chapter.
"You don't need a silver fork to eat good food."
– Paul Prudhomme, Chef
Beyond Burgers and Shakes (Arches & Canyonlands near Moab)
As the popularity of The Mighty 5 has grown, the dining choices near and between the parks have also expanded. There are still great burgers and dives — actually, amazing ones, like the Capitol Burgers' Mac 'n Cheese Burger (Torrey), which has almost reached cult status from its humble food truck, and Milt's Stop and Eat, one of Moab's oldest establishments that, despite its diner decor, would make any hipster happy with its large selection of locally-sourced grass-fed sammies (including the staggeringly good Cowboy Burger, loaded, of course) as well as several vegetarian selections.
However, Moab, in particular, has recently experienced an explosion of upscale and boutique hotels with restaurants worthy of 'après bike' and hike guests. Il Posto Rosso, the farm-to-table haunt at the Radcliffe Hotel, would fit in on Park City's Historic Main Street. Its menu not only features exquisitely prepared seasonal foods but shares its commitment to Moab Grown Products with a large QR code for diners to learn more about what's on their plates. Josie Wyatt's Grill at the posh Hoodoo Moab has raised the bar (and the tab) by delivering great steaks, roasted prime rib and seafood favorites on its stunning outdoor patio.
The expanding breadth of its cuisine is also noticeable. Travelers to Moab, famous for its slickrock mountain bike trails or hikes beneath sandstone arches, will be surprised to discover excellent international choices from Sabuku Sushi, Arches Thai and finishing with a cold and refreshing homemade gelato.
These and other Moab restaurants will satisfy gourmands and sports groups, big spenders and budgeters. As the gateway to both Arches and Canyonlands, Moab's growing dining scene will fuel any adventure.
"First we eat, then we do everything else."
– M.F.K. Fisher, American Food Journalist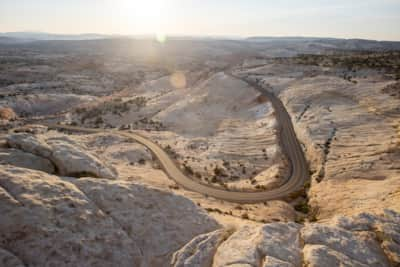 Byways and Bites (Bryce & Zion from Escalante to Mt. Carmel)
There is a lot of open space between The Mighty 5 and only a handful of ways to get from one to another, but travelers are encouraged to slow down and take in the views and the victuals. These roads are not only scenic but dotted with refreshing oases along the way, and visiting Bryce or Zion takes you past several.
Scenic Byway 12 is not merely the driving route from Capitol Reef and Bryce; it's a 122-mile tour, that easily lives up to its All-American Road designation. Officially beginning in Torrey, its Hogback stretch begins south of Boulder and swoops west and then north through Grand-Escalante Staircase National Monument, Kodachrome Basin State Park, the towns of Escalante and Tropic before entering Bryce. If God had a paintbrush, this is where the masterpieces were divinely inspired or created. Thus, it shouldn't surprise anyone that chefs, brewers and other culinary creatives opened doors to share their inspired works here, too.
As you climb up the Hogback, a ribbon-like road that makes you want to drive fast, slow down at Milepost 73 and stop at Kiva Koffeehouse. Along with excellent coffee and one of the best views of the Grand Staircase from its circular perch supported by giant Ponderosa pines, Kiva offers an ever-changing menu for breakfast and lunch with many vegan and gluten-free options.
Sitting in the heart of outdoor adventure in the town of Escalante, Escalante Outfitters provides visitors with gear and guides, beers and bites. They offer made-to-order sourdough pizzas and other vegan, gluten and dairy-free dishes for lunch and dinner, as well as strong Wi-Fi — that's as rare and decadent as black truffles in this remote area of Utah — and strong coffee each morning ("Esca-latte") made with Utah roasted blends.
With its popularity in Boulder, Magnolia's Street Food recently expanded into the brick-and-mortar Magnolia's Kitchen in Escalante, where its locally-driven breakfast and lunch menu (Highway Man Burrito and Red Dirt Girl Sandwich) serve and support area producers, including Cache Canning & Ferments, Kanab Custom Meats and Halfacre's Farm. As the perfect accompaniment, Magnolia's built an outdoor stage featuring local music rounding out this cultural taste of the Colorado Plateau.
"You have to taste a culture to understand it."
– Deborah Cater, Author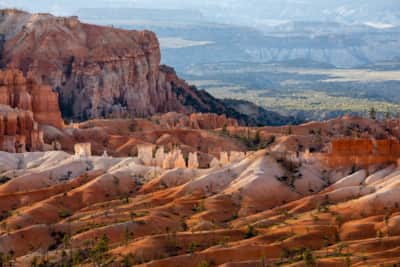 Taking the opposite route, Georgie Lister's culinary journey started on Main Street (where Mimi's Bakery and Deli is located) and, after being drawn back to Escalante after a hiatus, moved to its present-day orange food trailer. Georgie's Outdoor Mexican Restaurant was designed by and for locals who missed the old place with food that is, as Georgie put it, is "…traditional, fresh, as much local as possible…And we'll be reasonably priced…now when nobody has any money!" Word about good cheap eats spread, making this orange oasis one of many popular and pleasurable stops along this scenic route.
At the edge of Bryce is the small town of Tropic, named over three decades before the park's founding in 1923 to encourage people to "come to their little valley where peaches, apples, grapes and other semi-tropical fruits would be found." Record numbers have flocked to Bryce for its centennial celebrations, and many have, indeed, paused in Tropic to take in the small town and indulge a big appetite at i.d.k. Barbecue, where owners Kevin and Emily Clark provide "…Utah's take on barbecue, but we don't know what that really means." The menu, with nods to other regions of the country, suggests a collision of flavors, much like the melding of landscapes outside the restaurant's door.
Stone Hearth Grille founders, Riley and April Roberts, conceived of the casual fine dining restaurant for its Inn from the depths of a nearby slot canyon, where the absence of sound and light and distraction sparks many inspirations and epiphanies. As locals, they imagined a place that would draw visitors and nourish them. The Grille has white tablecloths (often with hiking boots peaking out) and features a selection of homemade, all-natural dishes to be savored in its dining room or on its deck facing Powell Point, a monument to the famed explorer. Forget picking up a tchotchke or t-shirt when traveling to Bryce; a bone-in grilled pork chop (the kids' menu even features a four-ounce steak) with a good red while watching the sun set over a 10K-foott peak with friends and family will be much more memorable.
As you turn off Scenic Byway 12 to
Highway 89
(which runs parallel to the speedy I-15 throughout much of Utah), feel free to meander north a few miles to
Panguitch
(emphasis on PANG, like the one in your tummy) and the
restaurants
there, including
Backroads Bistro
.
Heading south brings you to Orderville and Archie's Food to Die For. This food trailer has something for everyone, including Beyond Burgers, gluten-free chicken tenders and 'Utah Philly Fries.'
The "between the parks" culinary tour ends with Zion-Mount Carmel Highway (Utah State Route 9) and — like any good meal — dessert! With a region full of stone fruits and other produce, pie is a serious topic and, in Southern Utah, has tours of its own. One of the best places to sample a slice is Thunderbird Restaurant at Mt. Carmel Junction. Since 1931, this institution has been serving 'ho-made pies' and just about anything else to visitors of Zion and Southern Utah (it also operates a lodge, gift shop, RV park, outfitter, golf course and gas station). For more dining west of Zion, be sure to check out Springdale and St. George.
Without question, The Mighty 5 are the biggest attraction in Utah, drawing millions of visitors to these iconic lands each year. However, between them, Southern Utah features cultures and cuisines that are not only worth slowing down for but savoring.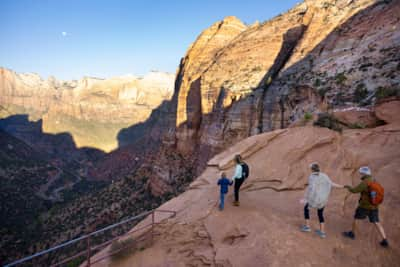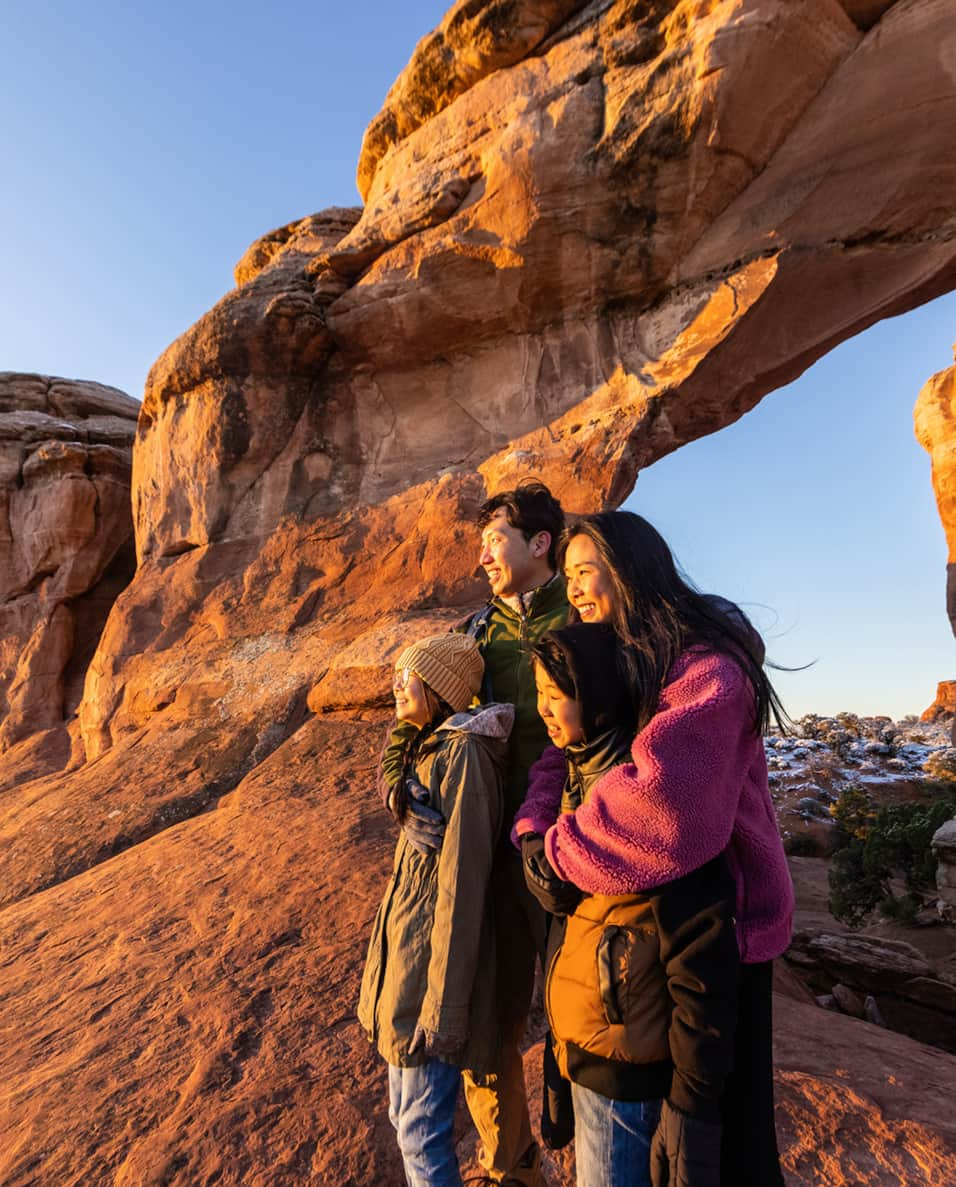 The Mighty 5: Ultimate Journey
Grab a national parks annual pass for best access to The Mighty 5®.
Highlights
Arches National Park
Bryce Canyon National Park
Canyonlands National Park
Capitol Reef National Park
Zion National Park