Utah's Pie-Ala-Road: A Sweeter Way to Explore the State
Follow the Utah Pie Trail through a scenic landscape of water-sculpted canyons and sandstone peaks and past three iconic national parks to savor the flavor at five delectable pie stops.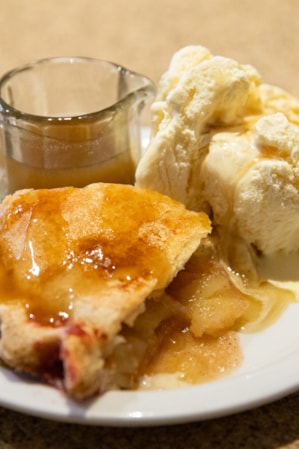 While iconic trails lace Utah's mountains and canyons, explore sweet spots in national parks and lead the way to desert hideaways, the state's most unique trail follows two-lane asphalt roads to the sweetest spots of all. These are the diners, cafes and restaurants that serve pie, the iconic American dessert. The Utah Pie Trail explores southwestern Utah one slice at a time at five stops along a highway loop.
While you could drive the Pie Trail in a day, it's best to split this dessert drive into two or three segments so you can savor every tasty wedge — pickle pie, traditional apple pie, raspberry rhubarb pie and sour cream raisin pie. So, grab the road atlas, tank up the car and hit the open highway to discover Utah's natural wonders, ancient history and, best of all, distinctive sweet slices of pie-ala-road.
Stop #1: Veyo Pies in Veyo
The first stop on the Utah Pie Trail is Veyo Pies and Bakery near the corner of Center and Main in Veyo, a backroads town north of St. George. With more than 30 years of pie-making expertise, this tasty stop is perfect when you're "in the mood for yummy delicious pie." The shop prides itself on a flakey crust that melts in the mouth, as well as the biggest selection of pies in Utah. (Note: In the winter, the bakery is closed on Mondays and Tuesdays.)
Choose from fresh-baked fruit favorites including apple, blueberry, blackberry, rhubarb and to-die-for raspberry rhubarb; decadent cream pies such as key lime, double lemon and coconut cream; and specialty pies including pecan and pumpkin. You can't leave without sampling their famous Veyo Volcano Pie, named for the cinder cone down the highway. Imagine a graham cracker crust stacked with layers of sweet cream cheese, butterscotch and chocolate topped with whipped cream. Yummy is right! Pies are available whole and by the slice.
After sampling all 24 pie flavors at Veyo Pies, you'll need to work off some calories. The town, 20 miles north of St. George in southwestern Utah, lies amidst an abundance of natural beauty and outdoor recreation. The Veyo Pool and Crawdad Canyon Resort, across the highway from Veyo Pies, is an off-the-beaten-track hideaway with a spring-fed swimming pool, private campground by the Santa Clara River and superb rock climbing in Crawdad Canyon, one of the few private climbing parks in the country.
There is excellent hiking nearby as well. Check out the Lower Sand Cove Trail to the Vortex, a sandstone bowl; the Red Mountain Trail to Snow Canyon Overlook; 13 trails in Snow Canyon State Park; and more trails in the Red Cliff Recreation Area. For fishing, boating and swimming, head farther south to three state parks — Gunlock, Quail Creek and Sand Hollow.
Spot #2: Ho-Made Pies at the Thunderbird Restaurant
Drive east from St. George on Route 9 to Springdale and then through Zion National Park on the twisting Zion-Mt. Carmel Highway to Mt. Carmel Junction, the eastern gateway to Zion. The historic Thunderbird Restaurant, home of the "Ho-Made Pie," sits at the busy summer junction of state Route 9 and U.S. 89. Marked with a neon sign, the Thunderbird complex includes the restaurant, gift shop and Best Western motel, all which resemble a Santa Fe adobe. You can stop at the restaurant for a plateful of comfort food and finish with a stellar wedge of Ho-Made pie, which got its risqué name after Jack Morrison, the restaurant founder in 1931, ran out of space on the sign and shortened "Homemade" to "Ho-Made."
The classic pies include hot apple, coconut cream, chocolate cream and the famed Thunderberry pie, a fruity treat filled with blended raspberries, blackberries, blueberries and strawberries. Also, try their Utahn scone, a fry-bread like a sopapilla sprinkled with powdered sugar.
The Thunderbird Restaurant sits in the midst of southwestern Utah's natural marvels. To the west is Zion National Park and its amazing sandstone wonders and hiking trails. For an afternoon adventure, head into the park and take a walk on the East Rim Trail, hike the short Canyon Overlook Trail to a stunning view or drop into Zion Canyon for big adventures.
The Old West town of Kanab lies a 25-minute drive south of the Thunderbird. Head down to visit the Best Friends Animal Sanctuary, a place for homeless pets; Coral Pink Sand Dunes State Park, a giant sandbox; and the pigmented landscapes at Buckskin Gulch, The Wave and White Pocket, three other-worldly wonders that will fill your camera card.
Stop #3: Decadent Pies at Bryce Canyon Pines Restaurant
Nestled along Highway 12 Scenic Byway, one of Utah's best drives, Bryce Canyon Pines Restaurant offers home-cooked meals, delicious soups and, of course, an array of hearty pies to satiate every Bryce Canyon National Park traveler. After leaving Mt. Carmel Junction, head north and then east on Route 12 to the restaurant just before the turnoff to the national park.
The restaurant serves full breakfast, classic sandwiches, burgers (with vegan options) and diverse dinner options. Make sure you don't fill up on the non-essentials so you can order a slice of their renowned pies. The restaurant dishes up 11 different flavors, such as the recommended Lemon Cream with a layer of white chocolate, Banana Blueberry with fruit layers on a graham cracker crust, tart Boysenberry topped with a scoop of vanilla, and Sour Cream Raisin Pie, a local double-crust favorite filled with plump raisins and sour cream custard.
After a couple helpings of pie, drive into Bryce Canyon National Park to hike off those extra pie calories. The park is a wonderland of rock formations crammed into Bryce Amphitheater. Early settler and park namesake Ebenezer Bryce called this maze of slender spires "a hell of a place to lose a cow."
Get oriented at the park visitor center and then ride the free shuttle to Bryce Point, Inspiration Point, Sunset Point and Sunrise Point for dramatic views. You can also explore the hoodoos on Mossy Cave Trail, Peekaboo-Queens Garden Loop and Fairyland Loop Trail. If you brought a bicycle, pedal the 22-mile Rim Trail before heading up Route 12 to the next pie stop.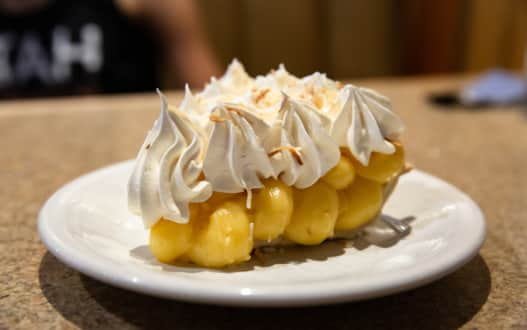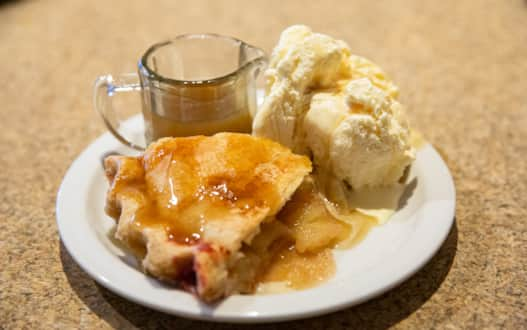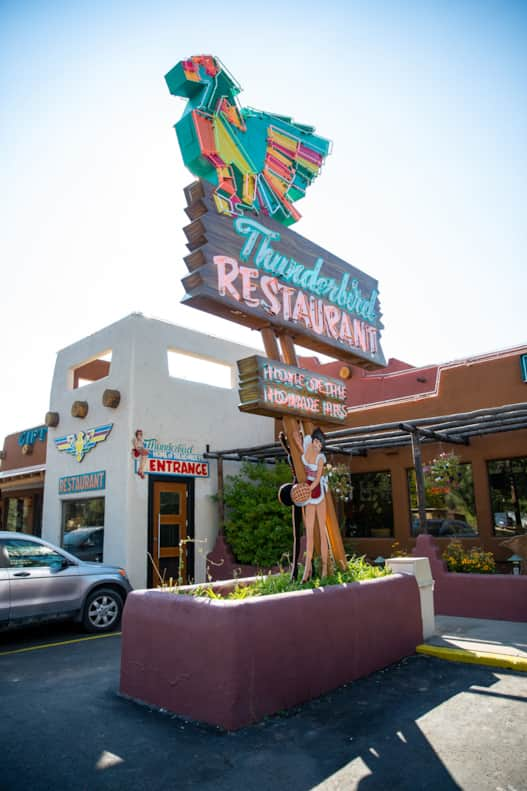 Stop #4: Classic Pies at Capitol Reef National Park
It was in the 1880s when early Mormons first settled a lush valley in the heart of today's Capitol Reef National Park. They planted orchards filled with cherries, peaches, pears and apples and called this fertile vale Fruita. Now, the orchard district, Gifford House and surrounding farm buildings are preserved as a slice of history by the National Park Service to showcase the pioneer days. The Gifford House, sold to the park by its last resident in 1969, serves up that slice of history with personal-sized pies sold to raise funds for the Capitol Reef Natural History Association. (Open from Pi Day, March 14, 2021 to mid-October.)
Drive past the park visitor center to the old farmhouse, open daily from March 14 to October 31, for a taste of history. Pick your pies — usually strawberry rhubarb, apple, cherry, mulberry and mixed berry — add a dollop of ice cream and head outside for lunch at a shady picnic table with red-rock cliff views. The pies, over 46,000 a year, are baked every day at the Broken Spur Inn & Steakhouse in Torrey and trucked to Gifford House. Get there early in the day for the best selection or you're out of pie luck. (
After pie time, venture further into Capitol Reef for more stunning scenery, backcountry trails and petroglyphs. Take the Scenic Drive to hike in Grand Wash, Capitol Gorge and Pleasant Creek or head south on the Notom-Bullfrog Road to explore the remote Waterpocket Fold country and its slot canyons and sandstone domes. The Cathedral Road, accessible with a four-wheel-drive vehicle, traverses spectacular Cathedral Valley and towering Temples of the Sun and Moon.
After visiting the national park, drive west to Torrey and the last pie stop at Bicknell.
Stop #5: Pickle Pie at the Sunglow Cafe
The Sunglow Café in Bicknell, 17 miles west of Capitol Reef National Park and Torrey, is the perfect ending slice to your pie day when the setting sunlight reddens the hills above the town. Sitting beside the Sunglow Motel, the family restaurant is famed for its signature sweet dish — pickle pie.
Sounds a bit strange and savory but folks come from all over to taste this unusual dessert pie with its tangy mincemeat texture flavored with hints of cinnamon and allspice. The unique pie, with Depression-era roots, was created by the late Cula Ekker, dubbed the Pie Queen of Wayne County. Pinto Bean Pie is the second most famous Sunglow dessert. For a taste tour of Bicknell, order the sampler with half-slabs of pickle and pinto bean pies along with buttermilk and oatmeal pies.
Bicknell, an old Mormon town with 322 residents, lies in broad Rabbit Valley, which includes the meandering Fremont River, wetlands and irrigated fields. The town lies west of Torrey, the gateway to Capitol Reef National Park and its scenic wonders. Before heading to Bicknell for that evening slice, visit the national park, explore rock art sites and take a hike up to Cohab Canyon or Hickman Bridge, a graceful 133-foot-long natural bridge.
For another gorgeous drive, head northwest from Bicknell to the 40-mile Fishlake Scenic Byway. The open loop swings past glistening Fish Lake, the largest mountain lake in Utah. Bring a fishing pole and camping gear to spend the night lakeside or bunk in a room in the historic Fish Lake Lodge.
From Volcano pie in Veyo to pickle pie in Bicknell, this mouth-watering adventure is one of the sweetest ways to explore Utah. Sprinkle in some epic scenery, natural wonders and history and you have a recipe for success. Grab a fork and dig in — you've got a lot of tasting to do!