U.S. Federal Shutdown Information
At this time, all of Utah's national parks, monuments and recreation areas remain open.
Learn more.
Bear Lake for History Buffs: Top 5 Don't-Miss Sites
The Logan Canyon Scenic Byway leads to more than just Bear Lake's renowned water sports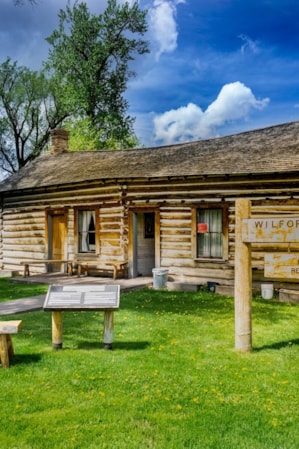 Bear Lake's charms are pretty apparent for anyone interested in the outdoors, water sports, cute small towns or fresh-picked raspberries. But beyond a lovely azure freshwater lake surrounded by cool hiking trails and berry stands, the area has a few special historic sites that you might miss if you didn't know better.

Behind the big blue lake and its surrounding town lies a lot of history. Early pioneers and explorers traveled through the area, with many choosing to stay and settle. They were a very hardy bunch and endured difficulties along the trail that would make today's hikers shake in their boots.

Seeing these historical sites and records adds a level of impressiveness to a place that already visually stuns. When you learn how hard people worked to get here, it makes the Bear Lake Valley all the more special. With that in mind, we've compiled a list of five spots important to Bear Lake History that you won't want to miss when you visit.
1. The National Oregon/California Trail Center
Have an up-close look at the Oregon Trail, which looks very little like the video game many of us grew up with. Early pioneers took six months to complete the grueling 2,000-mile migration to the west, battling the elements for mile after mile with clothing and gear that looked nothing like the high-tech duds of today.
A historic trail center was built right along the original trail, which cuts through the Bear Lake Valley, in Montpelier, Idaho. Inside, you'll find a gold mine of information, with a thorough interpretation of the story of pioneers who braved this epic migration. You can even join a simulated wagon train and experience what it was like to prepare for the journey and travel the trail. The center is open all summer, with hours varying by the day of the week. It's well worth checking out and will impress both kids and adults.
2. The Wilford Woodruff Home Visitors Center
Speaking of pioneer settlers, it's worth making a stop at the old two-room log cabin inhabited by an early Bear Lake Valley inhabitant and early Mormon church leader, Wilford Woodruff. The little house in Randolph, Utah, seems frozen in time, with everyday artifacts dating back to the mid-1800s. Paying this old house a visit doesn't take long, but it definitely imprints an impression of how early settlers made their lives here—and how easy today's visitors have it, staying in waterproof tents, RVs, or hotel rooms.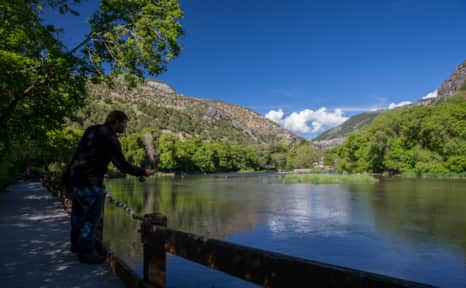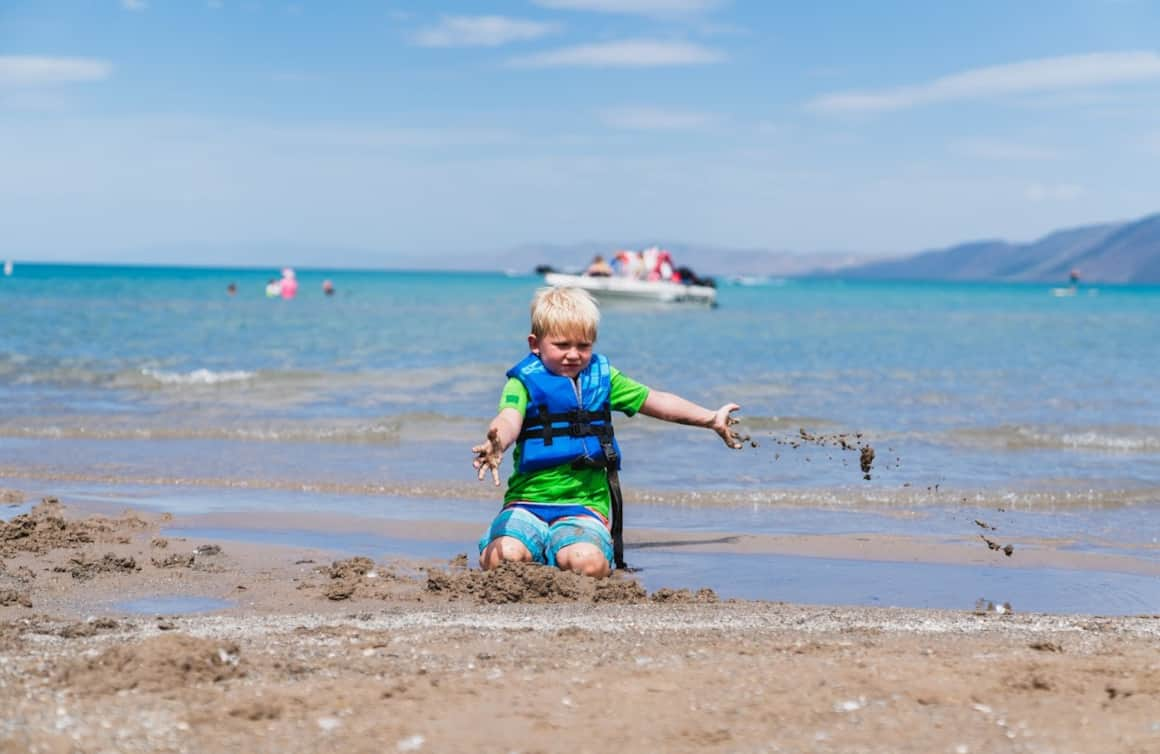 3. Play on Rendezvous Beach
Before pioneers settled northern Utah, the place was frequented by the original "mountain men," who led just about the hardiest lifestyle imaginable, wandering the rocky wilderness of Utah alone, gathering furs and other wares to trade. They regrouped at rendezvous gatherings to trade goods and supplies—and maybe share a little whiskey.

Rendezvous Beach, at the southern end of Bear Lake in Laketown, Utah, is now a highly popular park area where visitors can swim, set the kids loose to build sand castles, rent a boat or kayak, eat at the adjacent small-town drive-thru, and generally make merry in a beach-going fashion. So it has little in common with the beach's appearance generations ago when the early mountain men gathered. But it's worth stopping by, pausing to reflect on the spot's history, and then proceeding to have as much of a blast as they did on this beach so many years ago.
4. The Overlook Visitor's Center
Most visitor centers come with information about local history and activities—but few come with a view like this. The Bear Lake Overlook Visitor's Center is perched on the hillside above the lake-filled valley, near the summit of Logan Canyon in Garden City, Utah. It's the perfect place to make a stop before exploring the hiking, biking, and climbing that awaits in the canyon. You can snag pamphlets and printed literature on the area and chat with a friendly visitor's center employee who can share a local's insider scoop on what to do. Pause for a few minutes to take in the span of the Bear Lake Valley and maybe make a little picnic of your berry-stand booty.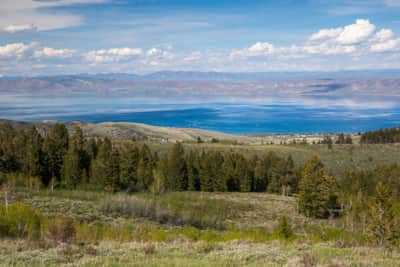 5. Drive the Oregon Trail Scenic Byway
The Oregon Trail may have been tough going for the original pioneers who carried all their life's possessions and supplies in covered wagons, but you can get a taste of the route's beauty by car or even by bike. You can drive all or part of this hundred-mile route between the shores of Bear Lake and stunning Star Valley in Idaho. Head north along the lakefront, taking in the sandy beaches, swimming spots, and fishing holes you pass along the way. As you continue northward, you'll pass historic towns and old original buildings constructed by the area's intrepid first settlers. Along the way, you'll pass the National Oregon/California Trail Center mentioned earlier—but by covering extra miles by driving the byway, you're treated to more views and spots worth stopping at. One of our favorite stops is at Lava Hot Springs, a tiny old western town built around soothing hot springs you can buy a day-pass to soak in.
Experience the best of Bear Lake history, recreation, dining, scenery and more all in one great trip! Start planning your Utah visit today.