A Guide to Utah's Top Food Festivals
Follow this guide through 10 of the state's best food festivals.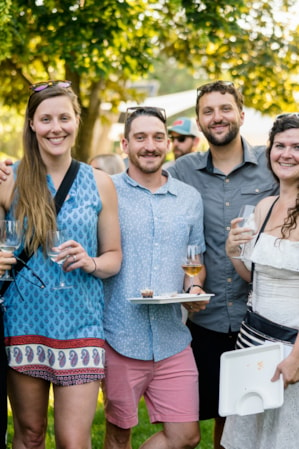 Good food and drink is worth celebrating, and Utah is filled with festivals that highlight the state's agricultural products, local brewers, winemakers and other creators of delicious dishes. Festivals offer a chance to come together and enjoy the work of notable chefs and taste homegrown produce, often spiced with live music and other entertainment. You'll find festivals and events featuring all kinds of agricultural products all over Utah, but here are 10 to give you a sample of what the state has to offer.
Living Traditions Festival
May, Salt Lake City
Presented by the Salt Lake City Arts Council, the Living Traditions Festival has played host to the variety of cultures represented in Utah for more than three decades. Nonprofit groups and member clubs representing many cultures, nationalities and ethnicities sell delicious fare at the Food Market; there are more than 20 vendors each year. Snack on Bosnian cevapi, East African stew, Polish sausages, jor Tibetan momos, to name just a few of the delightful items for sale.
Pleasant Grove Strawberry Days
June, Pleasant Grove
Enjoy the strawberry in all its iterations during Pleasant Grove's Strawberry Days, founded in 1921, now considered the longest continuously running festival in Utah. Visitors will find a lot to love beyond the tasty berries, with a parade, carnival, rodeo, sporting events, a 5K run, concerts and a pet show. Of course, don't miss out on the fresh strawberries and cream — you'll understand why this event has been going strong for nearly 100 years.
Savor the Summit
June, Park City
Ready to sit down at the biggest dinner table of your life? Park City's annual Savor the Summit features a "grand table" that runs through the center of Historic Main Street and highlights the town's outstanding restaurants. More than 2,500 patrons will dine al fresco, thanks to the 80-plus restaurants that create this unforgettable dining experience.
SLUG Mag's Brewstillery
June, Salt Lake City
You've probably noticed — and how could you miss it — that Salt Lake City has become a hot microbrewery market. (Read: Brewing up the Best.) Here's your chance to taste many of the best locally-made ale, beer and spirits in one place. Held at Artspace City Center in Salt Lake City, Brewstillery includes local beermakers and local distilleries. In addition, there will be local food trucks, artisans and music at this family-friendly event.
Bear Lake Raspberry Days Festival
August, Garden City
Garden City is best known for its raspberry shakes, and at the Bear Lake Raspberry Days Festival, you'll have plenty of opportunities to try one for yourself. This annual event comes near the end of the raspberry harvest, and shakes are just one of your tasting options. In addition to eating raspberries, you can also attend a pancake breakfast, concert, parade, rodeo, fly-fishing contest and craft fair. The festival concludes with the Boat Light Parade and fireworks on the beach at Bear Lake.
Eat Drink SLC
September, Salt Lake City
Salt Lake City's don't-miss foodie event of the year, Eat Drink SLC highlights top restaurants and offers a sampling of some of their best seasonal fare. To complement these small, but delicious bites, a wide selection of boutique wineries, local breweries and small-batch distillers will be on hand to provide drinks. This event has sold out every year, so get tickets early.
Brigham City Peach Days
September, Brigham City
Georgia may be known as the Peach State, but you might not want to mention that during the second weekend in September in Brigham City. Brigham City Peach Days attracts more than 35,000 visitors in celebration of this locally grown fruit. In addition to all manner of pies, cobblers, jams and ice cream, you can also take in one of the country's largest car shows. And an annual 10K run will help you make room for more pie.
Melon Days
September, Green River
Take advantage of the last days of summer with a little watermelon. OK, there will be a lot of watermelon at Green River's annual Melon Days festival, plus lots of Crenshaws, Canaries, cantaloupes and honeydews. You'll also find live music, a parade, a car show and sporting events like a golf scramble. Melon-related activities include a watermelon-carving competition, a seed-spitting contest and a melon-eating race.
Park City Wine Festival
October, Park City
One of the country's top draws for wine-lovers, the Park City Wine Festival brings together master winemakers, celebrity chefs and more than 100 food artisans to create an incredible atmosphere of fine food and drink. The festival has tastings, seminars and outdoor activities that include a food or wine component. Whether you're a serious wine enthusiast or someone who's just learning the ropes, you will find lots to love.
Fall Harvest Festival
October, Wellsville
Celebrate the end of the growing season at the Fall Harvest Festival, which highlights the state's farming culture. Held at the American West Heritage Center (Read: High Art and Hometown Americana), the event features cider pressing, corn shelling, candle making and steam-engine threshing demonstrations. There's also a corn maze, hayrides and a haunted hollow, as well as a cornucopia of fall treats to enjoy.
Utah Craft Brewing
Craft breweries of all sizes can be found throughout the state of Utah, including in Moab near Arches and Canyonlands national parks, in Springdale at the mouth of Zion National Park, in Price, throughout the Wasatch Front, in Park City and as far north as Logan.