U.S. Federal Shutdown Information
At this time, all of Utah's national parks, monuments and recreation areas remain open.
Learn more.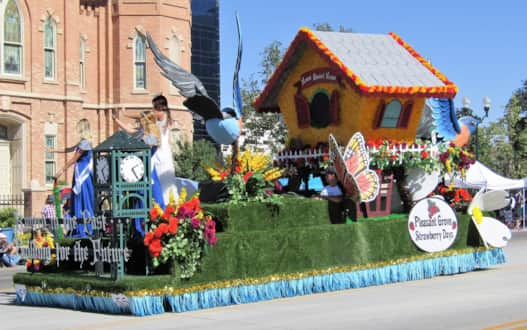 Strawberry Days (Pleasant Grove)
Early to mid-June
One of Utah's oldest festivals, this 100+ year tradition began as a celebration of the crop harvest. Nowadays, Pleasant Grove goes all out for the week-long event, with a bevy of activities for the whole family: a car show and cruise, live music, garden and historic architecture tours, art show, Miss Strawberry Days competition, sports tournaments presented by the local recreation center, pie-eating contest, carnival, parade and the longest continually running rodeo in Utah. And be sure to get your hands on one of the coveted strawberries and cream desserts.
Learn more about Strawberry Days.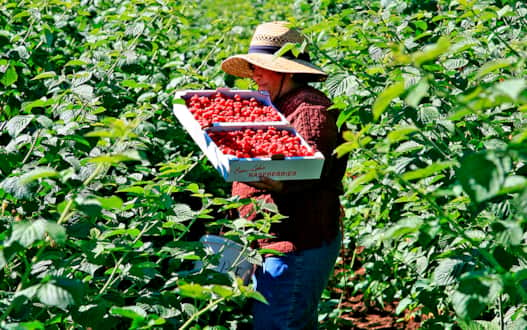 Bear Lake Raspberry Days
First weekend of August
From the Fruit Highway, head north and onward to Bear Lake for a very berry treat. Named the "Caribbean of the Rockies" for its majestic turquoise hue and ample water sports recreation, Bear Lake attracts thousands of tourists throughout the summer, and especially during the three weeks in July and August when the raspberry harvest is on.
With the harvest, a number of family-friendly activities occur during the annual Raspberry Days Festival. The three-day event is held in Garden City, on the shores of Bear Lake, where you'll get to see the Little Miss Berry Pageant, a craft fair and an abundance of entertainment. There's even a 5K run, which will help to burn off the calories consumed while eating too many world-famous raspberry shakes. And when you aren't at the festival, you can head to the lake to play.
The hallmarks of the festival are the Pancake Breakfast at the Garden City Park, a town rodeo, the Parade on the Boulevard and a boat parade on the lake. The festival ends in a big shebang with fireworks on the beach of Bear Lake.
Learn more about Bear Lake Raspberry Days.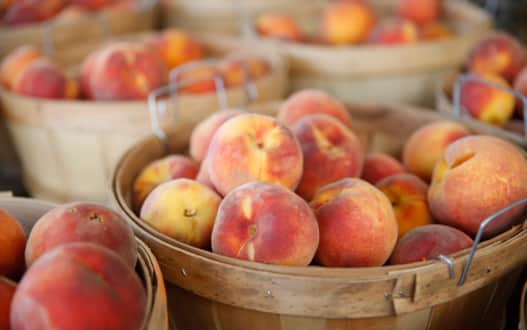 Brigham City Peach Days
September, weekend following Labor Day
There might be more beautiful stretches of historic Highway 89 in Utah, but the miles from South Willard to Brigham City are assuredly the sweetest. Along the Fruit Highway — as is its aptly-titled moniker — many established multi-generational fruit stands, along with many growers selling out of flatbed trucks and trailers, sell in-season fruit from the surrounding foothills. While an abundance of fruit is grown here, none are as famous as the peaches.
The Brigham City Peach Days began in 1904 as a day off from the harvest and a time to celebrate an abundance of peaches. Now, the festival is the longest continually-running harvest festival in Utah, and according to Brigham City, it is the second oldest in the country.
Nearly 50,000 attendees come for the multi-faceted peach-filled weekend. On Friday, you can attend the junior parade at 6 p.m. and a classic car show with 1,000 cars, making it Utah's largest car show and the largest free car show in the West. Saturday offers the Fireman Association breakfast, a softball tournament, a fun-filled 10K, a 10 a.m. parade, and a 1 p.m. motorcycle show. And, of course, there shall be lots and lots of peaches.
Learn more about Brigham City Peach Days.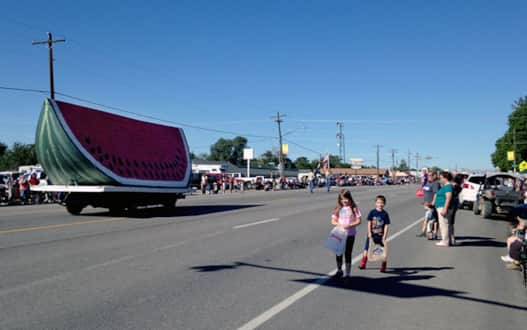 Melon Days (Green River)
Third weekend of September
To say that Green River is crazy about melons is an understatement. Imagine large — no, voluptuous — Crenshaws, Canaries, cantaloupes, honeydews and watermelons piled in huge bins. And now, imagine the sticky, sweet juices from the melon of your choice running down your arm. Smiles abound. Indeed, the town of Green River is a must-stop en route to more adventures on the Green River or Moab area for the melons. But working the three-day Melon Days festival into your road trip is also an act of ingenious trip planning.
Utah's prime melon-growing place with more than 100 years of experience, Green River has ideal conditions for growing the fruit — hot days, cool nights, sandy soil, minimal water. And you'll note how sweet they are at Melon Days when local farmers donate thousands of pounds of watermelons, cantaloupe and Crenshaw melons at the all-you-can-eat cut melon tasting. There's also whole melons for purchase.
But the activities go beyond simply eating. Don't miss the 24-hour softball tour, a bounce house, square dancing, queen pageant, pancake breakfast, 5k run/walk, and the barn-burning seed-spitting contest. Finally, on Saturday, the parade takes over downtown at 10 a.m.; Green River's people and their vehicles get decorated to match the melontastic theme.
Learn more about Green River Melon Days.