Artisan Cheese in Red Rock Country
Mesa Farm Market and the hardscrabble adventure in terroir and tenacity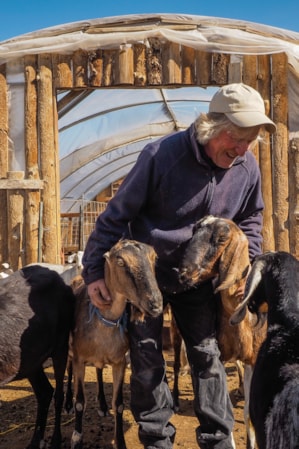 The baby goats are stealing the show.

We're at Torrey's Mesa Farm Market on a crisp mid-April morning and supposed to be learning about small-batch artisan goat cheese production with farm proprietor and legendary cheese maker Randy Ramsley.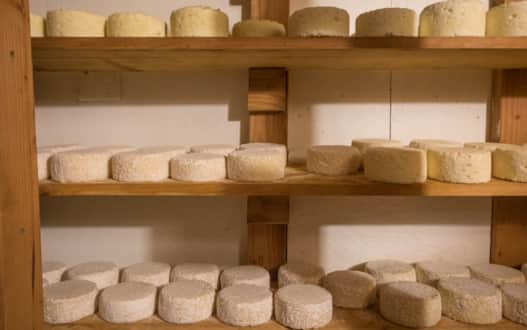 Known affectionately as "the little purple store on Highway 24," Mesa Farm is a 50-acre slice of bucolic wonder nestled in Utah's red rock country at milepost number 102, heading east from Capitol Reef National Park. Led by Matt Caputo, Certified Cheese Professional (that'd be the equivalent of a cheese sommelier), our motley group of about twenty Utah chefs and artisan food lovers visited the farm to learn more about Ramsley's unique farmstead and his variety of goat milk alpine-style cheeses.

But they're having trouble getting us to leave the goat barn.

We're absolutely smitten. Watching dozens of Nubian, Alpine and LaMancha baby goats adorably head-butting, jumping in circles and generally wooing the socks off of anyone who will give them the slightest bit of attention. It's pretty dang cute.

Even after two decades working the farm, Ramsley agrees the kids can be delightfully distracting. "Watching goats just makes people happy," he told me with a grin. "They're really wonderful and adaptable animals."
But there's not much time spent goat-gazing for Ramsley. To say that spring is a busy time at Mesa Farm pushes the boundaries of understatement to the extreme. Even with two interns (he'll have up to seven during peak summer production) who recently joined him to help with birthing and milking the goats, tending the inevitable handful of orphan kids who need round-the-clock care, assisting with cheese making and taking care of vegetable and fruit production for the farm's seasonal roadside market and counter service restaurant, Ramsley's days are full to the brim with activity.
"The cheese is bright, grassy and fresh with a slightly lemony zippiness."
Until the kids are weaned, the thirty-five does are milked once a day, producing 12–15 gallons of goat milk in total. Unlike larger commercial operations that milk goats year-round, Ramsley elects for a more natural growth and milk production cycle for his animals. "We prefer to share our milk with the kids," says Ramsley. "In a couple of weeks they'll be completely weaned and we'll be milking twice a day through the fall," when most of the does become pregnant and the farm stops milking over the winter while the females gestate. (Note to visitors: the Mesa farmstead market is open seasonally, from the end of March through the end of October).
Wandering Goats, Rabbit Brush and You
Ramsley spends his days directing the herd through different pasture on the farm with his trusty companion, Zeke, a nimble canine of superior herding ability and a gregarious nature captured on social media feeds via visitors from all over the globe. Along with supplementing the goats' diet with only non-soy, GMO-free feed, it's a labor-intensive process. But one that Ramsley is passionate about protecting: "Corporate goats stand in a lot and eat the same thing every day. There's no complexity in the milk."

And that flavor complexity is the distinction resulting in the unique and intangible qualities of Ramsley's hand-crafted farmstead cheese.
Much like wine is inextricably linked to the terroir of a specific place, Mesa Farms' cheeses echo the hardscrabble landscape of the Fremont River valley. Says Ramsley of his feta, "The goats have gotten down to the fresh greens in the river bottom, which translates into this green taste from the rabbit brush." The cheese is bright, grassy and fresh with a slightly lemony zippiness. He's a fan of grazing his goats on rabbit brush for its natural anti-parasitic qualities, saying, "It's good for the goats. But also it makes for really delicious cheese."
Accompanied by the fresh bread Ramsley bakes daily in an outdoor brick oven, we try samples from the Mesa Farm Market's seasonally changing offerings of yogurt, fresh chèvre and that green-bright zingy feta.

And then, the pièce de résistance.

Ramsley cuts into a wheel of aged Mesa Tomme, its light-grey rind cracking slightly with the pressure of the knife, yielding a pale smooth texture in the French semi-hard alpine-style cheese. There aren't enough knives to go around, so we start breaking off chunks of tomme and feta with the pressure of our fingertips, nodding to each other with blissful smiles at the complex flavor. Eyes rolled back in our heads with delight, chefs are audibly humming their approval through pursed lips after every bite.

"It's inspiring," says Matt Caputo. "This is the way cheese tasted 100 years ago."
"Eyes rolled back in our heads with delight, chefs are audibly humming their approval through pursed lips after every bite."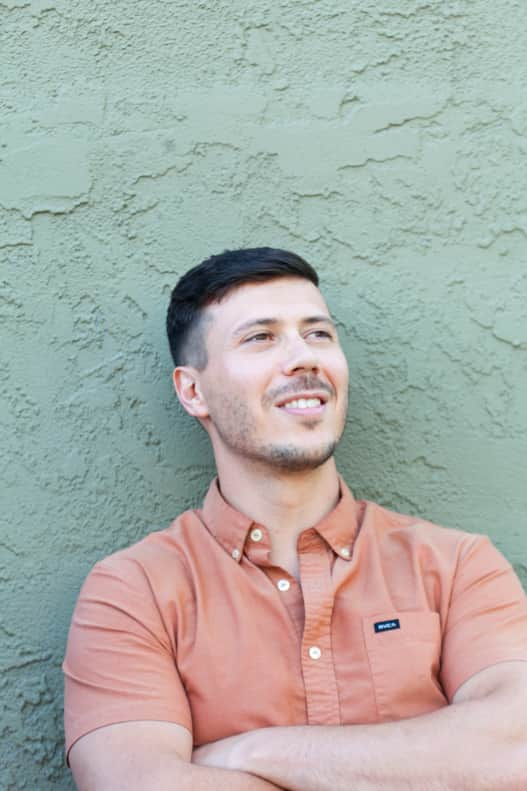 Mesa in the City
A second-generation artisan foods purveyor, Caputo's Markets are known throughout the intermountain west and beyond for obsessive quality control, responsible sourcing and most importantly in Matt Caputo's opinion, for nurturing local food artisans (including a lot of craft chocolate). He says of the Mesa Farm's Tomme, "We tasted something really special in this cheese," and in cooperation with Ramsley, he has been transferring wheels of young cheese to the Caputo's cheese caves in Salt Lake City to be further finessed and matured by full-time affineur, Antonia Horne, under optimal humidity and temperature conditions. There, they direct-sell from the deli and send to restaurants versions of this alpine-style cheese, including a traditional tomme (alternatively spelled "tome") wrapped in goat butter-soaked bandages and aged several months and a 60-day "Barely Legal" Tome, named for the minimum number of days required by law for aging raw goat cheese.
Cheese nerds (guilty, as charged) regularly stalk the Caputo's social media streams to see when the "Barely Legal" Raw Goat Tome will be released. It usually sells out before noon.
Matt Caputo continues preaching to our happily cheese-headed choir, "It's important that artisans like Randy exist, and our goal is to preserve these old world traditions," in cheese making, charcuterie and other food arts. While Mesa Farm products comprise a unique niche among the hundreds of cheeses available at any one time through Caputo's, Horne oversees a bevy of local and imported cheeses getting special treatment in the cheese caves. She's constantly monitoring, testing, flipping, washing, soaking, wrapping and rewrapping cheeses from all over the world.
But they've got a special affinity for hand-crafted Utah-made cheeses, with some products made specifically in partnership with local chefs and restaurants.
"We're incredibly lucky to have Caputo's just down the street from us," Pallet Bistro co-owner Esther Imotan says regarding the market's flagship store location less than a block away from the elegant and cozy west-side bistro. And of having access to cheeses made by Mesa Farm, Beehive Cheese and other local artisans, Imotan says with a grin, "Maybe it's the fact that it's local, we think the Utah cheeses bring a bit more love in the mouth."

But their sourcing is serious business.

Pallet Bistro chef-owner Buzz Wiley puts together one of the most gorgeous cheese and charcuterie boards in a city filled with appreciation for that particular plating arrangement, generously arrayed with seasonal fruit preserves, warm olives, grilled bread and an assortment of house-made pickles. And Caputo's house-aged cheddar — a knock-your-socks-off Beehive Promontory cheddar wrapped in butter with the last six months in cave spent aged in duck-fat soaked bandages — even showed up on the Pallet's cocktail menu. Multiple best-of-Utah award-winning bartender Bijan Ghiai served me a clever rum-based spin on an old fashioned he calls "Ham & Cheese," stirred up with two kinds of esteemed Hamilton Rum and garnished with the aforementioned insane duck-fat-wrapped aged cheddar. Salty, sweet, slightly bitter perfection, all in one superlative sipper.

Whether enjoying farmstead cheese alongside Randy Ramsley himself at Mesa Farm or served on a stunning cheese board at a chic bistro, there's a lot of love to go around when Utah cheese is involved.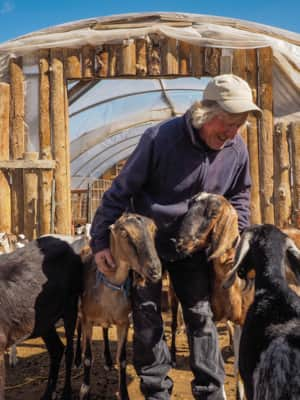 Utah's Unexpected Pit Stops
You're doing it wrong if you think road trip pit stops are boring layovers on your way to more exciting destinations. How many of these hidden gems have you been to? Here are 11 mini-adventures to check off your list next time you're road-tripping through Utah.