Where's the Meat?
Finding Utah's great local flavor, raised with compassion and care.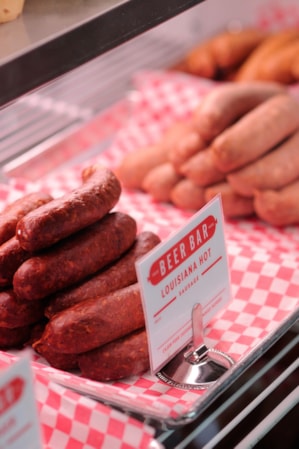 Taking the blue highways, finding a local diner or picking up fresh fruit from a family-run farm store gets us that much more in touch with the flow of seasons and feeling grounded in our sense of place as we travel (Read: How to Support Local On Your Utah Road Trip). And shrinking the circle of our food sourcing has become a priority for many people even, and especially, while on the road.
Fortunately, there is no shortage of Wasatch Front restaurants, shops and farms welcoming the opportunity to incorporate heritage animals pasture-raised with care into the food scene of the valley (Read: Jonesin' for Grass-Fed Beef).
We're indeed fortunate in Utah to have a bounty of family farms and conservation-minded ranchers to fill the demand for local food served with care and compassion (Read: Utah Food Trails). It also happens to be outrageously delicious.
Beer Bar
161 East 200 South
Salt Lake City
(385) 259-0905
beerbarslc.com
Although legendary Austrian butcher Frody Volgger has semi-retired from the direct-to-consumer market, you'll still find his superlative sausages on the menu at Beer Bar in downtown SLC. At this 21+ spot, choose from hundreds of hoppy options on draft or by the bottle, served at the perfect temperature in the glass vessel the deity of your choice intended each beer to be delivered. Volgger's sublime sausages are crafted from whole Berkshire hogs and beef sourced at Christiansen's Family Farms in Fairfield, Utah. In addition to traditional offerings like pork bratwurst, you'll find on rotation lamb merguez, savory elk, and pasture-raised chicken or duck sausages. There's also a chance you might run into local celebrity Duncan Burrell from "Modern Family" fame; he's co-owner (along with brother, Ty) of both Beer Bar and next door craft cocktail hot-spot, Bar X. Open seven days a week, Beer Bar is a city favorite for big-screen soccer match viewing and the occasional Sunday afternoon charity bingo throw-down. (Read: Short List: Local Salt Lake City Nightlife Picks)
Beltex Meats
511 E. Harvey Milk Blvd (900 South)
Salt Lake City
(801) 532-2641
beltexmeats.com
Chef Philip Grubisa named his custom whole-animal butcher shop Beltex Meats after a breed of heritage sheep known for their grumpy mien and highly-coveted muscle mass. In addition to primal cuts of pork, beef, lamb and fowl, the cases at Beltex change constantly depending on the season and what unique treats the small team of talented butchers have crafted. It's the place to go for perfect chops, specialty sausages, gorgeous hand-layered terrine, an assortment of rich pâté, bone broth, house-made salami and more. Stop by on Saturday mornings to pick up a super-satisfying pressed Cubano sammie to go, topped with all the fixins. Word to the wise: they sell out fast.
Pago
878 South 900 East
Salt Lake City
(801) 532-0777
pagoslc.com
There's a reason why Pago in Salt Lake City's hip 9th and 9th neighborhood ranks at the top of every Utah foodie "must do" list. One of the state's earliest adherents to farm-to-table sourcing, the consistently "Best of Utah" award-winning restaurant embraces a casual chic vibe to go along with their seriously stellar wine list, as recognized by both Wine Spectator and Wine Enthusiast. Locals regularly stalk the Pago website's "Events" page to register for meet-the-maker private wine pairing dinners hosted at Pago (and sister tapas restaurant, Finca) and a handful of events held at local farms, literally getting right to the source of the meal. A recent favorite? Chef Phelix Gardner's much-lauded Alsatian wine dinner featured a bounty of charcuterie, house-made pork sausages and traditional choucroute presentation made with whole hogs from nearby Clifford Family Farms.
Utah Natural Meat & Milk
5600 West 7400 South
West Jordan
(801) 896-FARM
utahnaturalmeat.com
A trip to Utah Natural Meat & Milk in West Jordan (a short drive southwest of Salt Lake City) gives a glimpse of what farm life was like in much of the Salt Lake Valley only decades ago. Third generation farmers Shayn and Kristen Bowler and their four kids are involved at every step of farm life from raising chicks to preparing their heritage Corriente cattle for the freezer. The farm is open to the public three days a week, and you'll find young visitors petting the baby piglets and goats, a sunny pasture filled with free range chickens and turkeys, and sometimes even Farmer Shayn plowing the field the old fashioned way with his massive draft horses, Pete and Paul. Folks in the know line up right when the farm store opens (check their website for limited hours) to stock up on gallons of raw milk, fresh-pressed unpasteurized/unfiltered apple cider and hard-to-find items like goat, packages of chicken livers and feet, pristine white pork fat and beef hearts. They're the backbone of Utah's raw milk and pasture-raised protein scene. Don't trust the GPS directions: The farm is about a half-mile south and on the east side of the road versus what Siri tells you.
Table X
1457 East 3350
South Salt Lake City
(385) 528-3712
tablexrestaurant.com
While the sleek black leather banquettes and modern design of the Table X dining room are reminiscent of upscale dining in a city like Berlin, the open kitchen cheerfully bustles with a crew of smiling chefs melding traditional technique and modern innovation. Paradoxically unpretentious and elegant in their gorgeous plating, much of the restaurant's ingredients are sourced from the extensive on-site gardens (Read: Farm to Table X). There's an emphasis on what was harvested that day juxtaposed with an arsenal of house-fermented preparations (get the kimchi egg: there will be a regulars' revolt if it's ever taken off the menu). The chefs work with a local farmer to secure whole animals for succulent pork dishes and source game birds like guinea hen, quail and pheasant.