Farm to Table X
James Beard-nominated Table X creates modern American cuisine with ingredients from its onsite garden.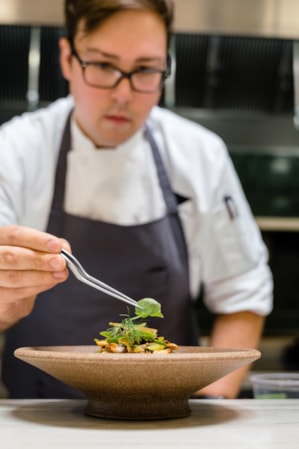 Hand-thrown earthenware plates serve as blank canvases for Mike Blocher and Nick Fahs' always-evolving menu at Table X.
Nightly, the duo, chefs and co-owners, adorn these plates with hyper-seasonal modern American cuisine. Their dishes are intricate, edible artwork. Menu descriptions read like poems, detailed with descriptions of garden-fresh vegetables grown on site.
The ingredients in each of the flavorful concoctions are enticing, prepared with culinary refinement. Confit celeriac, beet molasses, lemon verbena mascarpone, coconut-curried leeks, winter squash nage, smoked sunchoke — the list goes on.
"You get to a point as a chef where, really, the only thing that matters is the quality of the ingredients," Fahs says. "We want to showcase the best product we can get. And by growing it, we ensure that."
"Menu descriptions read like poems, detailed with descriptions of garden-fresh vegetables grown on site. "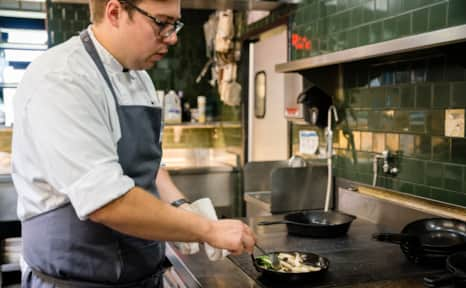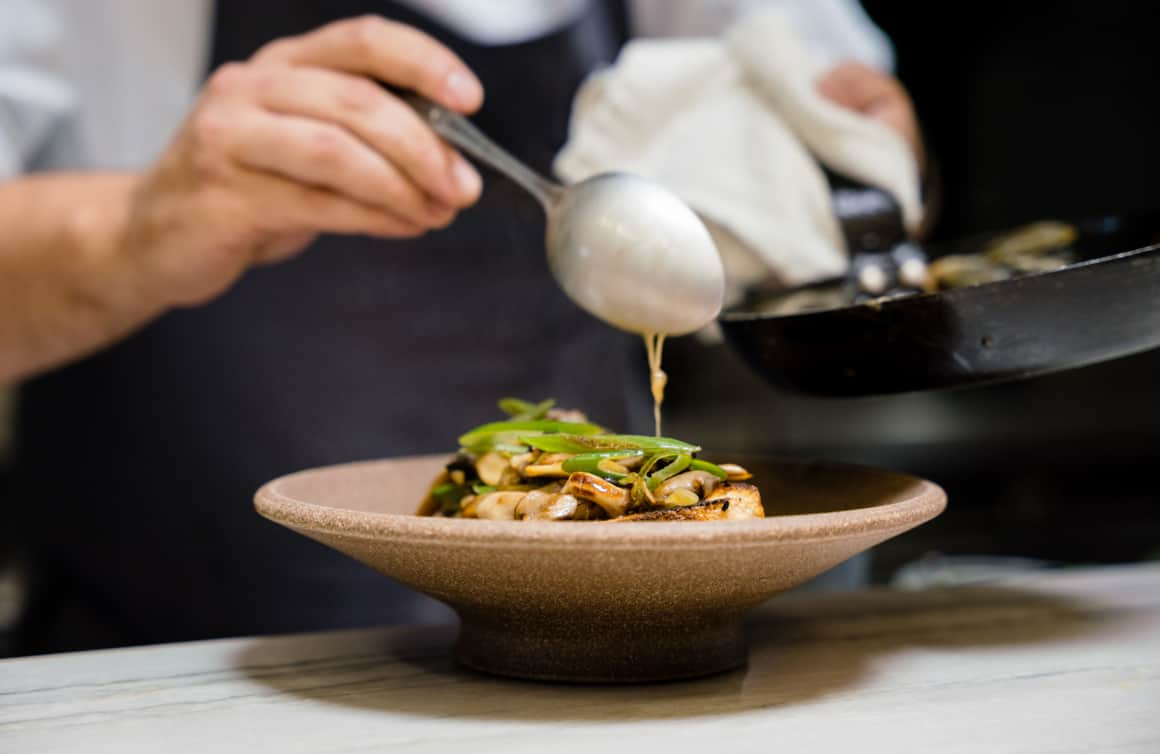 Located in the quiet Salt Lake City neighborhood of Millcreek, Table X is buzzy and hip. A dining room with tall vaulted ceilings gives way to cozy leather booths and chic interior design that feels both intimate and spacious. The chefs' culinary excellence in action takes center stage with an open kitchen concept.
Tucked behind the bustling kitchen is the garden dining room, with its long 16-person table, a golden X embossed on the top. Floor-to-ceiling windows provide views of a French kitchen garden, a potager, with 13 raised beds.
During peak growing season, about 70 percent of the produce Table X uses comes from this garden. That's some 1,000 pounds of vegetables annually, but not necessarily your run-of-the-mill zucchini or corn. The restaurant's full-time gardener, Gwen Orchard, grows interesting produce to dazzle patrons' palettes and ignite the chefs' imaginations.
"We focus on growing unique produce," says Blocher, pointing out a red mountain spinach, then currant bushes, cardoons, spruce tips, hibiscus and hop vines. The two joke that they're chefs with a garden, not gardeners who chef.
"We work with what's available, when it is available," Blocher says. "With that, we create our own limitations and that makes us better chefs and adds value to the customers."
As such, dining at Table X offers a totally different flavor journey in various seasons. February's palette is rich and hearty, while August is imbued with fresh, fragrant vegetables.
"We have the garden to spur our creative drive," Fahs says. "If you have access to fresh ingredients coming out of the ground, it's like a playground."
"You get to a point as a chef where, really, the only thing that matters is the quality of the ingredients. We want to showcase the best product we can get. And by growing it, we ensure that."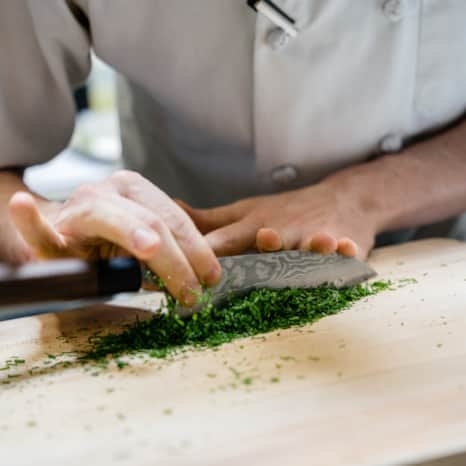 The constant stream of organic produce has indeed ignited the chefs' creative juices as they use classic techniques to create progressive, dynamic dishes. Their efforts have been noted widely.
In February 2020, Blocher and Fahs (and former co-owner and chef David Barboza) were named James Beard Award Semifinalists for Best Chef in the Mountain region. Fahs describes the nomination as "the highest achievement that seems attainable" for U.S. chefs. "It's gratifying, especially knowing what we've done here the past few years," he says.
The chefs broke ground for Table X in March 2016. Back then, the space was an abandoned warehouse with a patch of dirt in the back, the building serving as the restaurant's first blank canvas.
They chose the location because of the ability to establish a garden, and Table X has become one of just a few restaurants in the state with onsite growing. The space also allowed the restaurant's expansion with a downstairs bakery and cafe.
The kitchen makes its own bread and butter — both now available for purchase — and lists its local producers, artisans and ranchers by name. Table X sources local goods from staples such as Christensen Farms, Snuck Farms, Morgan Valley Lamb, Jones Creek Beef and Keep It Real Vegetables, among others.
"Almost every single thing that's grown here makes it to the table at some point," Blocher says. If it's not fresh from the garden, it's dried, canned, pickled or fermented.
Blocher dons his chef coat and stands over the stove to showcase this firsthand. He builds in house-made pork broth with delicately cooked fungi sourced from Intermountain Gourmet Mushrooms.
An earthenware bowl awaits as the pan is poured over Table X bread. He uses tweezers to add pickled green garlic and garlic scapes as the finishing touches.
The dish is a solid representation of Table X's world-influences and hyper-seasonal approach coming together. And Blocher's modern presentation brings the plate — a blank canvas — to life.
Good Roots: The Faces of Utah's Food Culture
Meet some of the agricultural entrepreneurs that are elevating the tastes of Utahns and visitors through heritage and best practices, new and old.
Things to Do in Salt Lake City
City Creek Center

Satisfy your shopping fix with a stroll through City Creek Center and browse Apple, Anthropologie, Coach, Nordstrom and more. This is a one-of-a-kind mall with a retractable roof and a running creek stocked with local brown trout.

Hiking

Unlike most other metropolitan areas, lush and beautiful mountains and canyons (which include four world-class ski resorts for winter visitors) sit on the very borders of the city and offer hiking opportunities within minutes of its hustle and bustle. Find out where to hike in Salt Lake City.

Natural History Museum of Utah

Dubbed the "Trailhead to Utah," the Natural History Museum of Utah (NHMU) features an expansive collection of dinosaur skeletons, interactive biology, geology and Native American cultural exhibits housed in one of the most architecturally distinctive buildings in the state.

Temple Square

The spiritual center for The Church of Jesus Christ of Latter-day Saints, Temple Square offers free walking tours of the Temple grounds available in forty languages. The area also provides access to one of the most extensive collections of genealogical records in the world and frequent performances by the Mormon Tabernacle Choir.

Utah Museum of Contemporary Art

Located near Salt Palace Convention Center, adjacent to the Salt Lake Visitor's center UMOCA is a cornerstone for contemporary culture in Utah, with an ever-changing line up of cutting-edge exhibits. Check the museum's website to see what's current.

Utah State Capitol

The 40-acre Utah State Capitol complex is a delightful place to stretch your legs and savor the views southward across the city to the rugged spine of the Wasatch Mountains. The Capitol is free and open to the public, with regular tours of the building's striking interior.