U.S. Federal Shutdown Information
At this time, all of Utah's national parks, monuments and recreation areas remain open.
Learn more.
A Sweet-Tooth's Guide to Downtown Provo
Discover four spots to find sweet treats in Provo.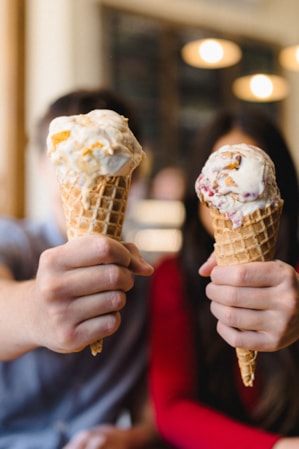 Historic buildings lock arms around modern structures, a blend of a sublimely walkable, hyperlocal main drag and testaments to a vibrant and fast-growing economy. The wide thoroughfare of the formidable University Avenue intersects with the tree-lined Center Street; were it not for the line of parked contemporary cars you'd think you had stepped back in time gazing on ornamental cornices and decorative facades from another age in architectural design. An unexpected number of those storefronts lure us off the sidewalk with the promise of satiating our sweet tooth — but more on that in a moment.
Where are we, anyway? Downtown Provo, the metropolitan and cultural heart of Utah County, is home to the largest student body population in the state of Utah between the private Brigham Young University and the public Utah Valley University, in neighboring Orem. The walkable Center Street in Provo presents an array of ultra-compact local shopping, dining and entertainment, unlike almost any other town. There are more than 50 local restaurants and shops across a wide range of international experiences and flavors, and none of them are chain establishments. What's going on here? The LDS church attracts international converts and missionaries who bring an array of experiences and tastes to the town.
This is what a community feels like, and this is why Provo made Expedia's list of North America's Coolest Downtowns. And what the community sacrifices in revenue being mostly closed for business on Sundays, it makes up for in the quality, handmade confections Monday through Saturday. We've set out on a walk today in search of some of the city's best treats. We were not disappointed.
Bianca's La Petite French Bakery
90 West Center Street
Provo
801-226-7870
biancaslapetitefrenchbakery.com
Remember when New Yorkers lined up around the block for the original croissant-doughnut hybrid at the Dominique Ansel's Bakery? That Cronut® is trademarked, but Bianca's La Petite French Bakery offers a Kro-Nut you won't want to miss. Cream-filled versions such as dulce de leche, lemon, Bavarian and Nutella complicate your decision making, and I haven't even mentioned the array of colorful macaroons, European desserts, old-fashioned ice cream and lunch menu using, you guessed it, croissants for bread.
Taste
117 N University Avenue
Provo
801-900-4061
havetaste.com
If you're not "experiencing" chocolate, you may not be doing it right. The modern wave of artisan chocolate making in America is built around a combination of the cocoa bean's unique terroir, master craftsmanship and your own subjective experience. At the epicenter of this wave is Utah, and Taste is here to guide you through it. While you could just stop for a couple of single-origin bars (among others, we left with the 75% Venezuelan Chuao and the 75% Peruvian Amazonas bars and quickly rediscovered the value of side-by-side tasting as different waves of berries and spices embraced our palette), book ahead for Taste's MO: guided tastings through chocolate, cheese, fondue, afternoon tea service and more.
Rockwell Old Fashioned Ice Cream Co.
43 N University Avenue
Provo
801-318-5950
rockwellicecream.com
You have to love the smell of sugar in the air: caramelizing, baking, dissolving into the richness of chocolate or warm, floral vanilla and 16% butterfat while brighter flares of fruit and honey dance around the perimeter. This is walking into Rockwell Old Fashioned Ice Cream Co., whose bright, open cafe welcomes all the senses. Yes, you may sample some of the singular flavors (honeycomb!) before settling on the one scoop to rule them all, but be sure to opt for the house-made cone upgrade — it feels, and tastes, exactly right.
Provo Bakery
190 E 100 N
Provo

801-375-8330
theprovobakery.com
The Provo Bakery has been in operation for over 75 years. Family and tradition are important to this establishment, so you'll find many local favorites on the menu, including donuts, cake, cookies, muffins, pastries and rolls. You can order ahead online, but you'll want to leave time in the shop to peruse the colorful selection of baked goods, including rainbow bread, rose iced sugar cookies and assorted sweet rolls.
"What the community sacrifices in revenue being mostly closed for business on Sundays, it makes up for in the quality, handmade confections Monday through Saturday..."