Cultural Cuisines Find New Homes in Provo
Families share their heritage and culture in charming downtown Provo where restaurants showcase food from around the globe.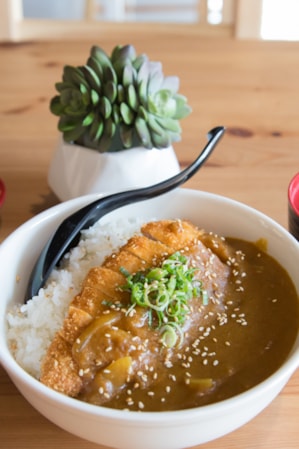 Indulgent katsu curry. Scratch-made kolaches. No-frills beef bulgogi. Chile-coated esquites and aguas frescas. Diversity in dining is a hallmark of a vibrant city, and an engaged local community. And all these dishes, and dozens of others, are found in Provo.
Thanks in large part to the continual immigration of converts to The Church of Jesus Christ of Latter-day Saints, Provo boasts one of the most eclectic multicultural food scenes in the Intermountain West. This is enhanced by the large international student and faculty population at Brigham Young University, where students hail from 46 different countries.
Within the roughly mile and half downtown corridor, you'll find Brazilian, Peruvian, Mexican, Native American, Indian, Korean, Pacific Islander, Japanese and many other diverse restaurants.
Traditional Domburi Cooking
Take, for example, the Japanese cuisine found at K's Kitchen on Provo's historic Center Street. This family-owned-and-operated restaurant introduces patrons to traditional Japanese domburi cooking. Domburi, translated, means "a rice bowl with meat," which is a meal that Japanese families eat regularly. Whatever you try at the restaurant, you will experience a perfect combination of sweet and savory flavors accentuated by a variety of textures. Whether it's perfectly seared gyozas as an appetizer or the shiobutadon (salted pork), you won't be disappointed.
Kazuyo, the namesake of K's Kitchen, and her husband Phil Stevenson opened their restaurant in November 2018 shortly after they moved from Japan, where they had lived together for the last 35 years. Kazuyo and Phil raised seven children, and for most of that time, Kazuyo's parents also lived with them. When asked how her journey with food started, Kazuyo quickly responded, "kazoku" or family. As Kazuyo prepared meals in her home over the years, she and her family developed a love of food and sharing it with others.
This love of sharing sets K's Kitchen apart. Phil expressed how often people only view Japanese food as sushi or ramen, so when creating their restaurant, both he and Kazuyo wanted visitors to experience the types of meals Japanese families — their family — would eat at home together.
A visit to K's Kitchen will overwhelm you with the sense of omotenashi, or hospitality, that Kazuyo and Phil Stevenson create running their family-owned-and-operated restaurant.
Kazuyo's recommendation is classic: shogayakidons (ginger pork). Phil's recommendation won't disappoint: katsu curry (curry with pork cutlets).
"When asked how her journey with food started, Kazuyo quickly responded, "kazoku" or family."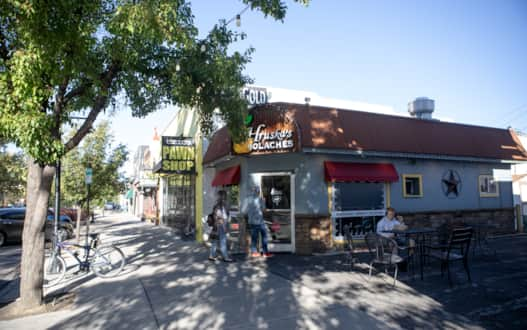 A Czech Thing or a Texas Thing?
Make your way to Hruska's Kolaches for a delicious grab-and-go breakfast or snack. Hruska's makes one thing and does it extremely well: kolaches. This Czech staple is sweet bread filled with fruit or different meats and spices. Hruska's boasts thirty to forty different options and combinations depending on the day. Whether you try a sausage, egg and cheese or a peach and cream cheese, you will experience tender dough and the most satisfying combination of flavors.
Hruska's Kolaches was started by three Texas siblings with deep Czech roots. Ross, Cory and Devin Hruska moved from their native Houston home to attend Brigham Young University. Devin, the youngest, explained that kolaches are a breakfast staple in Texas. When the three of them moved to Provo it was a shock they couldn't get any. Enter Ross, who not only was the chef in the family but also came to BYU to study business. With a lack of kolaches and an urge towards entrepreneurship, Ross encouraged his other two siblings to start a business with him, and Hruska's Kolaches was born.
Originally in Provo, Hruska's has now expanded to two other locations: American Fork and Salt Lake City. Devin, who manages the Provo location, raves about her now home. She's proud that her parents are 100 percent Czech and loves sharing kolaches with a community that isn't familiar with them. "Put me on a lie detector test. I have never had better kolaches," said Devin.
Devin's recommendation has a spicy flair: anything with jalapeno and bacon or sausage. Cory's recommendation can only be found at the Provo location: chicken cilantro omelet. Ross' recommendation is for the purest: plain cream cheese.
"When asked "Why Provo?" These restaurant owners highlighted the community they felt in Provo."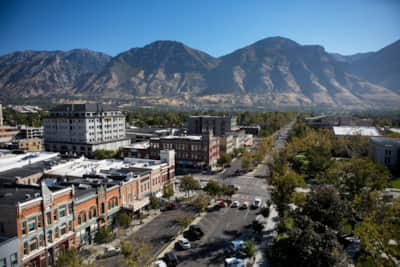 A Sense of Community and Family in Provo
When asked "Why Provo?" These restaurant owners highlighted the community they felt in Provo. Lucy, owner of Lucy's Brazilian Kitchen until COVID-19 forced them to close their doors, said she started her restaurant out of a love for connecting with those who long for traditional Brazilian food they experienced while serving a mission for The Church of Jesus Christ of Latter-day Saints. "They smell the rice and beans and tell me it takes them back to a place and people that they loved." Kazuyo and Phil both really miss Japan and its communal nature, but they noticed a similar sense of community support as they started their new business in a new home in Provo. Devin also spoke to how supportive the Provo community has been. She described how starting a business, while still being students, seemed like an impossible task but spoke to how this city and its people helped them along the way.
Diverse communities and the food they share energize Provo and build on its identity as a tight-knit city that supports friends and neighbors. People like the Stevensons, Lucy, the Hruskas and so many others enhance their hometown by introducing their food and traditions to individuals that have been here for decades. Dozens of multicultural restaurants represent the broader diversity in the region itself, and when we dine with them it is a way to appreciate their culture, learn about their homelands, and honor their history that is now a part of Provo's own.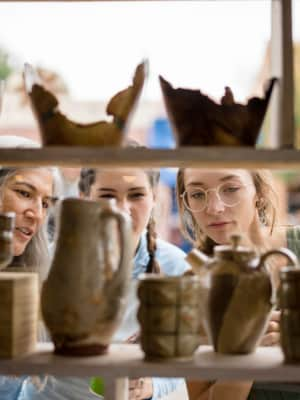 How to Support Local On Your Utah Road Trip
Many small businesses in Utah rely on tourism for survival. These expert tips help road trippers make a real difference in communities by supporting local.