U.S. Federal Shutdown Information
At this time, all of Utah's national parks, monuments and recreation areas remain open.
Learn more.
Jonesin' for Grass-Fed Beef
Sixth-generation cattle ranchers continue legacy while producing uber flavorful beef.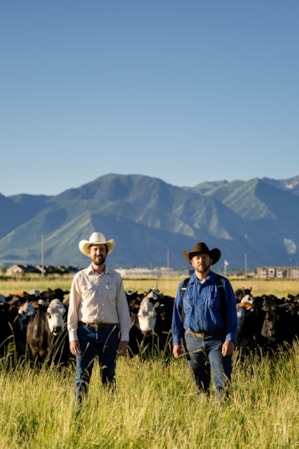 Dawn creeps up over Springville, the sun's rays resting on a freshly-irrigated grass field that extends from the Wasatch Mountains to the outskirts of this still-sleeping town.
Two cowboys ride horses in the distance. Their sharp whistles cut through the stillness, cajoling cows and their calves to get along.
Wes and Chase Crandall are slowly moving one of their herds upfield to chomp more fresh, green grass, a diet that's the hallmark of their family's delicious beef.
Tall rye and fescue grasses — waving in a slight breeze — catch the first rays of sun as it peaks over the mountains. The brothers talk chores, their breath hanging in the chilled morning air.
This land is more than just a ranch. For the Crandall family, it's heritage and legacy.
Wes and Chase are the sixth generation of ranchers on Crandall Farms, located 50 miles south of Salt Lake City. This field is where their great-great-great-grandfather, Myron Nathan Crandall, also rode on horseback more than 150 years ago.
"This land is more than just a ranch. For the Crandall family, it's heritage and legacy. "
The first settlers of The Church of Jesus Christ of Latter-day Saints arrived in the Salt Lake Valley with 3,100 head of cattle, mostly for pulling power. But ranching galloped on in Utah nonetheless. The state is now home to around 810,000 cows, according to the 2017 United States Department of Agriculture census.
But back in 1850, the Crandalls finished their trek when Brigham Young sent them south to settle Springville. Making up three of the eight-wagon envoy, the family set out to homestead and ranch. They did whatever they could to get by, including growing row crops and rearing cattle, and mostly, sheep.
Crandall Farms was incorporated in 1912, and it slowly evolved. But it wasn't until the 1990s when the Crandalls began selling directly to consumers under the brand name Jones Creek Beef. Previously, they were the middlemen. The business blossomed from selling one head a week in the 1980s and early 1990s to more than 1,000 currently.
What's more: In 2012, the Crandalls expanded their operation when they purchased Morgan Valley Lamb from another multi-generational rancher. This business move helped open the doors to more restaurant clients and broadened their reach.
After moving the cows this morning, the brothers circle back. These beloved bovine always have access to graze pastures, are never caged and receive lots of sunshine, all of which create a less-stressed cow, and, thereby, tastier beef.
From atop his horses, Wes introduces me to the far-afield cows by name. He jokes that all of their Black Angus or Hereford cattle share one of two names: lunch and dinner.
There's a saying in the ranching community that one "rides for the brand." Chase says that from a young age — while working alongside their parents and grandparents — they were taught lessons about always doing things the right way the first time. "We were raised to have pride and ownership and to be fully vested in what we were doing out there," he says. It shows in the product.
"We were raised to have pride and ownership and to be fully vested in what we were doing out there."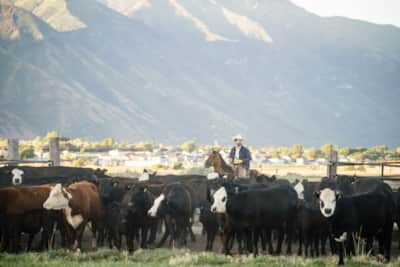 The Crandalls head back to cook up a morning barbecue at their parents' historic ranch house. Wes fires up the grill that has cooked too many delicious cuts of meat to count.
Beef is the number one agricultural product sold in Utah, and Jones Creek Beef is among the farms trying to elevate the standards of the industry both here and nationally.
Jones Creek Beef ensures its beef is grass-fed and grass-finished and that the cows never receive steroids or antibiotics — from birth to harvest. The farm is known for its happy cows, and the beef is famous for its rich, sometimes nutty, flavor profile the grass imbues.
It's certainly turned heads in the local food industry. Jones Creek Beef can be spotted on many Salt Lake City restaurants' menus, including those of Table X, Pallet, La Caille, Manoli's, Mazza, Layla Mediteranean Grille & Mezze, East Liberty Tap House and Bruges Waffles & Frites.
Beef lovers can find everything from sirloin and ribeyes to ground chuck and sausage at the Downtown Farmers Market in Salt Lake City and the Park City Market on Wednesdays. Jones Creek Beef is sold locally at Springville Meat Company, Majestic Meats and Main Street Quality Meats, and nationally at more than 1,000 Wal-Marts, sold under the big-box retailer's moniker Market Side Butcher.
After taking a perfectly-seared NY strip and a plump roast off the grill, Wes says: "We work hard together, and we take pride in the stewardship of this land."
"We are always trying to make things better for the ecosystem, the cattle, and for our family," he adds as he heads inside.
In this kitchen, there are dozens of photos of each generation of Crandall, including Wes and Chase's children — ages six months to 11 — who help out in various ways on the farm. "I think the best part about ranching is getting to work with our family," Wes says.
Taking a knife and effortlessly slicing into a steak, he looks up and says, "It's an amazing way to raise kids. It's bigger than yourself."
All three of us take a bite. The flavor of mouth-watering beef — the fruits of their labor — commands silence. It's the kind of food moment when you just close your eyes and blissfully chew.
I suppose there's a third name for the cows: Breakfast.
Good Roots: The Faces of Utah's Food Culture
Meet some of the agricultural entrepreneurs that are elevating the tastes of Utahns and visitors through heritage and best practices, new and old.