Hike + Dine: Davis County
Where the mountaineers and the antelope play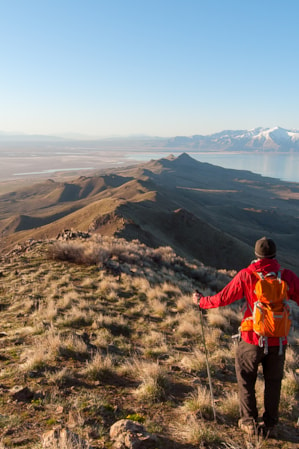 Davis County is no stranger to a good time: it's home base to some of the most popular attractions in Utah, including Antelope Island State Park and the Lagoon Amusement Park. Located just north of downtown Salt Lake City, Davis County is a patchwork of unique ecosystems — like marshlands, mountains, beaches and saltwater lakes — and trails that make it a great place to explore for outdoors lovers across multiple disciplines.
Davis County is home to the Great Salt Lake, where swimmers can float among the brine shrimp on days with high salinity or relax on the white sand beaches of Antelope Island. Cyclists and joggers may enjoy a leisurely trip down the paved Legacy Parkway Trail, and hikers will find their rhythm in the Wasatch mountains east of Davis County, which offer expansive looks at the Salt Lake Valley and surrounding areas.
Along with its outdoors scene, Davis County has plenty of good eats. While it's known for having arguably the most popular In-n-Out restaurant in the state, Davis County has around 400 other restaurant and food options to choose from, including plenty of local gems that have been recognized nationally for their quality and taste.
Here are a few of Davis County's best hikes and eateries to check out during your next visit.
See the sunset over the Great Salt Lake at Wild Rose Trail
Hike: Wild Rose Trail is a winding, 1.7-mile hike high above the Eaglewood Golf Course that, like its name suggests, takes hikers through lovely wildflower country in the spring and summertime. Wild Rose packs nice views of Davis County, Salt Lake City and City Creek Canyon. Stop at the lookout area halfway up the trail, especially if you're going at sunset, to get an epic shot of the sun reflecting off the Great Salt Lake. With a park at the bottom and benches along the trail, Wild Rose is perfect for families with small children or visitors looking for a quick, scenic jaunt.
Eat: It's a speedy five-minute drive from the Wild Rose trailhead to the vibrant yellow Chile Amor in North Salt Lake City. This restaurant is a bit of a hole-in-the-wall, but it's well-loved for its authentic Mexican grill. Chile Amor offers a variety of moles, tacos and enchiladas in portion sizes that will keep your heart and stomach happy. True to their name, their food is also prepared with the right amount of chili peppers to keep things spicy. When you go, make sure to try their fan favorite parrilladas, a two-serving mixed meat grill dish that comes with quesadillas, pico de gallo and tortillas.
Play in the spray of a waterfall at Adams Canyon Trail
Hike: The Adams Canyon Trail is a quintessential over-the-river-and-through-the-woods adventure that takes you through the forest, over a primitive bridge, and right to the base of a 40-foot tall waterfall. This trail is 3.8-miles roundtrip, and its scenery combined with its moderate grade makes it very popular among Layton locals. The trail starts with zigzagging switchbacks and is a little sandy, so it can be a tricky climb, but it also has plenty of coverage from the sun. Wear shoes that you can get wet—besides river crossingsalong the trail, there's a pond at the base of the waterfall that kids and adults may enjoy wading in.

Eat: Smokin' Bones BBQ brings authentic, mouth-watering Southern BBQ to Utah with their house-made smoked meats. It's a seventeen- minute drive to get to Smokin' Bones from Adams Canyon Trail, and it's well worth the city hopping if you're a meat lover. Smokin' Bones' BBQ is so tasty, it was featured on the Travel Channel's BBQ Crawl. Try their wood-smoked ribs, steak burger or BBQ pizza while you're there, and make sure to take a look at their unique bull's head pizza oven if you get the chance. Just be warned: Smokin' Bones operates on a first-come, first-served basis, serving each day's specialty until it runs out.
Roam where the bison roam on Frary Peak Trail, Antelope Island.
Hike: Antelope Island's rugged terrain combined with its free-roaming bison and pronghorns make it a true wilderness adventure, particularly on the Frary Peak Trail. Frary Peak puts the curious and daring traveler high above the Great Salt Lake, where the best views on the island can be seen. From the top, you can look over the Wasatch mountain range to the east or the expanse of the lake to the west. The hike is 6.6 miles-long and strenuous. You may find yourself scrambling up cliffs and rocks to get to the top, but if you're willing and able, the views can't be beat.
Eat: Osaka Japanese Sushi is said to have the best sushi in Davis County, and its online reviews bear testimony that it's good. Osaka's rolls are unique and there's a wide variety to choose from, like their Starburst fruit roll made with peach, strawberry and mango. While you're here, make sure you order their in-house mango saké to drink. It's well loved by visitors. You'll have to drive about 40 minutes from Antelope Island to get to this Davis County fave. You may also want to do a quick post-hike cleanup before you go, as you may be asked to remove your shoes before sitting down for your meal.
Bonus: Check out Lagoon's Biergarten, featuring Bavarian-style restaurants and 20 brews on tap.