Hike + Dine: Ogden
Trek the wilderness. Then, satiate your hunger downtown.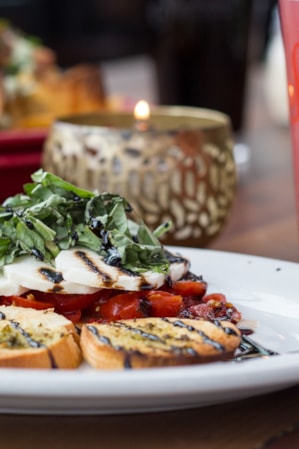 Seeking equal parts mountain and metro? Head north of the Salt Lake airport (in under an hour) to experience a power-pairing of Ogden hikes and a booming dining scene.
Many outdoor enthusiasts make the pilgrimage to Northern Utah to experience the striking Wasatch Mountain Range. Rugged peaks lined with ponderosa pines, trembling aspens, Rocky Mountain Douglas-firs, cool alpine lakes, and a healthy population of elk, moose, and other wildlife create a remarkable landscape. With nearly 500 trails in the Uinta-Wasatch-Cache National Forest alone, hikers enjoy both quick-and-easy nature walks and rigorous wilderness treks year-round.
Ready to hike and dine? The city of Ogden fulfills all the mountain-to-metro requirements with its epic trails and impressive food.
Best Ogden Hikes and Downtown Restaurants
Nestled against the Wasatch Mountains, Ogden has experienced a commercial and cultural renaissance over the past two decades. With a burgeoning nightlife and dining scene, shopping centers, music venues, festivals and a thriving arts community — all within a stone's throw from top-tier outdoor adventures — visitors experience the spectrum of some of Utah's best.
Punctuate a day exploring the mountains with a stroll down Historic 25th Street in Downtown Ogden and catch a comedy show at Wise Guys, lounge in a lawn chair at the Ogden Amphitheater during a concert, or make a stop at the rooftop bar Alleged for an evening nightcap.
Experience Ogden's dichotomy of outdoor recreation and urban corridor with some hike and dine suggestions below — prove to yourself that it is indeed possible to enjoy a wilderness trek followed by a world-class drink downtown.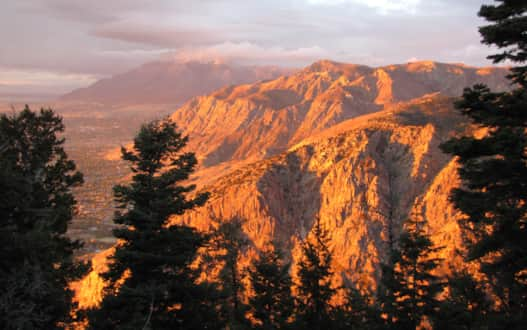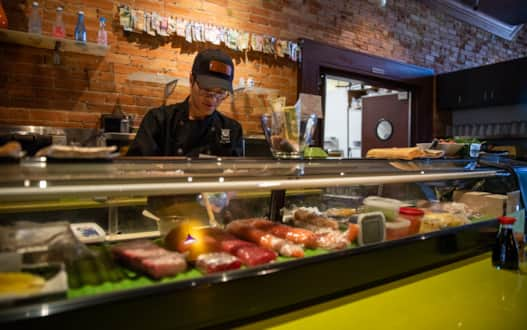 Malans Peak: Tona Sushi Bar and Grill
Hike: For hikers looking for a modest challenge with a payoff, check out Malans Peak. With a 2,140-foot gain in under three miles, the summit of this out-and-back trail rewards those who complete it with panoramic views of Ogden, the Great Salt Lake and surrounding mountains. Leading into Taylor Canyon, the first half of this five-mile route is shaded, easy-going and includes a waterfall. The second half is where the heavy breathing starts: steep switchbacks lined with pines that lead up the mountain. Pro-tip: There are several places to stop for views. Don't stop at the first overlook. Continue on to the summit for the best views.
Eat: After conquering Malan, take a 10-minute drive and treat yourself to one of Ogden's best Japanese eateries. Tona Sushi Bar and Grill uses locally-sourced ingredients and fresh seafood from around the globe to create innovative dishes like the Smokin Hot-Machi roll — made with light rosemary smoked hamachi, avocado, fennel, thai chili, thinly-sliced oranges and citrus soy. Tona's also offers other Japanese staples, such as tempura udon, nigiri, chicken teriyaki, bento boxes and more. Dine in modern, elevated seating or choose a more intimate experience and sip on hot sake at traditional, low-rise tables. (Watch the video: "How Tona Sushi Serves Artistic Diversity With Every Dish")
Waterfall Canyon Trail: The Yes Hell
Hike: Waterfall Canyon Trail is one of Ogden's most popular in-and-out hikes. The end of this short but strenuous 2.4-mile scramble features a 200-foot waterfall set against a backdrop of the valley and offers two distinct experiences depending on the season. Complete this trail during the busy, warmer months and cool off with your fellow mountaineers at the waterfall. Or visit during the quiet winter, when the waterfall transforms into a snow-capped, frozen cascade. The terrain is rocky, so spikes and poles, while not necessary, are recommended if snowy.
Eat: Craft cocktails? Live music? Local art and great ambiance? Hell, yes! Saddle up and mosey on down to The Yes Hell bar, bistro and music venue in downtown Ogden. Red-velvet wallpaper, original oak floors and eclectic western antiques paired with a neon aesthetic makes The Yes Hell one of Ogden's most unique nightlife experiences. Tip back one of co-owner Sam Smith's boozy concoctions like the Cedar Smoked Old Fashioned as you unwind from a day of hiking in Ogden. Just look for the 'YES' illuminating the building's front. You can't miss it.
Ogden River Parkway Trail: Wimpy & Fritz, Roosters B Street or Ogden River Brewing
Hike: The Wasatch Mountain Range isn't the only locale available to visitors wanting to enjoy the outdoors. Ogden River Parkway Trail offers an easy and convenient nature excursion in the heart of downtown Ogden. Part of the larger Centennial Trail, the path winds 4.7 miles along the Ogden River and connects to several popular parks, including the Ogden Botanical Gardens, Big D, Dinosaur and Lorin Farr parks. The paved trail is perfect for cyclists, joggers, families with little ones in tow, or anyone looking to enjoy a leisurely stroll.
Eat: Hop off the Ogden River Parkway Trail mid-steam and right into one of Ogden's premiere dining districts. Scarf down a plate of Wimpy and Fritz's Smoked Carnitas Tacos, voted 'Best Taco in Utah', in their bright, whimsically-designed restaurant and bar. Vegan and vegetarian-friendly options are on the menu, as well. Savor craft brews and elevated comfort food right next door at Ogden River Brewing, where thoughtful beer pairings – Mormon Hush Puppies with Derailment Hazy IPA, anyone? – are best enjoyed overlooking the scenic Ogden River. If you're still thirsty afterward, head down the Parkway another 2.5 miles and make a stop at established local favorite Roosters B Street Brewery and Taproom or the area's brand new award-winning hotspot, Side Bar at Ogden's Own Distillery.
Birdsong Trail: The Greenery at Rainbow Gardens
Hike: For hikers looking for a round-trip, family-friendly adventure with views, wildlife and wildflowers, look no further than the Birdsong Trail. This 2.4-mile loop trail near Ogden Canyon offers a pleasant stroll through the Wasatch foothills suited for the whole family. Hikers can expect to hear a variety of bird songs and see their colorful vocalists along the way on this aptly-named trail. In addition to wild birds, the trail is filled with cactus, wildflowers and other interesting plant life. Midway through the loop, hikers can take a fork in the path to reach a scenic overlook and enjoy views high above Ogden.
Eat: After hiking through some of Utah's most interesting plant life, stop by The Greenery. A charming greenhouse-themed cafe just five minutes away from the Birdsong trailhead, and keep the plant theme going. Known for their "Mormon muffins", The Greenery offers a myriad of quirky menu items. The Greenery is located in Rainbow Gardens, a gift shop and restaurant combo.
Bonneville Shoreline Trail: Table 25 or Rovalis Ristorante
Hike: Tracing the majority of the Salt Lake Valley, the Bonneville Shoreline Trail captivates hundreds of miles of Utah's natural beauty. Ogden is home to a unique part of the Bonneville, the Mount Ogden section, a popular hiking, biking and trail running choice among locals. Although labeled as a loop, this foothill trail is essentially an out-and-back trail, meaning that it can be enjoyed as a short stroll, or as a several-hour adventure. This portion of the Bonneville stretches across the east rim of central Ogden; Starting near 29th street, the trail runs along the Ogden foothills all the way up to the Ogden River District.
Eat: Hikers can take a break and hop off the Bonneville Trail midway through the loop to grab a bite from one of the many options in Ogden's river district. For those who prefer to celebrate their victory post-hike, hungry hikers can take a 10-minute drive to Ogden's Historic 25th Street. This famous street in Ogden is packed to the brim with local restaurants, bars, shops, and more. For delectable modern American cuisine in a sleek, upscale casual ambiance, check out Table 25 in the heart of 25th Street. For those who have a place in their heart for the creamy, hearty and cheesy, visit Rovalis Ristorante Italiano, a family-owned and operated Italian restaurant loved by many locals.
Ben Lomond Peak: Hug-Hes Cafe
Hike: Ben Lomond Peak is one of the most challenging day hikes in the Ogden area, but offers the ultimate panoramic view of the Ogden Valley as a reward. Get a high-elevation overlook of Ogden, the Great Salt Lake and the stunning Wasatch range after reaching the peak of this hike. Coming in at 15.7 miles long and taking an average of eight hours to complete, Lomond is not to be underestimated. Hikers should be prepared for this all-day expedition with ample training and supplies. This hike gains 3,500 ft in elevation, so it's normal for the top few miles to remain snowy for most of the year. The best time of year to approach this hike is June to October, when the snow is mostly melted. The route will likely have snow during the early summer and fall so spikes and poles may be necessary.
Eat: After summiting Ben Lomond Peak, descend back down to North Ogden and celebrate with a delicious meal at a local North Ogden eatery, the Hug-Hes Cafe. This cafe started locally in 1988 with one location, but has since spread all over the Ogden Valley. It offers burgers, soups and salads at a fair price.
Mountains, Markets & Music: Spend 48 Hours Exploring Ogden
Follow this detailed itinerary to pull off the ideal 48-hour escape in Ogden.