Cedar City Scene: Centro Woodfired Pizza and The Grind
Right downtown on Center Street, just off Main Street in Cedar City, Utah, and within walking distance to everything, lies the famed Centro Woodfired Pizzeria. (The Grind Coffee House is just around the corner.)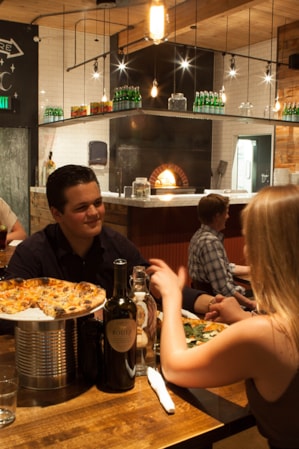 Right downtown on Center Street, just off Main Street in Cedar City, Utah, and within walking distance to everything, lies the famed Centro Woodfired Pizzeria. (The Grind Coffee House is just around the corner.) A great place to stop for lunch or dinner, it's convenient and casual location makes the restaurant popular with both out of towners and locals. If you've been traveling around the country lately, you know wood fired pizzas are all the rage, and with 4.5 stars on TripAdvisor, you can be rest assured that you are tasting some of the best around at Centro.
Centro's specialty is wood fired, "New York style" thin crust pizza, and most people agree they've got it right. Better, you've left the pace and chaos of the big city behind, and a free to relax at Cedar City's 5,800 feet of elevation knowing there are wide-open spaces to explore only minutes away. When served, you'll get that unmistakable wood fired taste, not just in the pizza crust, but in the vegetables on the salads (try the Arugula!), and in side dishes. Don't fill up on the rustic bread with balsamic vinegar that comes out first, though, because you've got a robust range of pizza pie offerings to choose from.
There's also good wine and beer available, and in the summer, there is lovely outdoor seating where you can just kick back, enjoy a drink, and relax. Visitors regularly comment about the outstanding service and friendly staff at Centro. They won't take you to the bank, and you'll leave with a real culinary memory. The restaurant is open Monday through Saturday from 11 a.m. until 10 p.m.
For some of the best coffee and snacks in town, head to the Grind Coffee House in downtown Cedar City. The coffee house is spacious (and connected to a bookstore!), and its walls are adorned with works by regional artists. If you ask a local where to grab your morning coffee, this is the spot that will be recommended. When you pop in for the first time you'll see you weren't sent on a wild goose hunt. You'll find locals and college students studying and socializing here all day right along with you. In the evenings there is live music, open mic nights, and other stage happenings. More than just a regular coffee shop, the Grind is really a community hub of sorts.
And with its convenient location, the Grind makes a good meeting spot for outdoor activities or regrouping after a long day. Heck, if you need a place to spend a rest day from your adventures in the nearby parks, they won't mind.
People also come to the Grind for the food, from bagels to sandwiches and pastries. Friendly service, casual atmosphere, and good coffee are the hallmarks here. The Grind Coffee House is open Monday through Saturday from 7 a.m. until 6 p.m., and on Sundays from 8 a.m. until 2 p.m.
If you're heading to
Zion National Park
,
Bryce Canyon
,
Cedar Breaks National Monument
, the
Ashdown Gorge
or any of the other natural wonders of the area, these are two spots not to miss either before or after your adventures!
Addresses and GPS Coordinates:
Centro Woodfired Pizzeria
50 W. Center Street, Cedar City
37.6774897,-113.0649301
The Grind
9 N Main Street, Cedar City
37.677814,-113.0642637