U.S. Federal Shutdown Information
At this time, all of Utah's national parks, monuments and recreation areas remain open.
Learn more.
Paddling the Caribbean-Blue Waters of Bear Lake
One of the Most Captivating Bodies of Water in America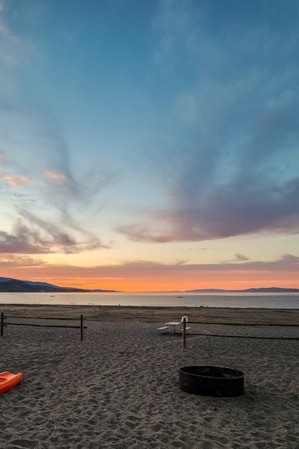 Jagged limestone cliffs give way to mountaintops dressed in dark pine forest and bright groves of aspen, as the road winds gently up Logan Canyon. Just beyond the road's summit, the sparkling turquoise-blue waters of Bear Lake come into view some 2,000 feet below. Ringed by mountains on all sides, the color and the setting of this natural freshwater lake create a mesmerizing effect. Limestone particles in the water reflect light in the sky, causing the lake to change color from azure to sea green to aquamarine depending on the weather, wind and time of day.
Dropping down into the basin, more and more of this expansive lake comes into view, while cabins start to dot the mountainsides on either side of the road. The highway leads into the population-600 town of Garden City, the first town since leaving Logan 40 miles ago. Glimpses of sandy beaches and that characteristic Caribbean-blue water peek out between the charming wooden buildings — restaurants, rental shops, lodges and the like — that line the lake's western shore.
Tucked away in the far northeastern corner of the state, Bear Lake stretches 20 miles long and 8 miles wide across both Idaho and Utah, with about equal parts in each state. At nearly 6,000 feet of elevation, temperatures here stay cooler than surrounding areas, making the basin a welcome respite from the summer heat. With 48 miles of shoreline to explore, pleasant summer water temperatures, and a serene mountain setting, it's easy to see why Bear Lake forms the heart of outdoor recreation in the area.
As I slide away from the rural shore, en route to vast open water, my kayak paddle slices through gentle waves and low-slung hills slide by on the horizon. It's a sublime moment that brings a smile and I realize that the best way to experience summertime at Bear Lake is on the water.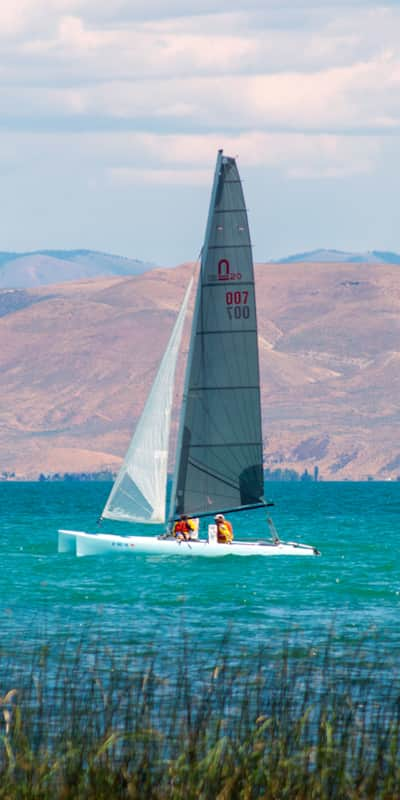 "For the calmest water, plan to paddle in the morning before afternoon winds and motorized boat traffic have a chance to pick up."
Stand-Up Paddleboards: An Ideal Way to Get on the Water
You'll find an array of rental shops around the lake, offering both motorized and non-motorized options. Stand up paddleboards (SUP) have become an increasingly popular way to travel. It only takes a few minutes to learn the basics of paddling a SUP, and once you do you're all set to have a good time out on the water.
Free beach access and calm water make Garden City Park Beach an ideal spot to paddle out on a SUP — whether you rent one or bring your own. Heading south from Garden City, a few small beaches with free lake access dot the west shore until reaching Rendezvous Lake State Beach, part of Bear Lake State Park (day-use rates apply here). All of these beaches offer prime shoreline for paddling. For the calmest water, plan to paddle in the morning before afternoon winds and motorized boat traffic have a chance to pick up.
Exploring by Kayak or Canoe
Kayaks are another tried-and-true favorite for getting out on the water around Bear Lake. Sit-on-top kayaks are the best option for a relaxed paddle on the lake since they're sturdy enough to resist tipping if the waves pick up. More experienced paddlers may opt for sit-in kayaks, which offer a bit more of a challenge and a faster ride. Garden City Park Beach and Rendezvous State Beach are go-to spots for renting or launching your kayak, as they offer easy access to shops, restaurants and picnic areas to visit after paddling.
Those who want to check out the quieter, less developed side of Bear Lake can take their kayaks over to the east shore. (You'll need the equipment to haul your own boats, as there are no rental or delivery services on this side of the lake.) From Rendezvous Beach, head south toward Laketown. About halfway through town, turn left onto North Main Street, which quickly turns into North Cisco Road and takes you through quiet residential areas before leading back to the shores of Bear Lake. A collection of small, free-access beaches line the road, all with fairly limited parking in gravel pull-outs, so come early to snag a spot. Several Bear Lake State Park campgrounds and day-use areas on the east shore offer beach access for kayaking as well.
Canoes make for a unique way to explore the surreal-colored water of Bear Lake, though these aren't quite as popular since afternoon winds and motorized boat traffic can make them a bit tougher to maneuver. The shallow, sandy shores of Rendezvous Beach make this your best bet for renting a canoe and getting out on the water safely.
Setting Sail
Early afternoon generally brings gentle winds over Bear Lake, making it a favorite spot for sailing in Utah. While you won't typically find sailboat rentals around Bear Lake, those bringing their own have several options for launching and docking. Bear Lake State Park Marina features the largest boat ramp on the Utah side of the lake, with 300+ boat slips and a five-lane boat ramp (day-use fees apply). Located on the west shore about one mile north of Garden City, the Marina also has 20 reservable overnight boat slips.
Post-Paddling Things to Do
After a day spent out on the water, the towns around Bear Lake offer plenty of opportunities to unwind. Family-friendly grills, pizzerias and drive-ins whip up the classics around Garden City and Laketown. For evening entertainment, check the current showings at Pickleville Playhouse Theatres just outside Laketown, but be sure to buy your tickets ahead of time — evening plays usually sell out all summer long.
And, of course, no one should leave Bear Lake without trying one of the raspberry shakes for which this place is famous. So, where will you find the best raspberry shake? According to the locals, inside the Garden City Chevron station — seriously.