U.S. Federal Shutdown Information
All of Utah's Mighty 5 national parks will remain open.
Learn more.
Things To Do on Your Road Trip
"Slow down and smell the flowers. It's not the destination, it's the journey." Whichever cliché resonates, they often hold true — it can be tough not rushing from point A to point B. There are a lot of incredible places to discover. To make the most of your time traveling through Utah, follow these tips:
Experience the Dark Skies - Utah is home to the highest concentration of International Dark Sky Parks and Communities anywhere in the world. It pays to get up early and watch a sunrise, especially over a red rock horizon in Southern Utah. Once you reach your next stop, stay up late and spend some time gazing into the star-filled skies.
Support Local - Many of Utah's most famous adventure destinations are surrounded by soulful basecamp communities. Skip the drive thru and stop into a local diner for a meal you'll never forget. It's these local boutiques, outfitters, restaurants and museums that will show you the heart and soul of a region.
Fall Into An Audiobook - A few hours between stops is the perfect opportunity to glean insights about Utah's fascinating heritage, geology and ecology. Prepare for your journey by downloading a few of these favorite books from Utahn authors.
Download These Apps Beforehand - Similarly, there are apps available to enhance your experience in Utah's open spaces. Identify that desert wildflower, learn what left that track in the sand or discover a new constellation with these must-have travel apps.
Stay Flexible - There's a sense of freedom and independence that accompanies the southwest road trip. Utah's destinations are best suited to the flexible — take a detour, pop into that intriguing store, and add a day to your trip if you find somewhere that captivates you.
Take Pit Stops - You're doing it wrong if you think road trip pit stops are boring layovers on your way to more exciting destinations. You need to refuel, eat, answer the call of nature, and stretch your legs anyway, so why not make them into mini-adventures?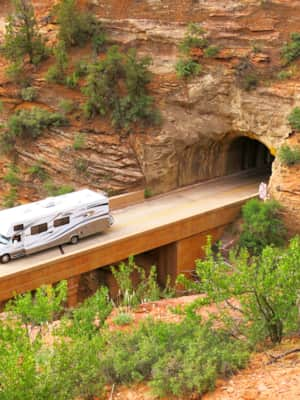 Wheeling It: An RV Primer for Utah Family Trips
With 28-feet of vehicle space, one traveling family discovers the RV community.