U.S. Federal Shutdown Information
At this time, all of Utah's national parks, monuments and recreation areas remain open.
Learn more.
Bears Ears Area Starter Kit
A pair of distinctive, towering buttes stand against beautiful scenery. We call them "Bears Ears." With the help of local expertise, respectfully explore ancestral cliff dwellings and massive natural bridges in a fascinating desert ecosystem.
A pair of towering, distant buttes stand against beautiful scenery. The twin buttes are so distinctive that in each of the native languages of the region their name is the same: Hoon'Naqvut, Shash Jáa, Kwiyagatu Nukavachi, Ansh An Lashokdiwe, or in English: Bears Ears. (Your best view of the Bears Ears occurs on the third day of this itinerary, but they are not a primary destination.)
Bears Ears National Monument covers a broad expanse of red rock, juniper forests, high plateau, cultural, historic and prehistoric legacy that includes an abundance of early human and Native American historical artifacts left behind by early Clovis people, then later Ancestral Puebloans, Fremont culture and others. The Navajo Nation, Ute Mountain Ute Tribe, Hopi Nation and other tribes have close, contemporary connections to the land.
Perhaps many road trips have covered the distance between Moab and Monument Valley without realizing what's out there. While the designation of Bears Ears has started to change that, southeastern Utah remains a remote and little-understood place.
Two units of Bears Ears, Indian Creek and Shash Jaa, provide a glimpse into the diverse lands that stretch across the southeastern corner of Utah, in the famed Four Corners region of the United States. You'll visit ancestral cliff dwellings, examine the desert ecosystem, stand beneath gargantuan natural bridges and interact with the communities of locals and Native cultures that call it all home.
Much of Bears Ears National Monument is remote and requires a combination of wayfinding skills and a high-clearance vehicle to access — or the savvy of a well-prepared backpacker. Much of Bears Ears is fragile, too. Travelers to any of the thousands of ancestral sites, including cliff dwellings and kivas, testaments to astonishing architectural prowess and strong prehistoric communities, should visit with extreme care and observe the land's Respect and Protect principles. Appreciate from afar. Examine potsherds, arrowheads and other fragments of past cultures with awe, but leave in the places where you find them. Note the imprint of some ancient thumb in the adobe mortar, but leave no trace of your own.
No matter its designation, no matter how you say it, Bears Ears combines profound human past with distinctive and sacred lands. You could lose yourself for days out here, but your Bears Ears Area Starter Kit introduces you to the experiences, places, history and people that give definition to these fascinating lands.
And don't miss our four-part series: The Voices of Bears Ears.
Introductions to Bears Ears
160 Miles
If traveling south from the Moab area, start with an exploratory drive through the Indian Creek unit of Bears Ears, on the Indian Creek Corridor Scenic Byway, including a stop at Newspaper Rock State Historic Site. Though not the focus of this itinerary, if your schedule permits, add a day (or much more!) for a visit to the Needles District of Canyonlands National Park, at the end of the byway. Your best introduction to Bears Ears might just be a stop at Edge of the Cedars State Park Museum, whose collection highlights artifacts and lifestyle of Ancestral Puebloan culture. Introductory hikes to the Shash Jaa unit of Bears Ears include House on Fire and Cave Towers, but an even more accessible and well-interpreted trail is the Butler Wash Ruins Overlook.
Overnight in Monticello, Blanding or Bluff for lodging, or the IDA-certified International Dark Sky Park Hovenweep National Monument for camping, stargazing and early start to tomorrow's adventure. (More information on day two.)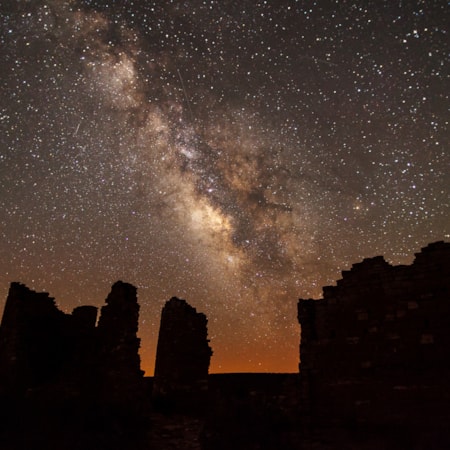 Ancestral Lives and Contemporary Art
70 Miles
If you camped overnight in Hovenweep National Monument and the skies were clear, you'll proceed starstruck to the well-interpreted trails of the monument to peer into the lives of an ancient culture who built astonishing multistoried towers on the edge of a canyon more than 700 years ago. Meanwhile, Bluff, Utah, is a small town with a big personality and serves great local food and coffee while the nearby Twin Rocks Trading Post honors local Navajo artists with fairly priced, museum-caliber baskets and art. The tour continues near the south end of Shash Jaa, with an easy stop at Sand Island petroglyphs and a more challenging visit to the River House Ruin, which showcases a confluence of ancient culture with Mormon pioneer culture. Visit Bluff Fort Historic Site to fill in the details of this area's pioneer past.
Lodgers can reserve overnight accommodations in Bluff or you could consider adding a day to this itinerary with an overnight and tour of Monument Valley Navajo Tribal Park.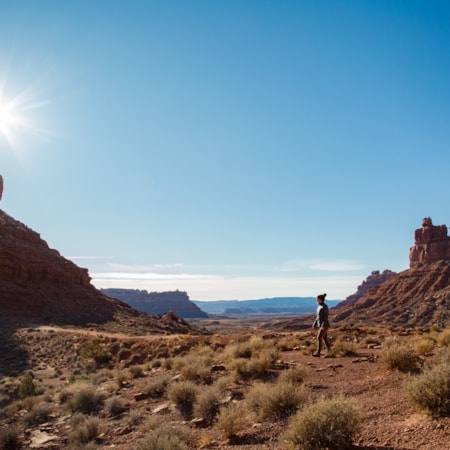 Goosenecks, Gods and Bridges
90 Miles
As scenic as the trip has been so far, on day three the skies get bigger and the vistas broader as you ascend in elevation to peer down at the meandering San Juan River at Goosenecks State Park and explore the Valley of the Gods Scenic Backway on an unpaved road through landscapes sometimes described as a miniature Monument Valley — think red rock monoliths below rolling clouds. The drive continues up the unpaved and narrow switchbacks of the Moki Dugway of S.R. 261 — excluding of large RVs and trailers — to crest the vast and lush Cedar Mesa. Here, the eponymous Bears Ears formation come fully into view, two distinctive buttes rising from the mesa, which will stay in your windshield as you traverse Cedar Mesa en route to Natural Bridges National Monument. Natural Bridges can be enjoyed with an auto tour, stopping at overlooks, but adventurous hikers will want to descend into the canyon at least once to stand beneath some of the world's largest natural bridges.