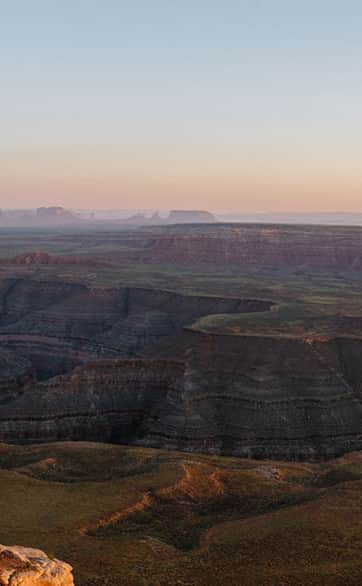 What Makes it Great
This amazing overlook sits high above the goosenecks of the San Juan River and has one of the most commanding views in all of Canyon Country. The perch is 1,000-feet above the canyons below and another 1,000 on top of that to the San Juan River. This is an excellent place to get away from it all, literally. There is nothing else out here save for rocks, trees, and views.

The road to Muley Point Overlook is accessible to most passenger vehicles, but there are some points that will require a bit of finesse as there are exposed rocks, most of which can be circumnavigated. First, you'll come to a lower point, which has amazing views in and of itself, but you'll note that to the west there is a higher perch. Continue along the road to a slightly higher vantage point and a view that encompasses more than 180-degrees of the valley below.

It's not necessarily a great place to let the kids run around unattended due to the large cliffs and big dropoffs. But the view, which extends all the way to Monument Valley and Navajo Nation, should not be missed. The drive is a must for lovers of good, long — even introspective — looks and photographers, both professional and amateur, as well as all those who like to roam free and avoid crowded parks and fees.
What You'll Remember
How the seemingly brown desert along with the San Juan River sitting far below turns an iridescent red and purple during sunrise and sunset. You'll remember scrambling over rocks to find the perfect vantage point for catching that perfect view. And of course, who could forget the solitude that this wonderful place affords .
GPS Coordinates, Parking and Regulations
GPS Coordinates: (37.232508, -109.994306)

There are no fees or permits required to visit or camp at Muley Point. Since this is Bureau of Land Management land, dogs are welcome and can be off leash. Take caution with little children or the faint of heart, because the cliffs at the overlook have severe drop-offs.

The best time to visit is spring to fall, keeping in mind that summer heat can exceed triple digits. Because the main attraction is the photogenic views, it's recommended to come for sunrise and sunset or, if need be, the middle of the day when shadows are the shortest.