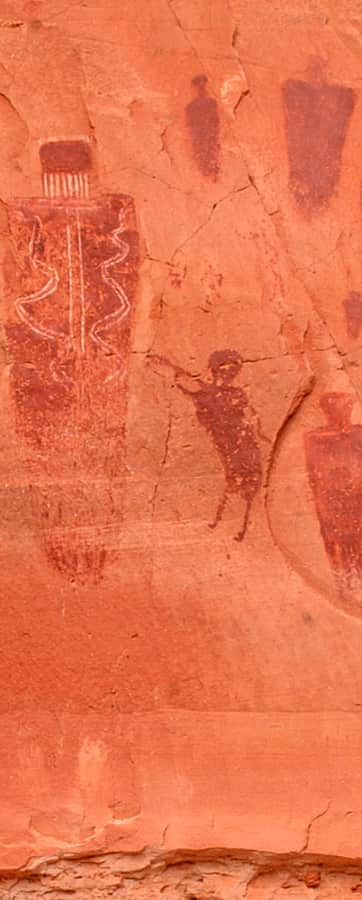 The Great Gallery is one of the best preserved installations of the Barrier-Canyon-style rock art in the United States. Due to the rugged beauty and archeological significance, it is a bucket list item for many people. The largest panel within Horseshoe Canyon, The Great Gallery, measures 200 feet long and 15 feet tall, and is the product of the prehistoric Desert Archaic culture. Estimates put the age of the art somewhere between 2,000 and 8,000 years old, predating even the Fremont and Ancestral Puebloans. In this finely detailed panel your eyes will be drawn to the dozens of limbless humanoid figures.

If you are interested in seeing these panels, start on the west rim of Horseshoe Canyon, a portion of Canyonlands National Park north and west of the Island in the Sky ranger district. A well-marked trail drops 750 feet into the canyon below. From the canyon floor, the Great Gallery is approximately three miles. Along the way you will encounter three other art panels, most of which are identified by signs. In addition to the rock art, you'll also see numerous blooming wildflowers lining the trail in the spring, or if you are visiting during autumn the leaves of the large cottonwoods will be radiant in fall color.

There is no water source at the trailhead and flows in the canyon are unreliable, so be sure to carry enough water to last the duration of the hike (4–7 hours). Guided ranger walks through the canyon are scheduled on Saturdays and Sundays during spring and fall. These ranger hikes are completely dependent on staffing so be sure to visit the Horseshoe Canyon website if you would like a guided tour.
Directions, Camping and Coordinates
Most visitors access Horseshoe Canyon from the west off of Highway 24 just south of the Goblin Valley turn off down a 30-mile graded dirt road. You may also access the trailhead from Green River for a 47-mile journey on a rougher dirt road. There are several signs directing you to the trailhead. It is a 2.5-hour drive from Moab or 1.5 hour drive from Green River. Be prepared. Unexpected weather could bring about rapid change to the drive requiring an AWD vehicle to negotiate.

Camping in Horseshoe Canyon and this area of Canyonlands is prohibited. Visitors may camp in areas throughout the bordering BLM land to the west. And, primitive camping at the trailhead is permitted, and may be ideal for those who arrive late the night before and plan for an early start. If you are looking for more aesthetic camping, you may be better off exploring the sites throughout the many spurs that splinter from the dirt road that brings you to the trailhead and/or Goblin Valley State Park. There is a simple pit toilet at the trailhead. No water is available.

A visit to Horseshoe Canyon is ideal for those who are curious about prehistoric cultures and love the southwestern desert. The round-trip journey is achievable for people of all ages with a base level of fitness, agility, and endurance. A day spent exploring Horseshoe Canyon is a step back in time where you are left to wonder about the forgotten cultures of the world.

GPS Coordinates: 38.448315, -110.20578