U.S. Federal Shutdown Information
At this time, all of Utah's national parks, monuments and recreation areas remain open.
Learn more.
Powder Dreams
Quick access to three distinct ski areas and a choice of seven resorts.
Explore the itinerary, then start planning your Utah ski vacation.
This three-day powder dream ski vacation takes you to Utah ski resorts all known for their seemingly endless stashes of deep powder. In Salt Lake City and Ogden, you can ski or ride all day then relax slopeside for the night, or make the short trip back to the city for a night on the town.
Salt Lake City isn't your regular ski town — it's a Ski City. With big city, world-class amenities galore and 10 different resorts within an hour of Salt Lake City International Airport (SLC), Salt Lake City, Utah ski trips can satiate any skier's or snowboarder's lust for more time on the The Greatest Snow on Earth® (here's why), and if you have an Ikon Pass or Ski City Super Pass, you can ski any or all four Cottonwood Canyon resorts for a fraction of the walk-up rate.

Best of all, because of its size, Salt Lake City lets you live your powder dreams on any budget and, rest assured, there's no 'roughing it' here. You can still enjoy a vibrant,'West of Conventional' urban culture and modern lifestyle. This three-day itinerary visits your choice of Ski City's four resorts, plus makes the short drive north for a bonus day at one of Ogden's resorts. Once you get a taste for Utah ski trips — and once you realize how close,easily-accessible and incredible it all is — you may never want to ski anywhere else.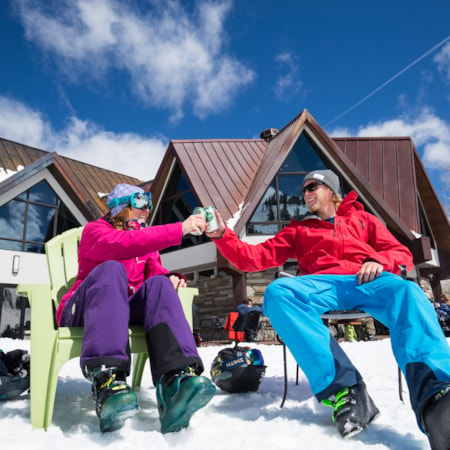 SLC to Big Cottonwood Canyon
36 Miles
Take your pick from the Big Cottonwood Canyon resorts: Solitude Mountain Resort and Brighton Ski Resort. The amenities, accessibility and affordability of both resorts make Brighton and Solitude a great deal — it's no stretch to say they're some of the best family ski resorts out there. While you can enjoy an incredible day at either resort (and both are included on the Ikon or Ski City Super Pass), these resorts also offer the combined SolBright Pass, which enables skiers to access your choice of 15 lifts and over the resorts' combined 2,250 skiable acres and 130 named runs. The blue/intermediate SolBright run is accessed from the Milly lift at Brighton or Summit lift at Solitude, though less-experienced skiers may opt for the short bus trip to the other resort.
Brighton Ski Resort has one of Utah's longest ski school traditions, multiple terrain parks for riders and excellent night skiing. Milly Bowl is a powdery playground that can keep you yelling, "Wahoo!" all day.
Solitude Mountain Resort is a sister resort to Deer Valley, a legend in customer service and dining. Solitude boasts a European-style village that features a full-service Nordic center, outdoorice skating) and mid-mountain patio dining. Don't miss skiing and snowboarding the powder magnet, Honeycomb Canyon.

If your legs can take it, try out night skiing at Brighton Resort, offering 200 acres of lighted runs. Otherwise, make a reservation for a prix-fixe luxury meal at the Yurt at Solitude, which only requires a short snowshoe walk under the stars.

Lodging: Choose from numerous resort or canyon lodging options (from slopeside condos to canyonside rentals at or near Brighton or Solitude if you're looking for the shortest path to the earliest chair. Otherwise, check into over 150 hotels if your base camp is nearby Salt Lake City, which offers the best access to the city's culture, nightlife and 1,000+ restaurants (taste some of the best in The Perfect Meal)...often at the area's best rates.

The Drive: SLC to downtown is less than 10 minutes; Solitude and Brighton are 40 minutes depending on ski traffic and weather. Pro Tip: Save money on rental cars, and help keep Utah roads and skies clear. Take Trax light rail from the airport to downtown. There are numerous private and group shuttles from downtown (there's even Uber Ski), or take UTA to the Ski Bus at the mouth of the canyon.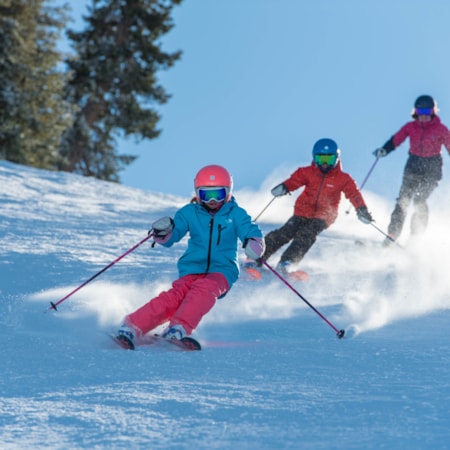 SLC to Little Cottonwood Canyon
32 Miles
Big Cottonwood Canyon's not-so-little sibling to the south, Little Cottonwood Canyon, also offers quick metro-to-mountain access and the same option to pick a single resort, or purchase a combined pass. You'll also find plenty of gear retail or rental outfitters if you don't have your own equipment.
Both resorts are included on Ikon and Ski City Super Pass. Similarly, the Alta-Bird Pass (sold at either resort) enables skiers to access both resorts via a connection gate at the saddle separating Alta's Albion Basin and Snowbird's Mineral Basin. The result is a combined 4,700 acres, over 283 runs and greatest snowfalls annually. Although both resorts provide a good balance of beginner, intermediate and advanced trails, they are famous for their blue to double black diamond runs, bowls, traverses and chutes, offering some of Utah's best steep and deep terrain.
Alta Ski Area is a skier's paradise and snowboarder's Hades (no snowboards allowed) that receives 550 inches of the fluffy white stuff per year on average and features a vertical drop of more than 2,000 feet and some of Utah's most storied ski runs, like the infamous High Rustler.
While there's great terrain for beginners at Snowbird Ski and Summer Resort, expert skiers and riders can carve first tracks in wide-open bowls, fly down steep chutes, and make their way through the mountain itself on North America's only ski tunnel. Be sure to hit the 1,200 vertical feet and 40-degree pitch of North Baldy when the gate is open. Stop for lunch and a hot cocoa or beer at the Summit Lodge next to the tram on Snowbird's Hidden Peak, which offers a local-inspired menu with an 11,000-foot view.

After two days of skiing, relax in the rooftop hot tub at The Cliff Spa , grab cocktails and "appy hour" snacks at The Aerie and loosen up for an evening out on the town. Salt Lake City boasts the metropolitan culture and nightlife of a world-class city.
Lodging: Salt Lake City or slopeside at Alta or Snowbird. Both resorts offer extensive lodging options and amenities, ranging from inexpensive dorm-style rooms at Alta, condos at Snowbird's Iron Blossom Inn to the luxe accommodations at Snowpine Lodge nestled between the two resorts.
The Drive: Return to Salt Lake base camp after skiing Big Cottonwood Canyon or head straight to a lodge or hotel up Little Cottonwood. It's about 35 minutes back downtown, or 45 minutes to the top of the neighboring canyon. Add a few minutes for winter weather or canyon ski traffic on the weekend.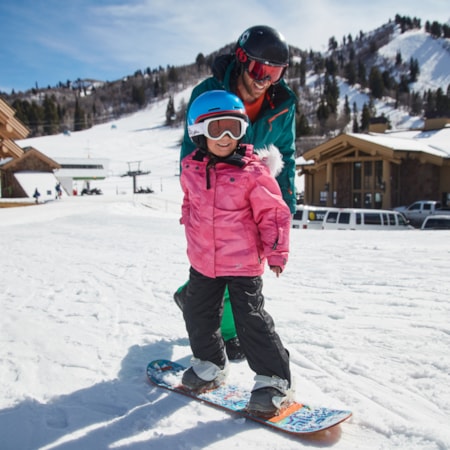 Spend a day on the slopes of one of Ogden's three resorts, then grab an early meal in Ogden Valley or extend your night on the historic, lively and artsy 25th Street area of downtown Ogden.
During the 2002 Olympic Winter Games, Snowbasin was the site for men and women's downhill, super G and combined races. With some of Utah's longest runs and beautiful lodges, you'll understand why this epic resort was selected for three premier events. Snowbasin boasts 3,000 skiable acres and 3,000 vertical feet. Hop on one of two gondolas, the tram or many high-speed lifts to access wide bowls, corduroy groomers, and plenty of powder stashes. Try out your tricks at the terrain park which has a wide collection of features and 65 rails. Take a break from alpine skiing and enjoy the 26 kms of groomed Nordic trails and find some thrills on the lift-assisted four-lane tubing hill, and when your legs are completely dead, curl up by the fire with a house baked cookie or craft beer in the stately Earl's or Needles Lodge.
The largest of the three Ogden ski resorts, Powder Mountain, offers prime powder stashes on this sprawling mountainscape with 8,400 acres of skiable terrain. This resort averages around 500 inches of The Greatest Snow on EarthⓇ each year. Skiers relish in the sidecountry and backcountry acres in addition to the groomed slopes. Take laps on the snowcat to access Raintree and Lightning Ridge or one of the snowcat tours to access even more acreage, including the Powder Country Shuttle, Lightning Ridge Snowcat Ride, Snowcat Powder Safari, and the DMI/Wolf Canyon Tour to access even more acreage. Tricksters will enjoy two terrain parks and a half pipe, and the 144 runs feature something for everyone with 25 percent beginner runs, 40 percent intermediate-level, and 35 percent reserved for advanced and expert skiers and boarders.
Nordic Valley is a 450-acre boutique ski and snowboard resort deep in the Wasatch. It includes 32 runs, numerous lifts (including the high-speed 6-person Nordic Express) and some of the best night skiing in Utah that allows visitors to ski 80 percent of the mountain under the stars. Terrain park lovers will enjoy the park's 20+ rail and fun box features and plenty of rollers and kickers. The terrain park is accessible from Crocker and Bridger lifts and Friday nights feature the Slopestyle Series.
The Drive: On I-15 northbound, it's less than an hour to the Ogden Valley. It's about 30 minutes back to downtown Ogden.