Kamas itself is a quiet high country town with a population of around 2,000 people and a ranch mentality carried over from the earlier settlements. Today the town defines itself by vast tracts of open space, access to recreation and family friendliness.
Linger in Kamas, Utah for a flick or local dining, including Mirror Lake Diner, Gateway Grille, Hi-Mountain, Summit Inn Pizza, El Jalisciense, and get to know some of the friendly locals in the community.
You will find a variety of local businesses to outfit your adventure or offer advice on great campsites or adventures in the vast Uinta Mountains and High Uintas Wilderness.
From there, until you venture off the road, it's all scenic driving all the time on the 56-mile Mirror Lake Highway Scenic Byway. Between beautifully developed campgrounds and endless, rugged backcountry, you'll find the perfect stop to park your RV or pitch your tent for a blissfully cool night with a view just flat out away from it all.
Where to begin? More than 450,000 acres of pristine wilderness are buttressed by two national forests, including the spectacular Wasatch National Forest that lines the byway. Fish from your choice of hundreds of lakes and streams like the namesake Mirror Lake. Campsites begin at $14 a night for a single party. Sites like Soapstone Basin, Mirror Lake, Moosehorn at the foot of Bald Mountain or along the Upper Provo River are quite popular, so reservations are recommended. From basecamp, take short strolls around cool lakes, jump on a horse or ATV, and if you've packed a little time and some wayfinding skills, climb Utah's loftiest peaks. King's Peak is Utah's highest and mightiest, offering multiple approaches and thousands of feet of prominence for you to set your hiking boots to.
Thanks to spectacular natural splendor, you won't be alone in this high mountain sanctuary: on the mighty Uinta Mountain range you may see elk, moose or perhaps a bighorn sheep. Peaceful cross-country skiing or snowmobiling in the winter shows this remote and wild place in a whole new light.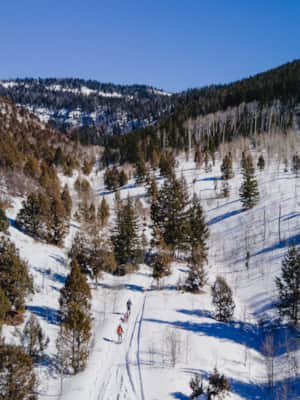 Fresh Tracks in Kamas – Utah's Snowcountry
Not far from the hustle and bustle of Utah's renowned Park City-area ski slopes is an untamed, snow-filled wonderland waiting to be explored. Here in the Wasatch Back, snowshoeing, ice fishing and snowcat skiing set the stage for an outdoors-facing winter getaway imbued with authenticity and solitude.
For more detailed information on area attractions, accommodations and dining, visit Park City Chamber of Commerce/Visitors Bureau
visitparkcity.com
and Heber Valley Office of Tourism
gohebervalley.com