COVID-19 Travel
Please adhere to local guidelines for safe and responsible travel, including following the statewide mask mandate.
Read more
Bryce Canyon National Park
Summer Activities
Camping

The striking contrast between red rock and dark green forest scenery lays the foundation for a camping trip that will call you back time and time again. Explore the park's two established campgrounds to start planning your trip.

Hiking

Explore a network of intertwined hiking trails that wind through high altitude forests and awe-inspiring canyon vistas. Check out The Rim Trail for an easy family hike, or gear up for a backpacking excursion on the Under The Rim Trail.

Horseback Riding

Something about riding through Bryce Canyon on horseback just feels perfectly right. Learn more about exploring the park with a guided tour, available to riders of any experience level.
Winter Activities
Photography

When you imagine Utah's national parks, you may not imagine snow covered red rocks. Truth is, that may be when Bryce Canyon's towering cliff walls are most stunning. Find inspiration with local tips about how to get that perfect snow-capped red rock shot.

Skiing

Thanks to an elevation between 8,000 and 9,000 feet, Bryce Canyon is one of few national parks where travelers can spend a day cross country skiing. Explore the Rim Trail, Bristlecone Loop, and Paria Ski Loop to get started.

Snowshoeing

As the snow covers Bryce Canyon's tall pine trees, a calmness envelopes the park. Gear up with some snowshoes (which are available for rental) and venture into the park's trails for an unforgettable day hiking.
Travel Tips
Navajo Trail to Queens Garden is one of the best 3-mile hikes anywhere and solace-seekers should consider the 8-mile Fairyland Loop.

Bryce Canyon's pristine dark skies mean incredibly starry nights. Sign up early for astronomy programs.

Full moon hikes mean eerily well-lit hoodoos, but don't forget your headlamp and jacket.

High altitude hiking means sunscreen, hats, long sleeves and extra water.

The rim at Bryce varies from 8,000 to 9,000 feet.

Save Presidents Day weekend in February for the Bryce Canyon Winter Festival or bring your own mule for the May Mule Days.

Read these resources to learn how to travel thoughtfully and experience Bryce Canyon National Park most fully.
Weather
Travelers will experience the best of Southern Utah's mountain and desert climates at Bryce Canyon. Summer visitation peaks during July's "monsoon" season where travelers will encounter generally dry, warm weather around 80°F interspersed with dramatic afternoon lightning storms. Night dips into the 30–40°F's. November–March are the coldest, with temperatures peaking in the 30–40°F's and freezing at night. Because of its higher elevation, Bryce is cooler than the other national parks and carries snow longer into spring.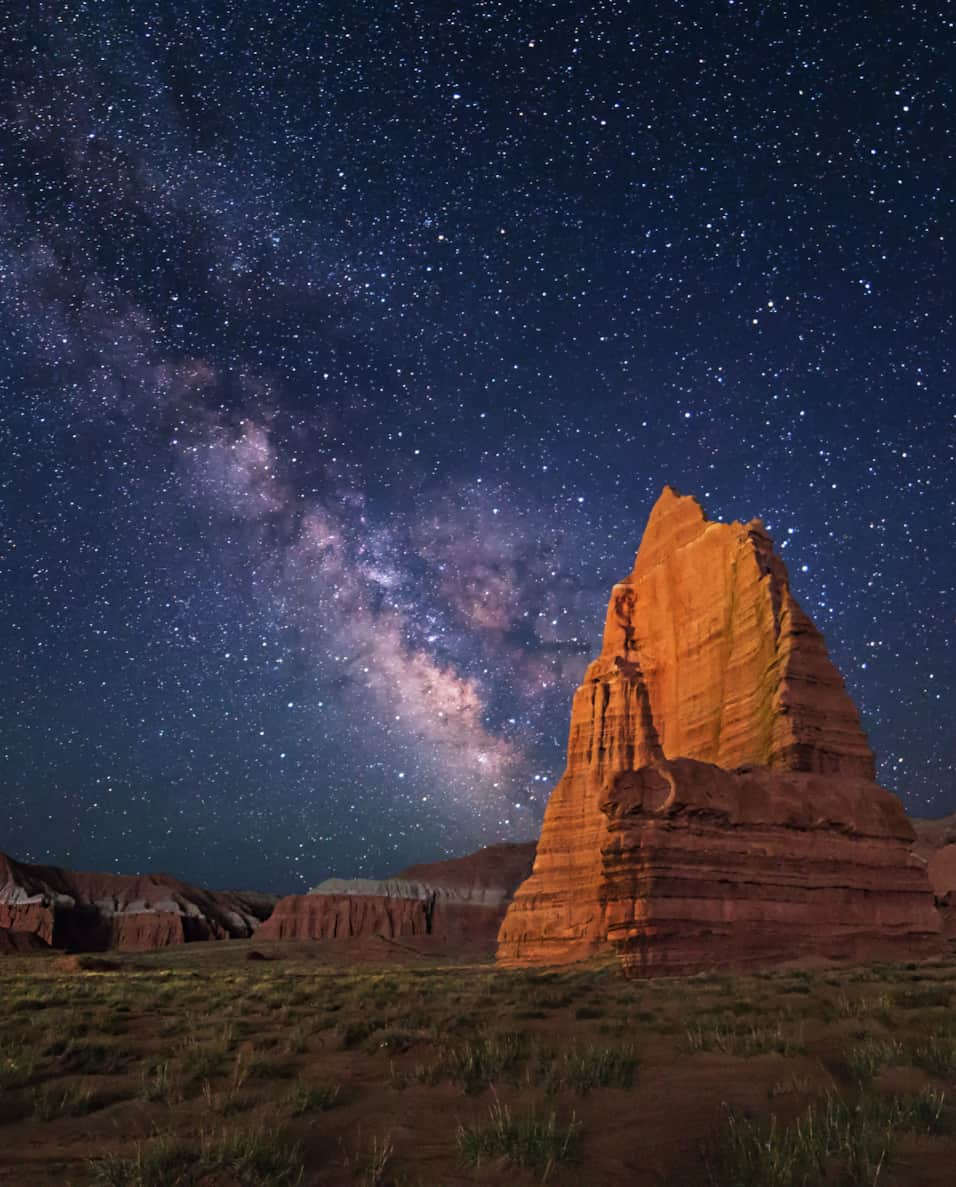 Red Rock & Dark Skies: Stargazing the National Parks
This road trip through southwest Utah takes you to four of Utah's best places to see the Milky Way — Capitol Reef National Park, Kodachrome Basin State Park, Bryce Canyon National Park and Cedar Breaks National Monument.
Highlights
Hell's Backbone Grill
Bryce Canyon Lodge
Ranger-led Star Programs