Camping
After falling asleep beneath a star-filled sky, you're greeted by rays of pink and orange light from nearby sandstone hoodoos in front of a picturesque sunrise. Needless to say, this is one of the most beautiful places to camp in Utah. There are two established campgrounds to choose: Sunset Campground and North Campground. Each campground accepts reservations — and it's a good idea to book early, because sites tend to fill quickly.
Sunset Campground lies just 1.5 miles south of the visitor center, with 100 sites for RVs and tents. This campground includes sites that are ADA-compatible. Reservations are accepted early May through late September. These sites are ideal if you're interested in hiking the trails near Sunset Point.
The nearby North Campground lies just east, across the road from the Bryce Canyon Visitor Center. You'll find 99 available sites for RVs and tents. Reservations are accepted early May through late September, and the campground has at least one open loop year-round. North Campground also has an RV dump station (open summer only). If you're a winter camper or plan to spend time on the nearby Rim Trail, this may be the campground for you.
Hiking & Backpacking
After a quick camping breakfast, set out on Bryce Canyon's renowned network of hiking trails. Whether it's a stroll down the popular Rim Trail, a short family hike on The Mossy Cave Trail, or a multi-day backpacking excursion on the Under the Rim Trail, there is great hiking for everyone to enjoy. Plus, the region surrounding Bryce Canyon is full of equally rewarding trails to explore.
Before you go, it's always a good idea to stop in at the visitor center. Here you can check trail conditions and get a schedule for the Bryce Canyon shuttle, which connects the shuttle area outside the park with the park's most popular trailheads. To start, explore the best hiking trails in Bryce Canyon to start building your to-do list.
Horseback Riding
Once you've covered some ground on foot, a guided horseback ride may be the perfect change of pace. There are several guides in the nearby town of Bryce, with tours available for every ability level and schedule. Horseback riding is an ideal way to experience a bit of the park's rich western history, and a local heritage that once heavily relied upon horses for transportation. To start, browse Bryce Canyon's horseback riding guides.
Stargazing
As an accredited International Dark Sky Park, Bryce Canyon promises world-class stargazing. On a clear night you may be able to see planets like Jupiter and Venus, as well as a Milky Way that stretches across the sky. With little to no light pollution from nearby towns, the more desolate regions of the park may fall under the darkest skies you've ever seen.
To start, we recommend signing up for the park's "Dark Rangers" stargazing program. Learn more with this guide to stargazing in Bryce Canyon.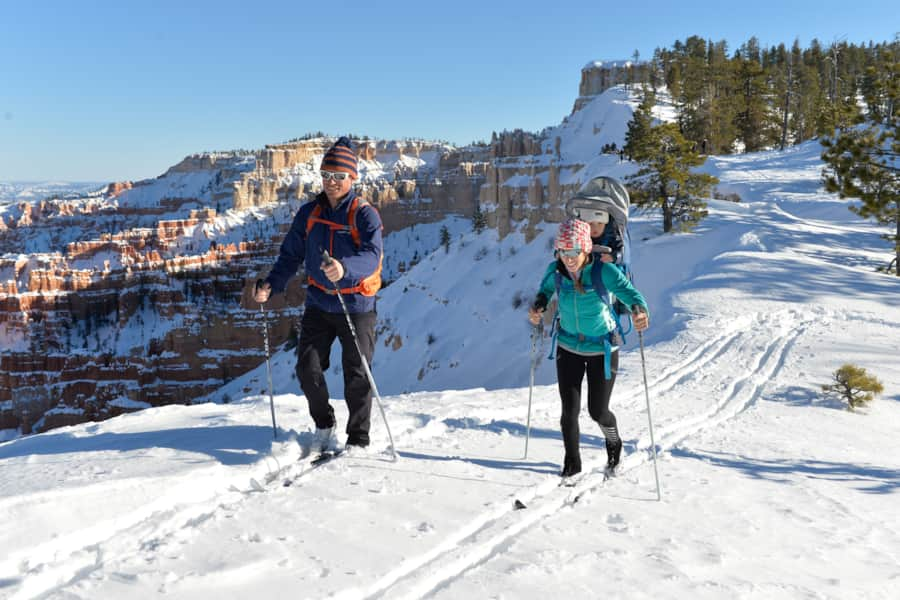 Taking a Scenic Drive
While the hiking in Bryce Canyon National Park is superb, so is the park's 18-mile scenic drive (Highway 63). Stop by the visitor center for a brochure full of useful Bryce Canyon information. All of the overlooks lie east of the park road (left, as you drive south), but that's not to say that the western side of the road isn't packed with jaw-dropping scenery. To avoid cutting across traffic, we recommend that you drive all the way south, then stop at the overlooks on your way back. If you only have a short amount of time, make sure you stop at Sunrise, Sunset, Inspiration and Bryce viewpoints.
Here's a tip to help you get a good look at some of the best scenery: Just after passing the park boundary (and before the entrance/fee station) watch on your left for the road to Fairyland Canyon. Many visitors, in their eagerness to enter the park, miss this viewpoint just 1 mile off the main road that allows you an up-close view of the red rock spires. The fantastic hoodoos you see below, for which Bryce is so famous, were explained by the Paiutes as "legend people" who had been turned to stone. As you study the twisted maze of canyons, consider the words of early Mormon pioneer (and park namesake) Ebenezer Bryce, who described it as "a hell of a place to lose a cow."
Due to congestion on the park road, trailers are not allowed beyond Sunset Campground, and vehicles longer than 25 feet are not allowed at Bryce Point or Paria View. You may leave your trailer in the visitor center parking lot. As noted above, a free voluntary shuttle bus system, operating May through early October (8 a.m. to 8 p.m. daily), will take you from Ruby's Inn or the visitor center to all the park's overlooks and trailheads. So take the shuttle if you want to experience scenic driving through Bryce Canyon National Park but don't want the hassle of dealing with traffic.
Cross-Country Skiing & Winter Hiking
If your first thought wasn't to pack your ski gear on a trip to see Southern Utah's red rocks, you're not alone. Winter in Southern Utah is one of our local's best-kept secrets. Thanks to its high altitude, the park's trails, ponderosa pines and red rock hoodoos are covered under a blanket of snow come November. For a more tranquil, less-crowded vacation, winter is the perfect time to visit Bryce Canyon. Plus, many trails are still groomed for hikers, others are ready for snowshoeing and the family can spend an afternoon ice skating in the charming town of Bryce, just outside the national park.
Biking and E-biking
Bike the shared-use path that runs five miles from the Bryce Canyon shuttle parking station to Inspiration Point. Bicycles and permitted e-bikes are only allowed on paved surfaces: the shared-use path, park roads and parking areas. For mountain bike trails near Bryce Canyon, head to Red Canyon.
Walking the Dog (Paved Paths Only)
Pets are prohibited from unpaved trails inside Bryce Canyon National Park. However, pets are allowed on the 0.5-mile section of Rim Trail between Sunset and Sunrise Points. Out and back, this 1-mile paved path around the amphitheater offers a variety of hoodoo views.
Eating at a Bryce Canyon Restaurant
The park doesn't let visitors go hungry. The General Store serves "grab-and-go" hot and cold foods (pizza, soup, ice cream and sandwiches) and beverages (soda, water, beer, and coffee). Seasonally, the Lodge at Bryce Canyon opens for breakfast, lunch and dinner. Valhalla Pizzeria & Coffee Shop dishes up pizza, salads, beer, wine, pastries, coffee and espresso drinks.
Ebenezer's Barn & Grill delivers cowboy classics, including flat-iron steak, salmon, barbecue platter and chicken, along with cowboy demonstrations and country music. Meanwhile, Cowboy Ranch House (at Bryce Canyon Resorts) mixes Old West and Mexican flavors in its flame-grilled steaks, chicken and burgers that pair well with the 12 beers on tap behind the bar.
Editor's note: Check restaurant sites for updated hours, as some close during the winter season.
Things To Do Near Bryce Canyon
Adventure doesn't end at the park's boundary. Just outside Bryce, the landscape lays out ample opportunity for fun, whether you crave a little luxury or off-the-grid solitude.
Glamping
Camping too rustic for you? Try glamping at Under Canvas Bryce Canyon or Wander Camp Bryce Canyon. Enjoy the adventure of camping — relaxing to the sights and sounds of nature, cooking meals under a blue sky canopy, and roasting s'mores around the fire — but with the perks of safari-like tents and hotel-inspired bedding.
Mountain Biking
While Bryce Canyon National Park prohibits off-road biking, Red Canyon (just 15 miles from Bryce's visitor center) welcomes mountain bikes. In fact, Red Canyon's Thunder Mountain Bike Trial is a favorite for its playful hills and views of Bryce's red-rock formations.
Spending a Day — or More — in Red Canyon
Red Canyon sits between Panguitch and Bryce Canyon and is worth a stop to picnic, hike, mountain bike, camp, horseback ride or go off-roading. In fact, many visitors stumble upon the wonder when they drive through two arch tunnels as they enter or leave Bryce.
Exploring Grand Staircase
Grand Staircase–Escalante National Monument is a massive geographic phenomenon worth going off-grid to tour (read: no crowds and limited cell coverage). The closest access to Bryce Canyon National Park is through Tropic, Utah, but another way to explore the area is through Kanab, Utah. If you're heading to an area with limited cell reception, it's important to pack a paper map or GPS, and always be sure to let someone know where you're going and what time you'll be back.
Playing in Kodachrome Basin State Park
Just 20 miles from Bryce and surrounded on three sides by Grand Staircase-Escalante National Monument, Kodachrome Basin State Park deserves a day or two to supplement your Bryce Canyon adventures. Camp, hike, mountain bike, horseback ride and stargaze among 67 sandstone chimneys that playfully change color as the sun moves over the park.
Driving (Slowly) Along The All-American Road: Scenic Byway 12
Scenic Byway 12 stretches over 120 miles of roadway to access national parks, state parks, national monuments, scenic overlooks and plenty of great restaurants and shops. A stop at the scenic overlook near the road's summit at about 9,000 feet puts it all into perspective — especially at sunrise and sunset.
Fueling Your Adventure at a Restaurant Near Bryce Canyon
Known for its homemade soups and pies, Bryce Canyon Pines Restaurant is easy to find just west of Bryce on Highway 12 and dishes up classic American fare and local microbrews. The Stone Hearth Grille, located in Tropic, Utah, just 10 miles from Bryce, offers a fine dining experience to visitors looking for white table linen service, grass-fed local beef, a lengthy wine menu, seafood and seasonal vegetables.
If you're traveling to or from Bryce through Panguitch, Utah (about 23 miles from Bryce), stop for to-go coffee and muffins at Wanderlust Cowgirl Coffee or a sit-down barbecue at Desert Grill.
Editor's note: Check restaurant sites for updated hours, as some close during the winter season.