U.S. Federal Shutdown Information
At this time, all of Utah's national parks, monuments and recreation areas remain open.
Learn more.
Ice and Rock, Snow and Splendor: Winter in Southern Utah
Come along on a five-day expedition to see Southern Utah's wintry face, explore national parks, ski its mountains, find ways to play in the snow that has settled on the internationally-known landscapes and enjoy the solitude of the season.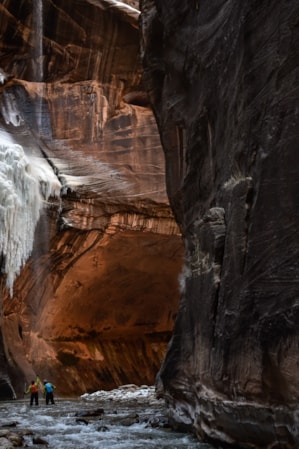 CRACK! The sharp sound jolts me out of my reverie. Startled, I turn to observe a giant sheet of ice peel off the high red rock walls of the Zion Canyon Narrows and come crashing down — BOOM! — into the Virgin River in a thousand wintry shards.

"Whoa," I say to the river, my eyes saucers, "You don't see that every day."
No. You don't. I am two miles upriver on one of the most popular hikes in one of the most popular of the United States' 59 national parks and I am the only soul on planet Earth to witness this icefall, which echoes downstream like a gunshot, punctuating the silence in its wake.
Ice and red rock as a pair are a rare sight in Zion National Park during winter — rare because there aren't many humans around to do the sighting. Few venture into the park when frozen stalactites dangle from overhangs and cling to cliff walls like icy hanging gardens. It's beautiful, sure, but it's not for everyone. To be clear, visitors to the park in winter should exercise extreme caution and never walk beneath overhanging ice. Zion's peak season spreads out shoulder to shoulder April through October, which means sharing hiking trails with outdoor enthusiasts from around the world.
February hikes in Utah help solitude come easier (Read: Winter in Southern Utah Like a Local). I am wading in the icy cold water of the Virgin River thanks to neoprene socks and chest-high waders and I plow upstream, giddy with the air of discovery. Around every corner is a new stunning sight and it's all mine, save for a few other intrepid souls dotting the river. I soak it in and keep making the same dumb joke to myself: If a giant slab of ice falls into the river and no one is there to hear it, does it make a sound? Experiencing the amazing sights of hiking the Narrows during winter definitely makes this a must do again. (See Jeremy's itinerary here.)
"Few venture into the park when frozen stalactites dangle from overhangs and cling to cliff walls like icy hanging gardens. It's beautiful, sure, but it's not for everyone."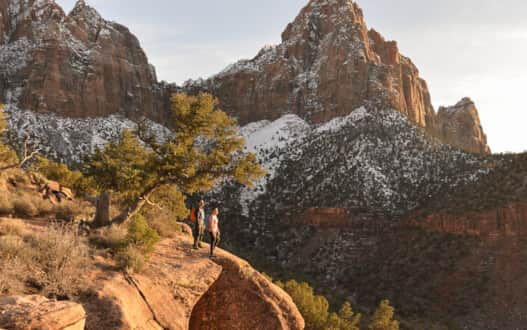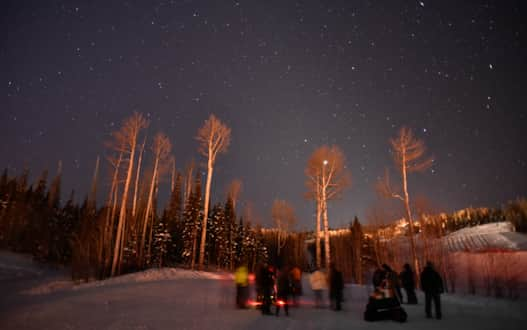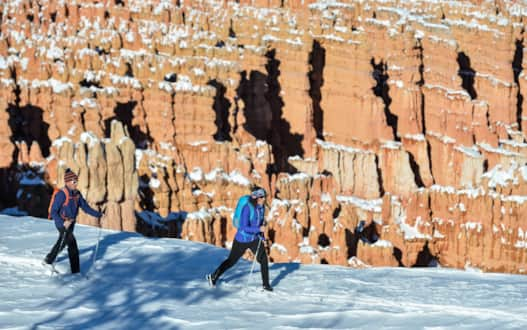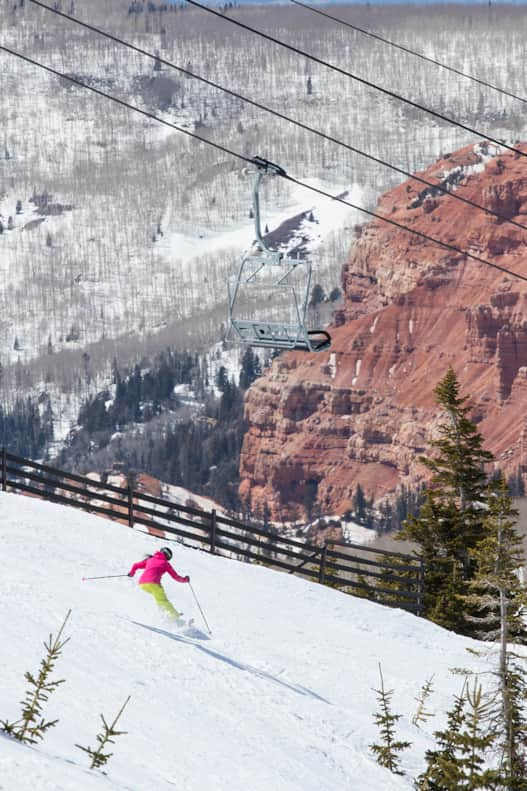 Day One: Las Vegas to Springdale and Zion National Park
Activities: Hiking
I started this five-day adventure at McCarran International Airport's baggage claim in Las Vegas, below the Godzilla-sized Celine Dion and Cirque du Soleil billboards. Vegas wants so very badly for me to stay and get lost in its labyrinth of casinos and consumption. Poor thing, it's practically begging.
Soon enough I am rocketing away from Vegas's hollow promises in my rental car. I feel like I'm leaving a bad marriage. Hey Vegas, it's not you, it's me. To mark the moment, I put on U2's "The Joshua Tree," the perfect soundtrack for the 2.5-hour drive into Utah and my first destination, Springdale, the oh-so charming village that is the gateway to Zion National Park.
As I enter Utah, the desert gets more, I don't know, desert-ey — the rocks begin to rise out of the Virgin River Gorge and the iron in the soil gives them a red tint. Nevada definitely lost the scenery lotto and this effect intensifies as I pull into Springdale.
Checking into the Cliffrose Lodge and Gardens and a sprawling, fully appointed room in this suite-only hotel on the banks of the Virgin River, I drop my bags. I'm headed to Zion Outfitter on the edge of the park to rent my waders and river shoes for the out-and-back trek up The Narrows. The Narrows are perhaps Zion's most popular excursion; it is not so much a hike as a ramble up the Virgin River below towering cliff walls that "narrow" as you get farther upriver into one of the most accessible slot canyons in Southern Utah. I return four hours later, smiling and ready for dinner.
Before heading out tomorrow morning, I'll sneak in a hike to get a parting glimpse of the canyon from on high.
Day Two: Springdale to Brian Head
Activities: Hiking, Scenic Drive, BBQ Dinner
There are several strenuous trails ascending from the floor of Zion Canyon. The most well known, Angels Landing, is a butt-kicking climb to the top, very top, of the canyon, famously completed by a chain route — where the vertiginously narrow trail offers chain hand holds as you crawl up tummy-turning sections of trail with sheer drop offs. The bucket list hike is crowded in summer — I'd likely have opted for Observation Point or The Watchman — but much more reasonable in the winter season.
I get out early, entering the park at 8 a.m. for the five-mile, round-trip clamber to the top. The chains section is daunting but doable with a healthy dose of patience and slow moving. Had it been raining or wet, I would have stopped at the plateau where the chains begin (which is a worthy destination in itself). My efforts were rewarded with a top-of-the-world view into a moody winter sky above snow-accented red rock cliffs in every direction.
Exhilarated, I pack up for the next leg of my journey, leaving Springdale for Interstate 15 and the 1.5-hour drive to Brian Head Resort. I arrive early afternoon and take the time to get ski rentals and gear sorted for the next morning, checking into the Grand Lodge as the sun sets.
In search of fun, I venture over to the Last Chair Saloon, where the weekend crowd — in from Las Vegas and Los Angeles — is embracing the bar's après-ski offerings with gusto and a solid cover band (also in from Vegas) plays the hits in the corner. Soon enough, Brian Head's owner, John Grissinger, starts rolling out his famous BBQ dinners to the gathered crowd and holds court behind his smoker. It is a good night, Brian Head is a friendly place, everyone is happy to be away in the mountains and tonight is the kind of night that you find yourself singing along with strangers to the likes of Billy Joel's "Piano Man."
Day Three: Brian Head Resort
Activities: Skiing, Snowmobiling
The following morning, nursing a decent hangover, I boot up and head to the lifts. A few warmup laps and the crisp winter air chase the cobwebs away and I take the grand tour of the resort, mainly sticking to the groomers but finding a few stashes of hidden powder left behind from the last storm. Brian Head Resort is small, manageable and wide open. It's a novel moment standing below Brian Head Peak and looking off in the distance at snow-covered red rock, something no other Utah resort can offer. What a great time of year for a driving, hiking and skiing trip through Southern Utah!
After lunch, I head over to Thunder Mountain Motorsports to embark on a snowmobile tour of the canyon rim above nearby Cedar Breaks National Monument. The group and private tours take riders on several miles of excellent snowmobile track, through gladed meadows of aspen in Dixie National Forest to a lookout above Cedar Breaks, a sort of mini-version of Bryce Canyon that is generally snowbound during winter. My tour guide, an affable, young Southern Utah kid named Cash, lets me tear ass around a meadow for a while on the way up, which I appreciate.
After the sun sets, Brian Head's convivial weekend crowd is at it again. Tonight, it's karaoke at the Lift Bar in the Grand Lodge. None for me, thanks. Tomorrow morning, I'll head to Bryce Canyon National Park and Southern Utah's other ski area, Eagle Point Resort.
Day Four: Brian Head to Bryce Canyon; Bryce Canyon to Eagle Point
Activities: Scenic drive, cross-country skiing
The drive from Brian Head to Bryce Canyon National Park is a beautifully scenic stretch of road that runs through the picturesque little town of Panguitch before dropping me onto Utah's All-American Road: Scenic Byway 12. The scenery alongside the byway gives me a taste of what to expect in Bryce Canyon, famous for its slender, towering hoodoos created from centuries of artful erosion by wind and water.
Ruby's Inn, a sprawling hotel and resort complex just outside of the park, has a Winter Activity Center that rents cross-country skis and snowshoes. The inn offers miles of groomed cross-country ski track and leads guided tours. You can also take snowshoes to the park to hike down into Bryce Canyon. I opt to rent a pair of cross-country skis and head out onto the track. It's a bluebird day, and skating along the snowy trail is a great workout and a reprieve from the confines of my car. The trail leads to the rim of Bryce Canyon, where you overlook the unique hoodoos and wedding cake splendor of the park. Off in the distance I can see the Tushar Mountains, where my next destination, Eagle Point Ski Resort, lies.
"I'm finding untrammeled powder even though the last storm came through five days ago. Am I dreaming?"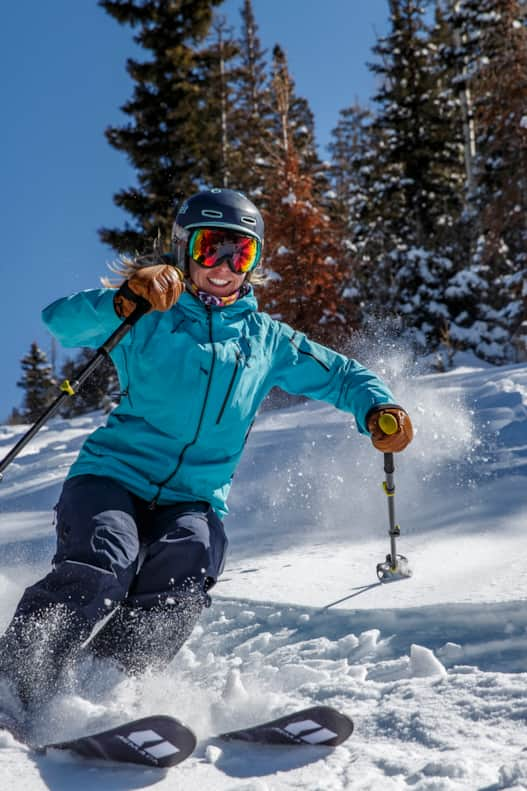 The road to Eagle Point in Beaver County (also known as Ramblers) rises from the low desert lands into a stunning alpine setting. The Tushars are a relatively untouched range and as I wind up into the mountains, the air cools as the road narrows on this incredible trail. At the top of the mountain, I find the rustic village surrounding Eagle Point, which consists of a small collection of vacation homes and condominiums and a base-area lodge, bar and restaurant, below the high peaks of the Tushars rising above. The condos rent out for jaw-dropping affordable rates (starting at $109) and the price for an adult day pass to ski ranges from $50-$90, depending on the day (weekends and holidays are more). It occurs to me that the small resort would make a great location for a great family getaway or a guys or girls trip. It's the kind of place a merry band of skiers could just take over for a weekend. In fact, sitting at the bar after dinner, talking with the resort's operations manager, Lane Tucker, I learn that Eagle Point offers a package to big groups — you can rent the entire resort, soup to nuts, for 15 grand.
I watch the stars from a hot tub on the lodge patio (they call it the hot tub garden) and wonder what the skiing is like.
Day Five: Eagle Point Ski Resort
Activity: Skiing
It's a cliché but the phrase "best-kept secret" keeps running through my head as I explore Eagle Point's 39 runs and side country. I pretty much have the place to myself, like, really. I am skiing right onto lifts that seem like they are running just for me. And because the resort is less-trafficked and only open Friday through Monday, the snow isn't all carved up. There literally isn't enough ski traffic to make moguls and it is steep! On the skier's left side of the resort are some of the steepest chutes I've ever skied, the runs are so steep the resort can't groom them. And, when I venture out of the gates, I'm finding untrammeled powder even though the last storm came through five days ago. Am I dreaming?
Sipping a craft beer watching the sunset at Eagle Point I reflect on five days of a grand adventure. I've had two of the world's most popular national parks nearly to myself, hiked to stunning vistas and in foreboding canyons. I've ridden a snowmobile (for the first time ever) and had two perfect ski days, and all of it was within a four-hour drive of a major airport. Which begs the question: If a dude has a perfect winter trip in Southern Utah and no one is there to see it, does it make a sound?