U.S. Federal Shutdown Information
At this time, all of Utah's national parks, monuments and recreation areas remain open.
Learn more.
Permit of Solitude
A Guided Canyoneering Adventure Through Robbers Roost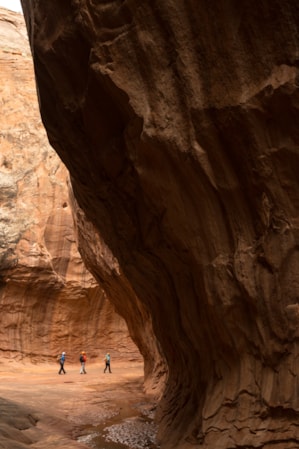 12-year-old Christopher Hagedorn wanted to be an astronaut. He prepared for this pursuit for more than 30 years, including degrees in Geological Science and Geotechnical Engineering, and two rounds of NASA applications. Eventually, he redirected his passion, expertise and love for remote exploration by starting Get In The Wild.
He guides canyoneering groups in Southeastern Utah, including the San Rafael Swell, Goblin Valley State Park and the remote Robbers Roost area — which might be more like Mars than any other place on earth.
In this video, Hagedorn leads a group through the Robbers Roost/Dirty Devil Wilderness area, where vast red rock wilderness carved by wind, water and time has left a primitive maze of canyons that offer unique opportunities for visitors to disconnect from modern-day hustle and reconnect with nature.
Go With A Guide
The Robbers Roost/Dirty Devil Wilderness area is incredibly remote. The Dirty Devil River winds for more than 90 miles through a labyrinth of red-rock canyons surrounded by some of the most rugged wilderness landscapes of the American Southwest. This area includes remnants from historic inhabitants including early Fremont People and even Butch Cassidy and the Wildbunch Gang (Read: In Search of Robbers Roost).
This area is extremely remote and requires four-wheel drive and high-clearance, as well as technical canyoneering knowledge. This area is also prone to flashflooding. (Read: Canyoneering How-to) All the factors combine to make a guided canyoneering adventure the best choice. Find a guide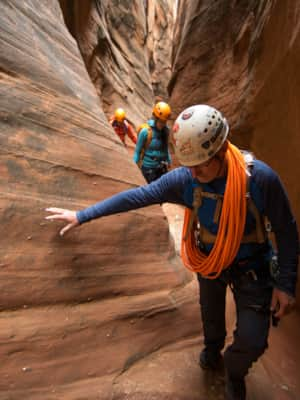 How to Canyoneer Safely
Whether you're a newbie or a seasoned canyoneer, here are six expert tips for your next canyoneering adventure.