Arches Timed Entry
From April 1 through October 31, 2023, daytime visitors to Arches National Park are required to have a timed entry ticket to enter the park. Reservations open three months in advance.
More information at go.nps.gov/archesticket.
Moab's Busy Seasons
Moab's main seasons are March to early May and September to October. Because so much of the fun is dispersed throughout a vast desert landscape, it's rare that you'll run into significant crowds once you get a mile or two away from trailheads. However, finding camping or lodging can be challenging, especially when events and festivals are afoot. If you plan to come during the busy season, be sure you have reservations or plan to camp on BLM land that is normally less-crowded (such as along Highway 128 outside of town).
It's during these prime times when crowds flood into Arches National Park and to a lesser extent, Canyonlands National Park and Dead Horse Point State Park. Popular hikes like the trail to Delicate Arch in Arches can be swarming with hundreds of tourists even on weekdays.
When to Visit
Shoulder seasons (February for spring, November for autumn) can be the absolute best time to visit the national parks — you may even get a chance to see rock towers, canyons, and arches decorated with a sparkling coat of snow. February to early March can be an absolute sweet spot for perfect weather, though cold fronts can still move in — and even a few rainy days are possible. However, if you're eager to explore the most popular spots in Moab such as Delicate Arch, the Slickrock Trail, and Dead Horse Point State Park, pre-season is a wonderful option.
In summer, Moab turns into a furnace. However, if you're an early riser or don't mind twilight outings, Moab can still be a great place for outdoor fun. Not all the action comes to a halt in the summer. Canyoneering, rafting and paddling can be enjoyed throughout the summer, though some years the rivers will run slower if the snowpack is low.
Winter in Moab can be an amazing time to explore the desert. The average high in December and January is about 44 degrees, which suits some hikers and mountain bikers just fine. Nights can be quite cold, however, dipping into the single digits — and of course, night falls earlier in winter. Camping is possible with the right gear, but many people prefer to stay at hotels thanks to lower rates during the off-season.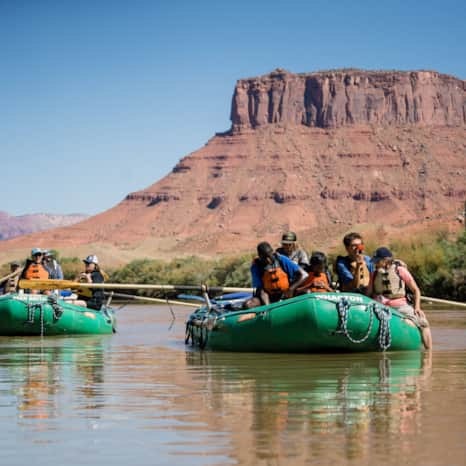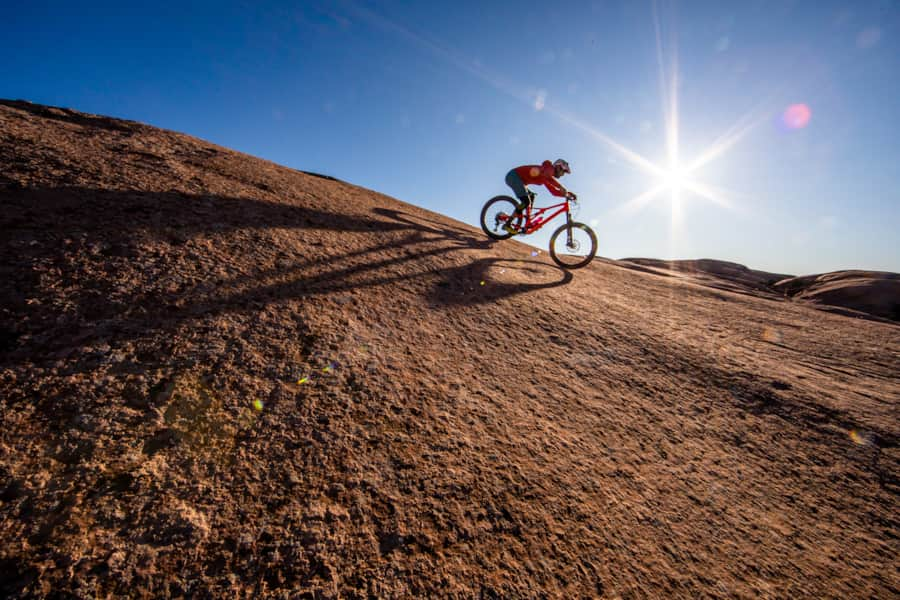 Where to Go to Avoid Crowds During Peak Season
For the majority of activities, crowds on the trails, rivers and canyons are rarely an issue, especially when it comes to off-roading, mountain biking and rafting. Hiking and climbing, however, can get busy due to their inherent lack of covering ground quickly.
Hikers should be aware that the most popular trails in the Moab area tend to be less than five miles in length and most lead to iconic arches or rock formations. Trails such as Delicate Arch, Corona Arch, Grandstaff Canyon, Devils Garden and Landscape Arch are very popular and may be better to save for shoulder season outings. Instead, consider hikes like the Jewell Tibbets Arch, Druid Arch, Salt Creek Canyon or the Murphy Trail. These hikes are longer and more rugged, but still just as beautiful as their well-known counterparts.
Mountain bikers really don't have a lot to worry about, as even popular trails tend to thin out within a mile or two of the trailheads. Exceptions include the Slick Rock Trail, Bar M Loop and Klondike Bluffs, which are great for riders of all levels but can get crowded. Trails such as Navajo Rocks, Captain Ahab and Flat Pass are nice alternatives to the most popular riding spots. Hardcore riders will want to check out the point-to-point ride of Mag 7, featuring the wildly exposed Portal Trail (don't worry, you can walk it if you're not feeling your A-game).
Climbers won't have a lot to worry about either. The Wall Street area is the exception to the rule, thanks to its — literal — roadside climbing (you could technically belay your partner from your car). Owl Rock and Bullwinkle in Arches National Park are fairly popular routes due to their sheer beauty and modest difficulty. Beyond those few hotspots, most crags and climbing areas will be ripe for picking the best routes.
Other outdoor sports rarely have to worry about crowds, from paddling to off-roading. That's the beauty of having expansive desert wilderness to explore.
"Because so much of the fun is dispersed throughout a vast desert landscape, it's rare that you'll run into significant crowds once you get a mile or two away from trailheads. "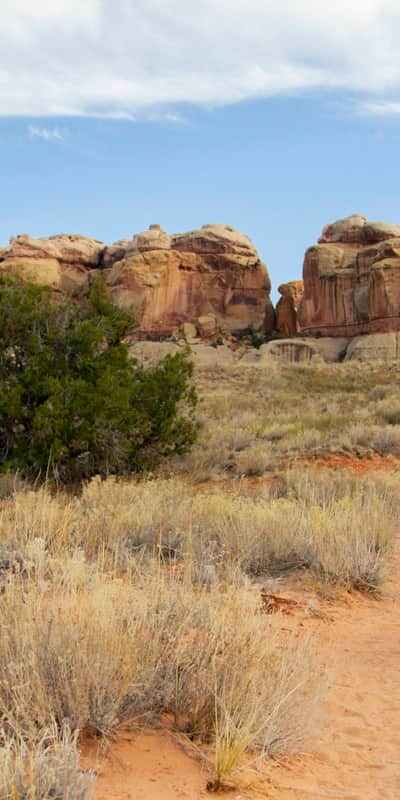 Final Tips
Outings like Canyonlands' iconic White Rim Trail aren't crowded (Read: "A Family Mountain Bike Expedition on the White Rim Trail"), but do require reservations months in advance — unless you plan to drive or bike the entire 107-mile loop in a single outing, plan ahead.

Likewise, backpacking in the Moab area won't be crowded but you should have your permits and backcountry reservations (when needed) prepared months in advance.

Most years, Easter is the single most crowded weekend in Moab.

Summer in Moab can be prohibitively hot, but if you can keep yourself busy in the daytime, the summer stargazing opportunities are out of this world. Seeing the summer constellations and the Milky Way from the desert is worth a trip any time of year.

November, especially around Thanksgiving, can be an awesome time of year for mountain biking and hiking. Camping can be a blast too, provided you have cold-weather gear and pack in firewood for an evening fire.