Bridesmaids Gone Boating
This group of women decided to celebrate upcoming nuptials with a whitewater rafting trip in Utah.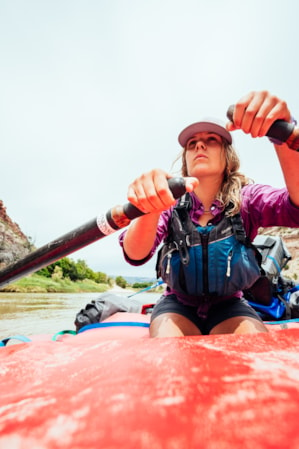 When one of my best friends got engaged, I immediately started thinking about planning a really awesome bachelorette party. I enjoy trip-planning but organizing a hen party for 12 girls comes with its own set of challenges. My criteria for finding the perfect destination to fete the bride-to-be included a destination that would be within reasonable driving distance of Salt Lake City, affordable and offer activities that we could all do together. Since our girlfriends are much more outdoorsy than indoorsy, we would need to go somewhere with opportunities for outdoor adventures.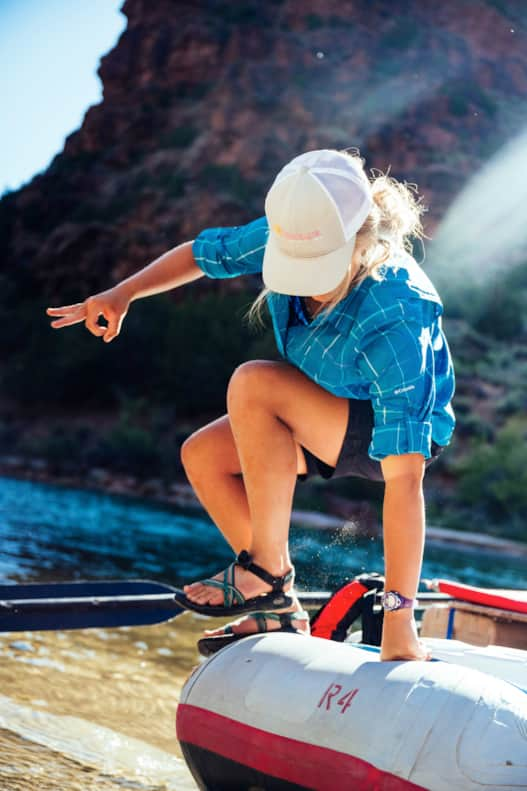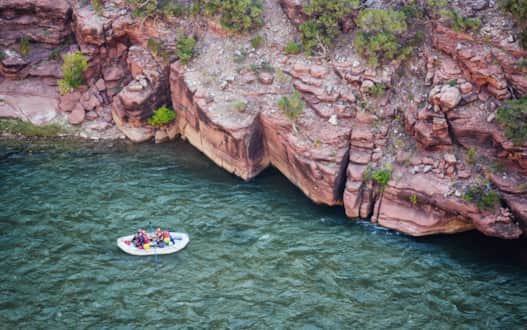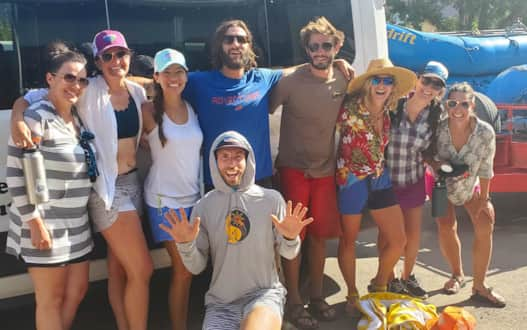 I landed on a trip to Moab to go river rafting. River rafting is a great option for large groups because you can all be together and it doesn't require anyone to have any special skills. There are plenty of whitewater rafting outfitters in Moab who do half, full and multi-day trips on various sections of the Colorado River from Fisher Towers and Westwater Canyon to Cataract Canyon and Desolation Canyon. You can decide how much whitewater action you want by choosing river trips with mellow Class II-III rapids or spine-tingling Class IV-V rapids, depending on the collective thrill threshold of your boat mates.
I've been on many river rafting trips in Utah and abroad and am more than comfortable with Class V rapids, but I knew some of the ladies in our party would be new to the experience so I decided to book us on an oar boat instead of a paddleboat. Oar boats require little of their passengers. The guide does all of the rowing and navigating so guests can relax and socialize. Paddle rafting means guests are part of the crew and must participate in the maneuvering of the boat, which is also loads of fun, but not for everyone. Going on an oar boat would give us a chance to discuss wedding colors and hairdos.
Westwater Canyon was the best match for us. Named by National Geographic as "The West's Best Short Whitewater Trip," it's as beautiful as it is exciting and its proximity to Moab made it an easy choice. Flanked by towering canyon walls made of red sandstone and smooth, black Precambrian rock, this 17-mile section of the Colorado River carves its way from the put-in at the Westwater Ranger Station near Sulphur to the take out at Cisco. There are 11 to 16-ish rapids ranging from Class III-IV and sometimes Class V, depending on the water level, of course. Skull Rapid is situated about ¾ of the way through Marble Canyon and is always simultaneously the most daunting and exhilarating challenge of the day.
I knew we would have to reserve our spaces as early as possible because the Bureau of Land Management limits the number of commercial passengers to 75 people per day on Westwater Canyon (and is the case with most other rivers), so permits are divided among tour operators, such as Holiday River Expeditions, Adrift Adventures and Western River Expeditions. I had to find out who had the permit for the day we wanted to run the river and if they had room for 12 of us. Adrift Adventures fit the bill and I reserved our spots online.
I requested hot river guides in the comments section of my booking, you know, in lieu of any professional male entertainment for the bachelorette party. Generally speaking, there's an abundance of toned and tanned lookers in the river guide profession so my request wasn't too hard to fulfill, though I doubt they took me seriously.
The outfitter sent us a helpful list of what to pack, including water shoes, sunscreen, lip balm with SPF, quick-drying towels, sunglasses, sunglass straps, hats, swimwear, quick-drying shirts, a small waterproof dry bag, and a 20-ounce insulated water bottle with a loop cap and carabiner for attaching it to the boat. All commercial outfitters provide helmets and personal flotation devices (PFDs).
We arrived for our full-day whitewater rafting trip at 7:00 a.m. on a gorgeous, sunny day and prepped for our adventure by signing our waivers and slathering ourselves in sunscreen. The guides gave us a safety talk and divided us into two boats, though we knew we could switch vessels throughout the day so that we could all have our time with the future Mrs. And yes, we had a "cute" guide, however, at just 22-years-old — a little young for a bride tribe of 30 something gals. It was nonetheless entertaining.
Westwater Canyon never disappoints. We had an amazing day on the river getting splashed and sometimes drenched, which was not unwelcome given the soaring summer temperatures. We had a water fight and even the guides got in on it. We stopped for lunch on the beach and chatted about our favorite rapids and what shoes we were planning to wear to the wedding.
"Over wine and Drunken Noodles, we agreed to always celebrate upcoming nuptials with whitewater rafting trips in Utah."
After lunch, we hit the biggest rapids of the day, Funnel Falls, Skull and Sock-it-to-me, which also provided the biggest soaks and squeals of the day. We emerged from the take-out at Cisco around 4:00 p.m. with happy hearts and giant grins. We spent the hourlong ride back to Moab exchanging water war stories and listening to river tales from our guides. When we got back, we tipped our guides, bid them adieu and then headed to Arches Thai in Moab for the best dinner in town. Over wine and Drunken Noodles, we agreed to always celebrate upcoming nuptials with whitewater rafting trips in Utah.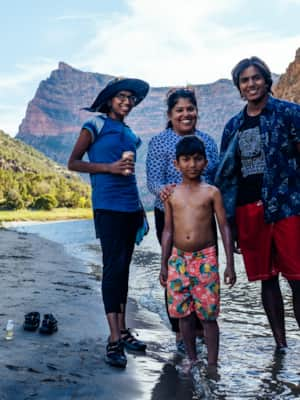 What to Wear on a River Rafting Trip
There are a variety of Utah river trips to be had, from rafting the Green River's whitewater, to leisurely floating the Colorado. Here's your packing list.