U.S. Federal Shutdown Information
All of Utah's Mighty 5 national parks will remain open.
Learn more.
Perks of Going with a Guide
Utah's diverse collection of outdoor guides has all of the expertise you need to have an adventure worth getting stoked about.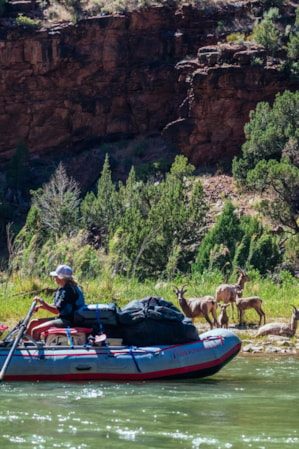 Whether you're dipping a timid toe into outdoors experiences for the very first time or you're a seasoned pro hungry to try something new, one of the most rewarding ways to see Utah's parks and wilderness areas is by going with a guide.
Guides wear a variety of hats — rock hound, river rat, enthusiast, historian — but their main mission is to make outdoor adventures more accessible and safe for individuals of all skill levels. Guides are terrain experts that supply you with the know-how, the planning, and the gear you need to navigate a new area. With the help of a guide, you can learn about local wildlife, try new activities like rock climbing or skiing, and travel deep into areas you've never been before, some of which require special permits or expertise to enter. You can also see familiar landscapes through new eyes.
"It's just a different experience," says Nushin Huq, a journalist living in Texas.
In summer 2019, Huq and her family ventured away from their standard camping trips to go on their very first river rafting experience on Utah's Green River. With the help of their guide Tyler from Dinosaur River Expeditions, the Huqs were able to experience an activity they otherwise might never try. They learned about the history and geology of the Gates of Lodore area, were taught the ins and outs of being on the river, and discovered new hikes and places through Callantine's expertise (You don't have to imagine it, see a video of their trip). They also didn't have to worry about logistics like meal preparation.

"We had a lot of fun and it was safe," Huq says. "I don't see how it would have been the same trip without a guide."
Guiding in Utah
In Utah, if you can dream it, you can probably find a guide for it. There are guides for whitewater rafting, climbing and canyoneering, horseback riding, off-road tours, ziplining, hot air ballooning, mountain biking, skiing, stargazing and more. Many of them offer part-day or full-day excursions, and you can find one for every season. (Watch: Canyoneering Robbers Roost and A Guided Ride on Gooseberry Mesa)
"Just about any outdoor activity that you can think of in Utah, there's somebody who is offering a guided experience doing that," says Brian Merrill, owner of Western River Expeditions.
One thing you can expect when looking to hire a guide or outfitter in Utah is a group of conscientious companies that hire individuals with great work ethic and a deep passion for the places and people they serve — about 80 to 90 percent of guides are local to Utah, Merrill said.
"Every year, I have a richness of applicants. Every year, I turn down dozens of people who I would love to hire, because we have such a deep pool of people who have a lot of integrity," he says.
How to Find a Guide
There are several places where you can start looking for a specialized guide in Utah. Visit Utah has compiled a list of inspirational content for traveling with a guide (like llama packing!), as well as a list of resources, such as TripAdvisor, Viator, Airbnb Experiences and local contacts. Find guided offerings in Utah
Slot Canyons: A Guided Hike Through Nature's Masterworks
It's said that southwestern Utah offers the highest concentration of slot canyons in the world. Well-prepared visitors can hike right into some of them, but the best experience is with a guide.