Discover a Love for Sailing on Utah Lake
Utah Lake is one of the largest freshwater lakes west of the Mississippi, with a rich history of sailing and plenty of options for getting on the water, from sunset cruises to educational opportunities.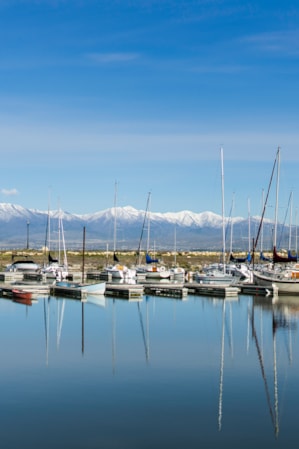 When you think of Utah, the first things that come to mind are likely red rocks, hot deserts and the Great Salt Lake, the largest saltwater lake in the entire Western Hemisphere. But the Beehive State is also home to one of the larger freshwater lakes in the country: Utah Lake.
At 24 miles long and 12 miles wide, the lake boasts a surface big enough to put your sailing skills to the test. An added bonus is that it's also shallow — nine feet on average, and just 14 feet at its deepest point — which helps keep the water warm in the spring and summer months.
A Fascinating History
Tucked in the Utah Valley just a few minutes outside Provo, Utah Lake is surrounded on three sides by the Wasatch, Traverse, and Lake mountains. Today, the lake covers approximately a quarter of the valley floor, but it's just a sliver of its former self. For tens of thousands of years during the Pleistocene Era, Lake Bonneville spanned an area almost the size of Lake Michigan. The weight of all that water, along with the buildup of 65,000 years' worth of sediment, created a remarkably flat surface at the bottom of the lake (which is why it's so shallow). But eventually, Utah Valley's climate warmed and dried, causing much of what remained of Lake Bonneville to evaporate altogether. Utah Lake is one of its modern-day remnants, along with Sevier and Rush lakes and, of course, the Great Salt Lake. Water still leaves Utah Lake by two primary means: the Jordan River, a Great Salt Lake tributary, and evaporation, which makes up nearly half its annual outflow.
The history of sailing in Utah doesn't stretch back quite as far as that of Utah Lake itself, of course, but the sport still has a long and colorful local history. When Europeans first encountered its neighbor, the vast Great Salt Lake, in the early 19th century, they thought they'd made it to the Pacific Ocean. By the 1840s, the lake had been largely explored. The first vessel to set sail on the Great Salt Lake was the Mud Hen, whose maiden voyage was probably in 1847, according to historians. It would be another 30 years before the Great Salt Lake Sailing Club was established.
Learn to Sail
Whether you're a longtime landlubber or an accomplished skipper learning to hone your skills, the Bonneville School of Sailing is a great place to start. Members of local boating organizations attend classes at Bonneville, whose owners, Todd and Louise Frye, are lifelong enthusiasts of the sport. Start with a two-hour, affordably priced "Discover Sailing" course, which gives would-be sailors an opportunity to get out on Utah Lake, get a feel for what sailing entails and, most likely, fall in love with it.
The next step up, the Basic Learn to Sail program, involves 18 hours of hands-on instruction on the lake. Bonneville is a U.S. Sailing Accredited School, which means you'll be eligible for a Basic Keelboat Certification at the end of the course. The school also offers intermediate and advanced sailing courses, along with classes that focus on advanced skills skills like offshore passage making and celestial navigation.
Before you head out for a day on the water, be sure to get your gear in order. One sailing essential is a pair of deck shoes (these will need to have a light-colored sole to avoid scuffing the deck of the boat; no sneakers with black rubber, for example). Don't forget polarized sunglasses, along with a pair of chums to keep them in place, plus sunscreen, a hat to block the sun (wide-brimmed types with a drawstring to keep it from flying off are especially helpful) and a windbreaker.
Once you're ready to expand your horizons, the Utah Sailing Association holds family-friendly and competitive events throughout the sailing season. It's also a great way to get in touch with other Utah sailors.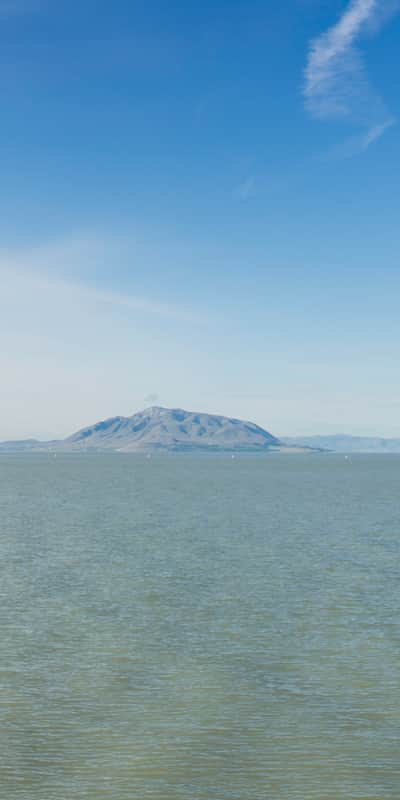 "Utah Lake's size means it offers ample ways for sailors to test their skills."
Trip Planning & Logistics:
Utah Lake itself is just 10 minutes from Provo proper, but you'll likely be heading to the Lindon Marina. The marina is about 15 minutes northwest of Provo, or 40 minutes south of Salt Lake City (GPS coordinates: 40.3260835,-111.7649513).

Lindon Marina rents a variety of boats, including sailboats. The marina's mini sailboats accommodate two sailors and rent for $25 per hour for the first hour, then $10 per hour. The marina also has plenty of parking and boat ramps, which means you likely won't have to wait to put your boat in the water, even on a busy weekend.

Advance camping reservations are recommended.

Boaters with their own sailboats can access the lake at one of 27 boat launches. Utah Lake Commission, which oversees activity on the lake, maintains a list of public access points. Most are along the lake's eastern shoreline.

Day-use entry fee required, purchase in-person or online. The Annual Utah State Park Pass is accepted for park entry.