U.S. Federal Shutdown Information
At this time, all of Utah's national parks, monuments and recreation areas remain open.
Learn more.
Lakeside Near Torrey: Three Ways
A trio of Capitol Reef-area reservoirs where you can take a dip, cast a line and cool-off.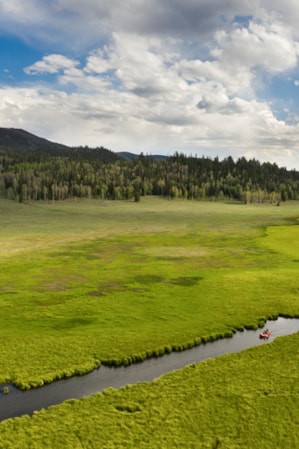 At 6,800 feet above sea level, the town of Torrey enjoys a 10 to 15 degree reprieve from the sizzling summertime temps that characterize most Southern Utah destinations. That said, one of Torrey's most delicious summer pastimes is spending time on or near the water. Thankfully one size does not fit all when it comes to hitting the shore near this charming national park gateway community. Whether you're looking for an old-fashioned, amenity-heavy day at the lake or are willing to hoof it to a high-altitude oasis for a little solitude, Torrey is the place.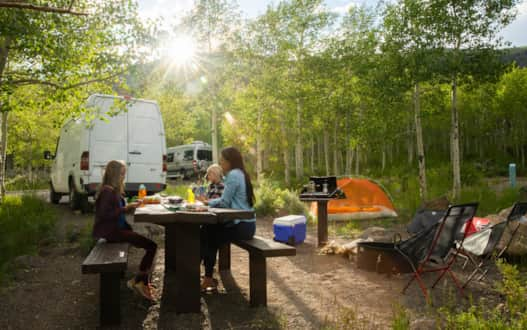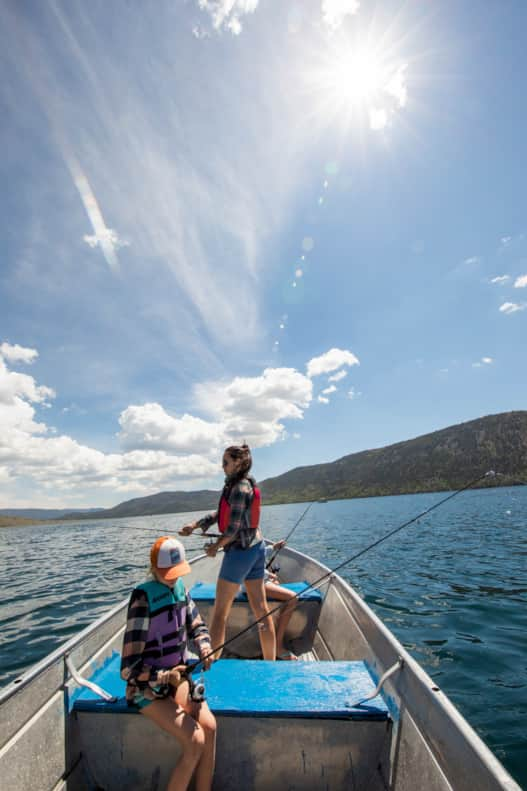 Fish Lake: An Old Timey Vibe
45-minute drive from Torrey
Three designated campgrounds (Mackinaw, Bowery Creek and Doctor Creek; each with flush toilets but no electric hookups), recreation.gov
Cabin, RV Park sites and watercraft rentals through Fish Lake Resorts
Fish Lake is, bar none, one of the most beautiful natural mountain lakes in the western United States. This six-mile long, one-mile wide body of water is located about 39 miles north of Torrey along Highway 25, better known as the Fishlake Scenic Byway. As your car climbs through Fishlake National Forest up to the lake, you'll begin to see the shimmery "Pando," a single enormous quaking aspen cluster estimated to be more than 80,000 years old. (In September, these trees' soft, green leaves turn into a sea of vibrant yellow.)
Past the trees, as the road moves to the western edge of Fish Lake, the scenery opens up to jaw-dropping views across the lake to the towering Mytoge Mountains, rising more than 1,000 feet on the lake's opposite shore. You'll soon arrive at the venerable Fish Lake Lodge — a rough-hewn-log lodge built in the 1930s — and your base camp for the day. Get out on the water to cast your line in a fishing or pontoon boat, kayak or even a paddleboard — all available for rent by the hour from the lodge's marina. (Read: An Insider's Guide to Fish Lake). Fish Lake is also renowned by anglers who flock there to bag rainbow, splake, brown and Mackinaw trout from the lake's cold depths (Read: Fishing Fish Lake).
If fishing is not your jam, no problem. The 17-mile Fish Lake Loop trail circumnavigates the lake, beginning and ending at the lodge, and is popular with both hikers and mountain bikers. Nearby the lodge, the trail is fairly flat and is scattered with benches and multiple access points to the shore. The trail offers more challenge and solitude on the eastern side of the lake, where the route travels through several steeper and more technical stretches before returning to the lodge. Or leave the adventuring to someone else and simply grab an ice cream cone from the lakeside store, find a seat on the lodge's wide and uber-charming old porch and spend an afternoon soaking in Fish Lake's unparalleled views.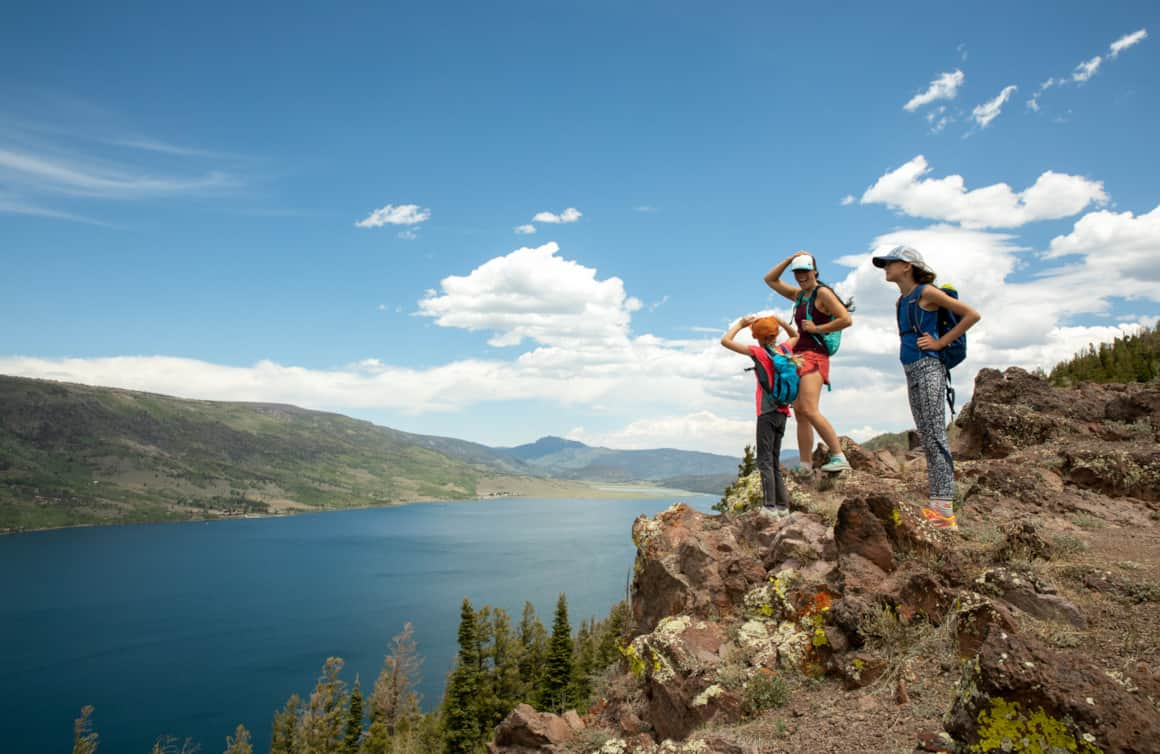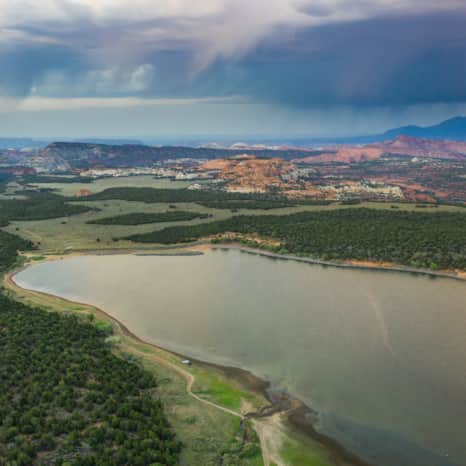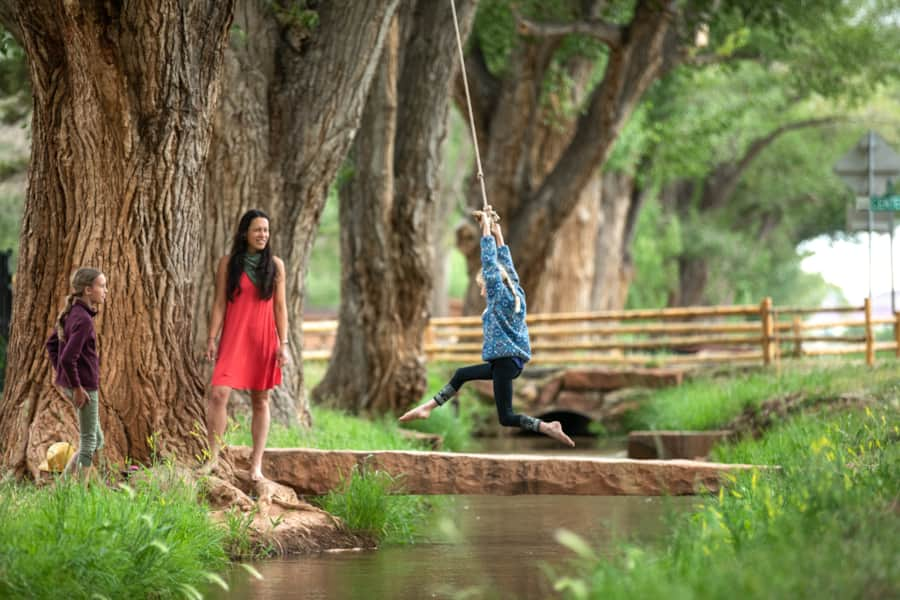 Lower Bowns Reservoir: Into the Wild
45 minute drive from Torrey
Primitive and dispersed camping available
No rentals on-site
About 22 miles south of Torrey just off the stunning All-American Road: Scenic Byway 12 is Lower Bowns Reservoir, a wild and rugged oasis tucked up on the highest timbered plateau in North America: Boulder Mountain. Amid its cool pine and aspen forests are more than 80 lakes, including Lower Bowns, many of which are accessed via rough, two-track roads or after a short hike. Fishing and backpacking are popular throughout the mountain, as is driving Highway 12 over into the town of Boulder, home to the famed Hell's Backbone Grill. Spend the day or several at Lower Bowns Campground. Reserve one of the campground's four individual sites or the 50-person group site, each outfitted with a fire ring and picnic table, within the campground. (Pit toilets are located on site, but potable water is not available, so be sure to bring plenty of your own.) Day-use parking and dispersed camping are allowed along the two-track road traversing the reservoir's north and southeast sides.
Hike, fish, pedal a mountain bike or ride an ATV — find ATV rentals, with or without a guide, in Torrey at Fremont River Guides — around the south and east sides of the reservoir to one of many sandy beaches. This reservoir is typically quiet even on summer's busiest holiday weekends, making it an ideal destination to find solitude while dropping a line, swimming, picnicking or just hanging out along its shores. Several mountain biking and ATV trails bisect this area, including the Oak Creek Trail. Maps, local info and a picnic area are all available at the Wildcat Rest Area and Information Center, open Memorial Day to Labor Day and located just north of the turn-off to Lower Bowns Reservoir.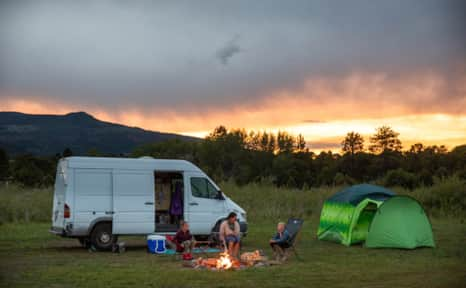 Blind Lake: A High-Country Gem
30 minute drive from Torrey to the Blind Lake trailhead
Dispersed camping available
No rentals on-site
Blind Lake, the largest of Boulder Mountain's 80 lakes, is a stunningly scenic reservoir accessed by a relatively easy, 1.3-mile hike. To get there, take Scenic Byway 12 from Torrey for about five miles to a right turn onto the dirt Blind Lake/North Slope Road. The trailhead is about 8 miles from the pavement — a four-wheel drive, high-clearance vehicle is recommended.
From the trailhead parking area, the path to the lake meanders through aspen and Ponderosa pine trees past two smaller lakes — which, truth be told, are more similar to ponds than lakes. You'll climb a gentle rise before the big reveal: a glittering, turquoise-hued lake framed by a craggy Donkey Point moraine on the far shore. The trail continues around the lake for about two miles, offering access to multiple campsites (Blind Lake is an excellent place for a short, family-friendly backpacking overnight.) and several open, though rocky, spots to hunker down for lunch, to cast for trout or, for the truly adventurous, launch a stand-up paddleboard.
You can circle the lake in either direction, but if you choose to go around counter-clockwise, consider making the mile-long, side trip to Green Lake, well-marked with a sign about a third of a mile from where you first viewed Blind Lake. Swimming at Blind Lake is allowed — though at an elevation of 10,000 feet above sea level, prepare for the water to be brisk. A cool breeze is a welcome constant, keeping the bugs (mostly) at bay. Be sure to stuff a windbreaker or puffy jacket into your pack as cool can quickly become cold at this high elevation.
For more dining options in Torrey, browse the dining guide.
For more things to do in and around Torrey, read the insider's guide.