Paddle Among Red Rocks and Waterfalls at Gunlock Reservoir State Park
Gunlock State Park is about 15 miles from St. George and offers warm and clear water for a variety of watersports. It's a popular spot for locals to cool off on a hot day or have a picnic in a beautiful setting.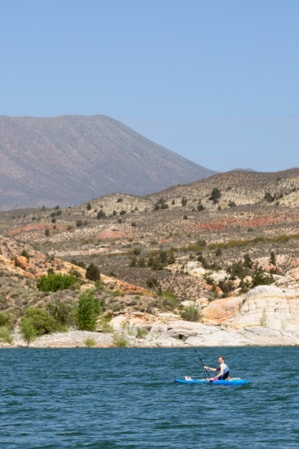 The sparkling blue waters of Gunlock Reservoir stand in stark contrast to the fragrant sagebrush scattered about the otherwise arid desert landscape. The surprisingly warm and clear waters found in Gunlock State Park is a rare treat. Located about 15 miles northwest of St. George in southwestern Utah, it's a wonderful respite from the heat of summer, and a beautiful, tranquil place to be any time of the year.
The park and the nearby town of Gunlock were both named after "Gunlock" Will Hamblin, a Mormon pioneer and the area's first settler. A skillful hunter and marksman, he was also known locally for his abilities for repairing gunlocks, the firing mechanisms for muzzleloaders — an important skill back in the day.
What to Do
Surrounded by sandstone and lava rock mountains, the park is mostly a day-use area for water sports, picnicking, swimming and simply lounging by the water keeping cool. The 240-acre lake is popular in the summer for all manner of boating action, from stand-up paddleboards (SUP) and kayaks to jet skis and power boats. The fee is $10 for day-use and that includes watercraft launches at the boat ramp.
Play pioneer and bring a canoe or kayak to paddle the numerous coves and explore the shoreline. It's a great spot for beginners and kids to get a good feel for the water. The mild winter climate (and warm water temperature) make Gunlock a great year-round destination.
If you don't have your own boat, the marina rents many different types of watercraft for the day or weekend. Want to try something new? Take a water ski or wakeboard lesson to get you started. And if you are really feeling ambitious, a SUP yoga class will put your balance skills to the test.
One aspect of Gunlock that makes it unique is its interesting — and plentiful — driftwood. The park has become a bit of a mecca for artists and other driftwood hunters. In the spring after heavy snow years, the Santa Clara overflows and deposits the sought-after treasure in abundance along the shore. Spend an afternoon building a driftwood fort or take a couple of pieces home to add a feature to your garden.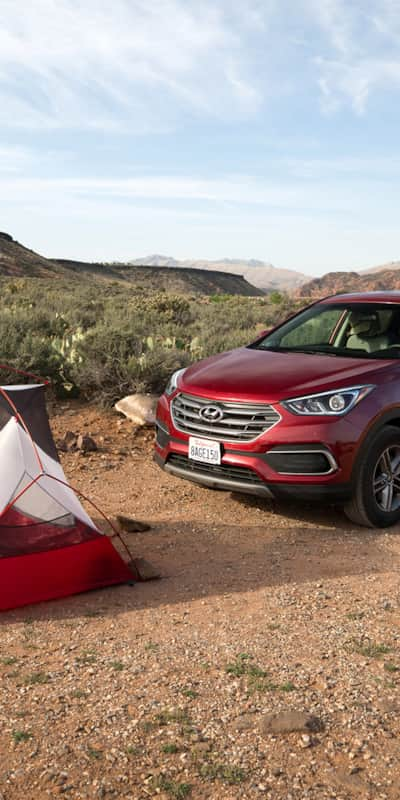 "The park has become a bit of a mecca for artists."
Off the water at Gunlock, play a game of hide-and-seek on the Manganese Wash Trail. This seldom-traveled delight crosses over the spillway and weaves up through a narrow slot canyon. The whole out-and-back trail is mostly flat and just over three miles long. The highest the walls get is maybe 25 feet, so consider it canyoneering for beginners — you'll never have to scale or rappel those walls, either.
For the anglers out there, the fishing at Gunlock Reservoir is good, with largemouth bass, crappie bluegill, rainbow trout and channel catfish out there to catch. The park service has been making efforts for several years to develop the fishing here, and it's starting to pay off.
Don't Miss the Waterfalls
If you visit in the spring or during high water, you must see the parks iconic waterfalls, which cascade over the sunset-colored boulders. When the reservoir was built in 1970, engineers used the area's iconic red rocks as a natural spillway. With a little caution, it's fun to boulder hop around the falls and see the pools between the rocks. If you're brave enough, try a little cliff jumping into some of the deeper pools or take a ride one of the natural waterslides. A couple of short hikes in the park will take you to the waterfalls. The tumbling waters create quite a roar and make for some frame-worthy pictures. Get there for sunrise or sunset to get the most of the flame-colored landscape.
Camping
To make a weekend out of the trip, camping is allowed on beaches. There is also a primitive campground with five sites available on a first-come, first-served basis. The camping fee is $20 per site. Feel free to bring Fido as dogs on leashes are allowed. And come prepared — while there are toilets there is no fresh water or other facilities.
Getting There
From St. George, take W. Old Highway 91 for about 12 miles. Bear right onto to Gunlock Dr. for 5.8 miles. The park is on your left. Day-use entry fee required, purchase in-person or online. The Annual Utah State Park Pass is accepted for park entry.