St. George Scene: Cliffside and The Bear Paw
St. George is an outdoor recreation hotspot in southwestern Utah. When explorers need to grab a bite to start or re-fuel after a long day, they often head to the Bear Paw Cafe or the Cliffside Restaurant — among many other great restaurants.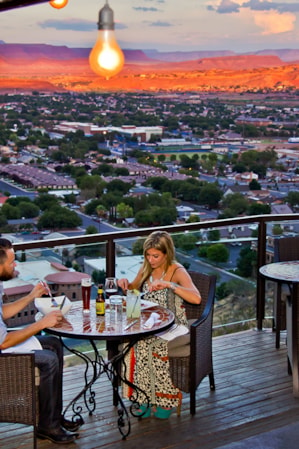 St. George is an outdoor recreation hotspot in Southwestern Utah, drawing thousands of adventure enthusiasts to the area each year. When these explorers need to grab a bite to start the day or re-fuel after a long day, they often head to the Bear Paw Cafe or the Cliffside Restaurant — though the growing city is now home to several highly regarded great
places to eat
.
For the first meal of the day, you'll want to try the Bear Paw Cafe, which is known for its "world-famous" Belgian waffles. You can choose from six different flavors that range from apple spice to chocolate fudge — this will make your children very happy. But, if fancy waffles aren't your thing, don't worry, they also have a more traditional menu with bacon, eggs, and pancakes. And if you want to go old-fashioned, turn to their Old Fashioned French Toast. They state they cut their egg bread "Alaskan size," which we'll admit is bigger than Utah, then dip in a decadent batter of eggs, cream, vanilla, baking powder, brown sugar, cinnamon and nutmeg. You know the rest from there, and it comes out golden brown and ready to be 'grammed.
Once you decide on your meal, you may think your decision-making for the morning is over, but it's not. It's almost impossible to pass on one of Bear Paws "Good Morning Specialty Drinks," like the Dixie Sunrise (a nice blend of orange, grapefruit, and cranberry juice), the Bishops Mary (like a Bloody Mary, sans the alcohol), and the famous Bear Paw Hot Chocolate, that has real whipping cream and sprinkles of chocolate vermicelli — again, remember the children. Of course, you can always get a coffee as well.
If you're in the mood for lunch, they have delicious salads, Italian-style paninis on focaccia bread, and other specialty sandwiches. You can also order anything on the menu to go, so think about what sustenance you may need on your day's adventure, and be sure to stock up at the Bear Paw.
This quaint spot is located in downtown St. George at 75 North Main Street. It's open 365 days a year 7.am.–3pm.
After a long day exploring the outdoors, the Cliffside Restaurant located just outside of town, is the place to go. In addition to its great menu, Cliffside is known for its spectacular views of St. George and the surrounding area — be sure to get there early and request a seat on the patio.
There's no doubt you're probably pretty hungry at this point in the day, and Cliffside has got you got you covered with delicious starters like coconut crusted shrimp, soy braised beef springrolls, and roasted garlic hummus. Follow that with any number of dinner options — everything from pasta to steak and fresh seafood to the famed Cliffside burger. If you've got room to spare, you can choose from a wide variety of desserts ranging from fresh fruit sorbet to molten cake or house-speciality, lilikoi cheesecake, made with passion fruit puree and vanilla custard sauce.
All of these wonderful dishes are created by the award-winning, Le Cordon Bleu College of Culinary Arts graduate Chef Jared Painter. Painter's style is a blend of "modern and classic" and his menu "straightforward, delicious, American style with bold flavors," plated with an elegant touch.
The Cliffside Restaurant resides at 511 S. Airport Road in the same building as
Inn on the Cliff
. It's open Monday through Saturday 11 a.m.–3 p.m. for lunch. Dinner is served Monday through Thursday 5 p.m.–9.pm., and Friday and Saturday from 5 p.m.–10 p.m. The restaurant is closed on Sunday. The Cliffside Restaurant is open to groups. Casual attire is appropriate, and entrees range from $15-29.