Flood Safety
Due to record snowpack and high amounts of spring runoff, please be advised of potential flooding that could impact travel plans.
Learn more
Kayak and Stand Up Paddleboard Lake Powell
Slip into the mighty Lake Powell with a personal, self-propelled watercraft, and enjoy a whole different experience than the boats flying down the lake.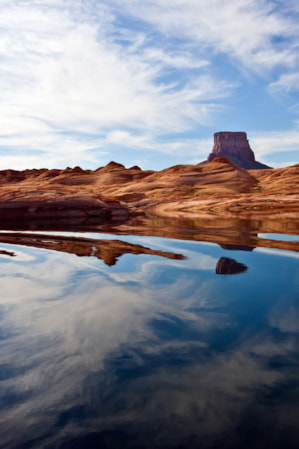 Slip into the mighty Lake Powell with a personal, self-propelled watercraft and have a whole different experience than the boats flying down the lake. Stand up paddling (SUP) is the fastest growing sport in the country, and it's easy to see why. On any given day on Lake Powell, five-year-olds to 65-year-olds walk on the water, which demonstrates the diversity of SUP. It's fun, and can be a mellow time or an extreme workout. While kayaking isn't trending as hard, it is an equally enjoyable way to pass the day on the lake.

You can rent SUPs or kayaks from the concessionaire at Bullfrog Marina, ARAMARK, for a fraction of what it costs for boats, and you have the option to head out for an hour or the day. If you've never SUPed before, it generally takes about an hour to get the feel for it, then you're off (don't expect to cover too much ground, though, because that's not what they are made for).
Those interested in kayaks should get a sit-on-top version for day trips. These are great to pile some gear and snacks into and try to get farther out from the marina. There, you can get some solitude and try to perch on a beautiful beach for a bit.

Bullfrog Marina — and the northern section of Lake Powell, in general — is better for self-propelled water devices, because the lake is more narrow and less populated, hence less wakes from power boats.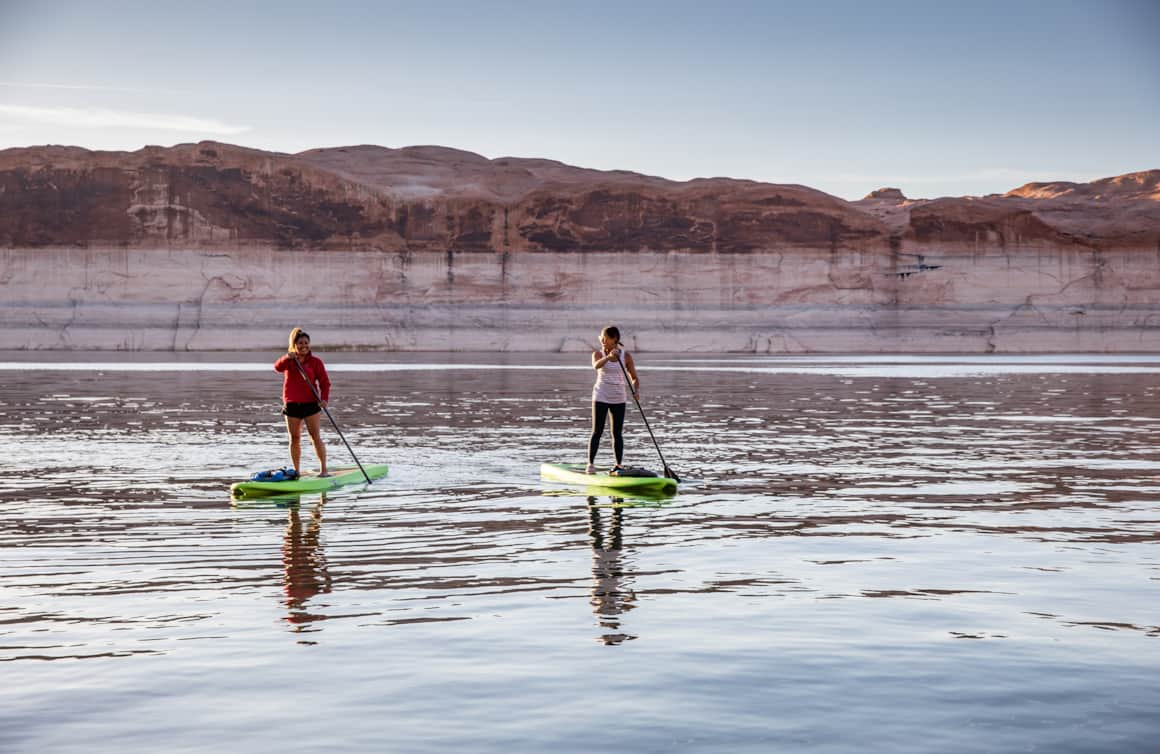 What Makes it Great
You'll row, row, row your boat slowly and have plenty of time to think about the ancient walls of Glen Canyon, now buried beneath 400 feet of water. You'll be able to watch fish jump all around you and see wildlife in its natural environs. The downside is that you won't see as much in terms of mileage covered, but it's really about quality over quantity when it comes to nature, right?

Get out on the water with your friends and family and explore. Unless you have a week or two to travel, you won't be heading to Rainbow Bridge or anything that far south from Bullfrog. But you will be able to paddle around the bay. If you can hire or hitch a ride with a powerboat, that will open up some options, such as getting out to canyons like Moqui, Crystal Fork, Forgotten, or Smith Fork, all of which have great hiking options. (Read: Hiking Laking Powell)

Wherever you decide put in, doing the kayak or SUP thing on Lake Powell is a great idea if you want to mix up your lakecation.
What You'll Remember
Being right on top of the pristine waters of Lake Powell; taking your time to travel and really absorb the nooks and crannies of the lake; the excellent workout you get from all of the rowing. Kayaking and paddling the placid, cool waters of Lake Powell is perfect for those with a lust for the paddle and a scorn for the engine and families who prefer to do rather than sit.
---
Resources
Learn more about safety, launching points and kayaking routes from the National Park Service
Learn more about Lake Powell camping, marina and activity info