U.S. Federal Shutdown Information
At this time, all of Utah's national parks, monuments and recreation areas remain open.
Learn more.
AndShe'sDopeToo: Giving Roots To Adventure
Retreats and rendezvous where women find their footing outdoors regardless of age, background, or skill level — and discover the unexpected.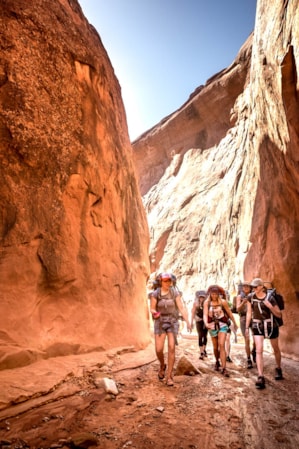 "When you're climbing, you don't think about anything else. You're not worried about other life stresses because you're just thinking, 'don't fall,'" says Jenn Killian, co-founder of the women's outdoor collective, AndShe'sDopeToo. That spirit underscores the value of taking a time-out to actively connect with nature.
The idea for AndShe'sDopeToo (ASDT) began with an Instagram account and a yoga meetup at a local climbing gym in Ogden, Utah, where husband and wife founders Jenn and Taylor Killian reside (Watch: "ASDT's Insider's Guide to Ogden"). Forty women showed up, most of whom had never been to a climbing gym. "That's when it clicked that we need to do this more," says Jenn. They'd stumbled upon an unmet need for women who crave outdoor adventures but hesitate to explore on their own.
Jenn raised the question about outdoor recreation, "How many women have had bad experiences going with boyfriends or people beyond their skill level, pushed to try things without the right equipment and had a miserable time and didn't go back?" Taylor, a Utah native, explains that he had his "core group" of people to explore with, unlike Jenn who was raised in a California suburb with less access to nature. So he created an Instagram account to support Jenn in finding a network of like-minded women with a shared desire to explore the outdoors on their own terms. Finding other women to accompany her would be pivotal to Jenn's transformation into a confident, independent outdoor enthusiast.
Using hashtags #womenintheoutdoors and #andshesdopetoo they found a quick following and were soon planning Utah meetups for women to hike and try new things, like rock climbing or mountain biking. Jenn says her first backpacking trip with another woman in the Uinta Mountains was a game-changer. She'd found her own footing and was hooked.
Since 2016, they've operated the successful ASDT, with hundreds of participants traveling each year to their weekend Rendezvous and week-long retreats. The majority come from states other than Utah, and about 45 percent come alone, but leave with new friends and a renewed sense of self and belonging.
"ASDT's Rendezvous and retreats present opportunities for women to do things they never thought they could do. And then go back home to their daily lives a better person."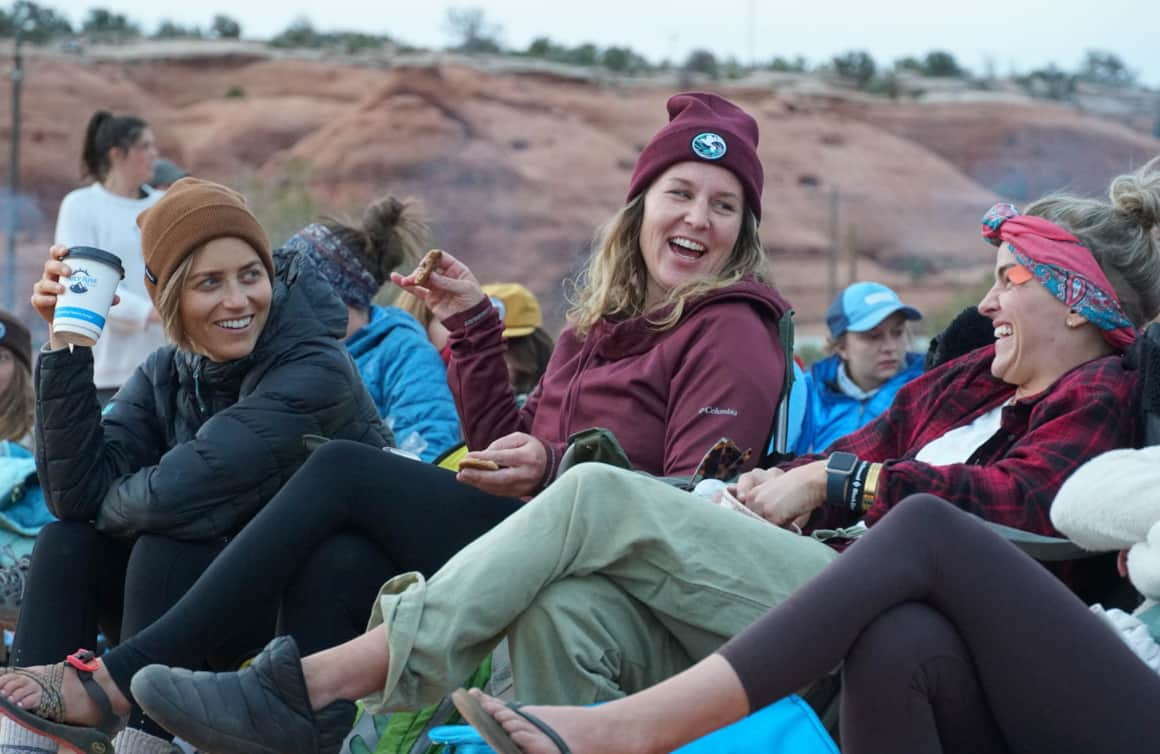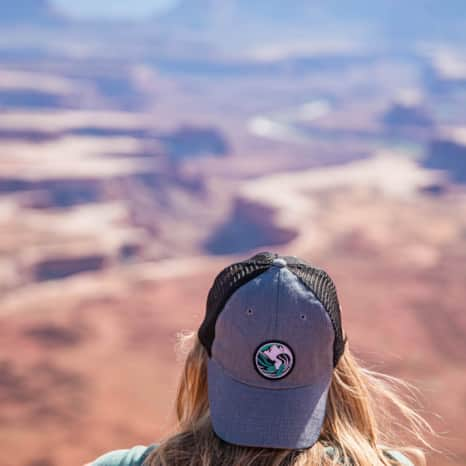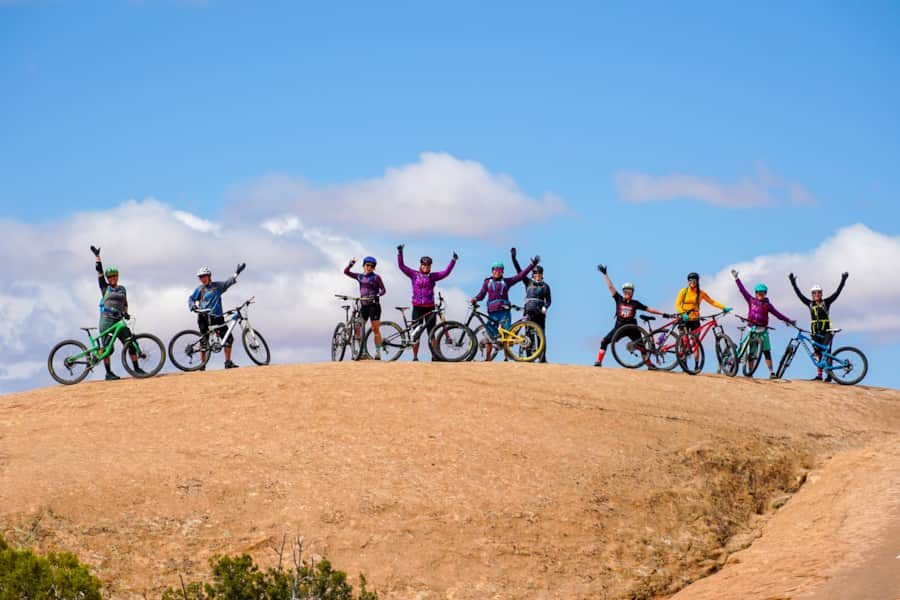 Four years ago ASDT launched the Lady Wild Film Festival to enrich the local community and raise funds for their own outdoor film production — "Moksha." After a substantial turnout it became an annual event that also tours to sponsor-specific hometowns like Backcountry.com in Park City and LIV/Giant Bicycles in Newbury Park, California. "Moksha" was released worldwide on Vimeo in March 2019 for International Women's Day. It has been screened at more than forty festivals in more than ten countries and received the Best in Show award at numerous festivals.
Women want to explore the amazing places they see in outdoor films and images on social media but backpacking through narrow slot canyons in areas like Grand Staircase–Escalante National Monument can seem daunting. The goal for ASDT is to create the best possible atmosphere for women to experience outdoor adventures with confidence. Expert female guides, educational workshops, wholesome fresh foods made on-site, and all the necessary equipment (for retreats) are provided to make it happen.
ASDT's Director of Operations Jessie Roberts has attended almost every Rendezvous, or "Roo," since the beginning, where she started out as a solo participant. "I love coming together with other women who take the plunge to join an event no matter where they are at in life," she says. "It is an incredibly eye-opening and inspiring thing for women to be so vulnerable and encouraging."
Taylor and Jenn mindfully created a culture of inclusiveness and non-judgment at their events, free from competition or comparisons, for women of all backgrounds, ages 21+, and skill levels. "Every experience level, age, body and personality types you can imagine participates, but I'd imagine the vast majority feel the same; that they can come and be welcomed as they are — and leave feeling accepted and inspired," Jessie says. "I have learned that I can be anyone I want to be."
Moab is the chosen location for the bi-annual spring and fall Rendezvous because of its accessibility to so many different adventures — hiking, trail running, camping, stand up paddleboarding on the Colorado River, mountain biking, climbing, all in one place. Another draw is the unmatched, captivating beauty of Moab's red rock cliffs, rugged desert terrain with views of the snow-topped La Sal Mountains in the distance. "It's one of the most unique places in the world, and it's home to us," Jenn says.
Guides pick trails that are friendly for all abilities, but also challenging enough for women who want to push their limits. Many of the participants, typically ranging in age from 22-66, attend the Rendezvous for an annual women's trip, extending their Moab stay to visit neighboring Arches or Canyonlands national parks or nearby state parks. Some have moved closer to Utah and the women they met at the Rendezvous so they can continuously enjoy their new outdoor lifestyle.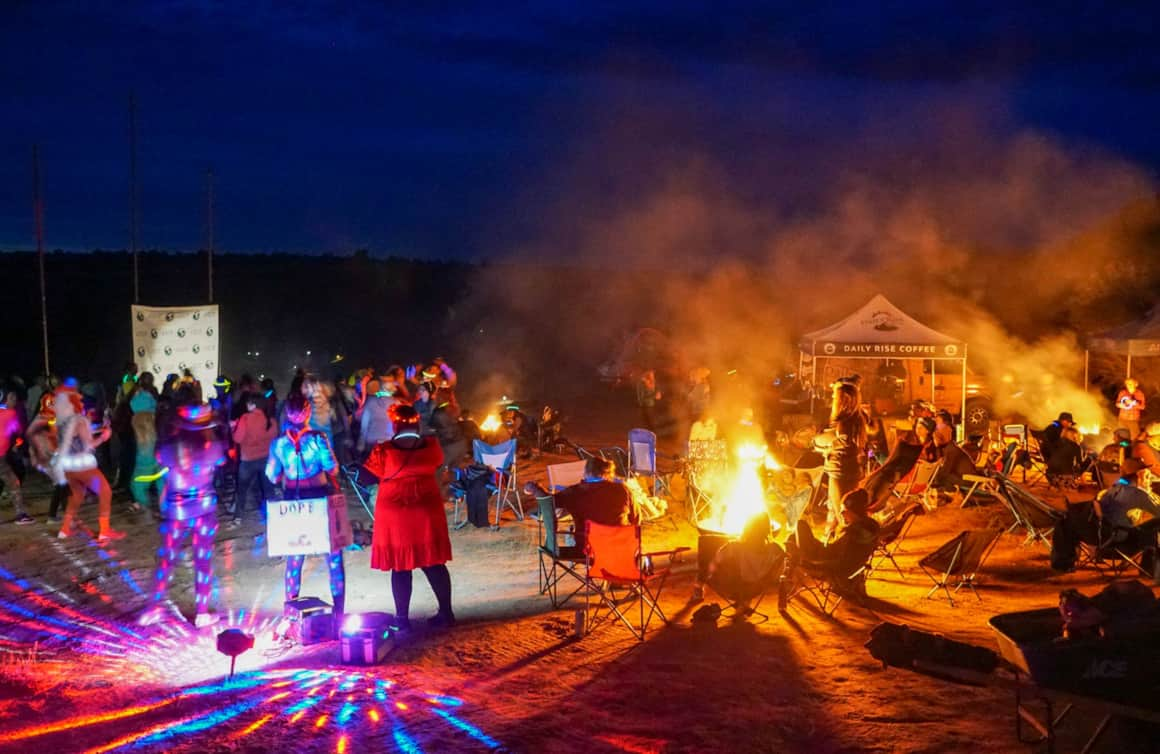 Clare Martin, who relocated to Colorado from the United Kingdom six years ago, attended her first Roo in 2018. "It was the perfect way to recover from a bad crash I had earlier in the year," she says. "By the end of the weekend I'd got some mojo back!" She returned for the spring and fall Roos in 2019 and booked for the spring 2020 Roo. "They really mean what they say that it is a no-judgment philosophy at the events," says Clare, who has also attended two of ASDT's mountain biking retreats. "I can now paddleboard down the river without being completely terrified. One day I might even try paddleboard yoga."
Cheryl Lewis stumbled across the Rendezvous on Instagram when she was traveling alone in the area and begged her way into the sold-out weekend retreat. "I was unsure I'd fit in. The majority of the girls signed up are much younger than I am, and honestly, the older I've gotten, the more of a happy loner I've become. Still, I was intrigued and simply yearned to sit around the campfire with all these women who love nature and the west as I do," she writes in a blogpost about the event.
It was more than she expected. Cheryl chronicles all the details of the warm collective embrace she received that weekend: "They were delighted to see someone a generation older (a white-haired lady, no less) traversing the country alone and doing the things they love. That was an aha! moment for me — that it's important to honor your inner voice, even if it's sometimes unconventional!" By Saturday night, Cheryl had joined the lineup of speakers and says she shared her favorite party trick "spewing fire." For Cheryl, and many others, the community embodies much that matters deeply: nature, an active, adventurous lifestyle, genuine connection and acceptance!
And that's Jenn's main purpose in facilitating these events — to bring women together for real connection in a safe space where there is no agenda, no body shaming or competition. Where you're free to come as you are and you don't have to prove anything. Jenn says there was a period in her life where she'd "lost her self-love and confidence," which affected her as a mom, sister, wife, daughter and person. "When women come together they are no longer those titles. They get to just be."
ASDT's Rendezvous and retreats present opportunities for women to do things they never thought they could do. And then go back home to their daily lives a better person.