Moab's Singletrack Renaissance
New must-do MTB trails in the Moab area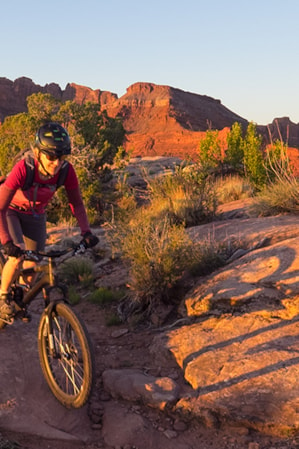 It's that time of year. Pull up to any campground or trailhead in Moab, and you'll be greeted by a dozen Subarus and SUVs adorned with mud-caked mountain bikes. Sure, you'll drool over some high-end bikes, but Moab isn't just for burly slickrock riders anymore. In the last few years, local groups have established dozens of miles of new mountain bike trails ranging in difficulty from relatively flat and well-graded to super-technical. mountain biking happens all year long due to the mild weather and various trails

Mountain bike season may be in full swing, but don't worry — in the midst of Moab's singletrack renaissance, there's plenty of trail to go around (Read: "Winter Mountain Biking in Southern Utah").
---
TRAIL RATING
ADVANCED •••
INTERMEDIATE ••
NOVICE •
Magnificent 7 •••
The aptly named Magnificent 7 or Mag 7 network encompasses seven trails of medium-to-advanced difficulty: Gemini Bridges Road, Bull Run, Arth's Corner, Little Canyon, Gold Bar Rim, Golden Spike, Poison Spider and Portal. The trails' grueling climbs and exposed descents alternate between techy singletrack and steep slickrock (some of it's mandatory hike-a-bike), but the views are well worth the effort. Plan to leave a car at the Poison Spider Trailhead on Potash Road (Route 279) — you'll be ready to head straight into town when you finish this beast of a ride — or, if you haven't quite worked up a Milt's Stop & Eat appetite, ride back out to your vehicle on Route 313 at Gemini Bridges.
Bar M Trails •••
Bar M — also known as the Moab Brands Area — is the ideal place to bring a group with mixed ability levels. Trails vary in difficulty from beginner to lower advanced, and you can expect a healthy mix of singletrack and slickrock — plus a little sand thrown in here and there for good measure. Feeling confident? Challenge your endurance with big drops and steep sandstone ascents (nearly 800 feet, all of it technically advanced) on Deadman's Ridge. Newer riders will delight in the numerous spur trails off the main Bar M Loop. To maximize saddle time, take a shuttle to the trailhead, then have your crew rendezvous at the parking lot post-ride for a quick (downhill) cruise into town.
Intrepid Trail System •
It's impossible to emphasize too much what a gem this loop is. The Intrepid Trail System in Dead Horse Point State Park originally opened in 2009, then got a reboot in 2014 with new singletrack west of Route 313. Newbies can ride the loop counter-clockwise, building confidence as the trail becomes increasingly technical. Seasoned MTBers will have no trouble taking their eyes off the easier elements on the east side of the highway for the sake of the postcard-worthy view. Things do heat up though when you cross the highway — don't worry, Intrepid offers numerous chances to bail. When you've finished the 14-mile loop, it's worth pedaling up to the Dead Horse Point overlook for a look at the majestic canyonlands.
Klondike Bluff Trail System ••
The Klondike Bluff Area has long been known as a solid, worthy intermediate area, and it's only getting better. With the addition of the Alaska Trail in 2013, it is, hands down, a must-do Moab ride. Get your heart pumping with the well-loved Outside Loop. Climb Mega Steps to the Baby Steps 4x4 road, bomb down Little Salty, and keep an eye out for the UFO — you'll know it when you see it. Don't let the subsequent Baby Step Loops get you too big for your britches because EKG will quickly have you on your toes with continuous ledgy, bumpy slickrock. That grimace will turn to a smile at the end of your ride, though — take a quick lap back up Mega Steps so you can descend Alaska. No matter how badly you've been wishing for snow on a sweltering desert afternoon, a few miles on these northern-named trails and you won't want to be anywhere else in the world.
Lower Monitor and Merrimac ••
This is Moab adventure biking at its finest. You'll take in views of quintessential Moab landmarks like Courthouse Wash, and the Monitor and Merrimac buttes, and it's worth the brief, bikeless detour up the marked Dinosaur Trail to see fossilized dinosaur tracks. The Lower Monitor and Merrimac Loop is perfect for those looking to up their slickrock game; with mellower climbs, humbler (and less consequential) ledges, and shorter sand traps, you can get a feel for riding slickrock without the pressure of its iconic namesake trail.
Klonzo Trails ••
Ready to make the jump from beginner to intermediate? Now that you've mastered the basics, head 12 miles north of Moab to the Klonzo Trails, where you'll encounter gentle grades, unbeatable views and a perfect intro to tight, flowy desert singletrack. Trail sections are short and sweet so you can ride as little, or as much, as you like. Be sure to hit the Secret Passage (counter-clockwise is best), where you'll get to explore a hidden valley on smooth, swoopy singletrack. For a big day — and to earn those post-ride campfire s'mores — explore Klonzo, then take the Zephyr Trail to the Bar M trail system.