Arches Timed Entry
From April 1 through October 31, 2023, daytime visitors to Arches National Park are required to have a timed entry ticket to enter the park. Reservations open three months in advance.
More information at go.nps.gov/archesticket.
U.S. Federal Shutdown Information
At this time, all of Utah's national parks, monuments and recreation areas remain open.
Learn more.
Visit With Respect
The red rock desert is a fragile ecosystem, and visitors should take special care to protect it. Practice Leave No Trace principles to ensure that all parts of the park are left as nature intended.
Pack out everything you bring with you, including food wrappers, tissues and even crumbs. Arches requires visitors to pack out solid human waste, toilet paper and hygiene items. (Read: "How to Poop in the Outdoors")
Stay on existing trails and do not travel off course or "bust the crust." A single footstep can cause damage that lasts for decades. Rock cairns, or rock piles, are trail markers. Do not disturb them or add new ones, as they could mislead other hikers.
Treat the arches and other geologic features with respect, both to protect them and for your safety. Walking, climbing and scrambling on arches — even for a quick photo — is not permitted.
Leave rocks, plants, animals and natural objects as you found them. Never leave marks or scratches on rocks or other surfaces and admire artifacts and natural features from a distance without touching or disturbing. Tree carvings, rock etchings and spray painting are forms of vandalism and graffiti, which are illegal on public lands.
Respect the wildlife that make Arches National Park their home. Keep your distance, and if an animal changes its behavior due to your presence, you are too close. Secure your food so animals cannot access it, and never feed wildlife.
Camp only in designated areas on durable surfaces and follow all campfire rules and regulations.
Leave drones and pets at home. The use of off-highway vehicles (ATVs, OHV, UTVs, etc.) is also not allowed in Arches National Park.
Be courteous to other visitors by minimizing noise, yielding to others on trails and respecting trail and transportation signage.
Show consideration for other visitors, and be a mindful photographer. Arches is an internationally-certified Dark Sky Park, making it a prime location for night photography or stargazing (Panorama Point and the Windows Section are great spots for evening views). Do note that using artificial light sources to illuminate park features for photography is not permitted.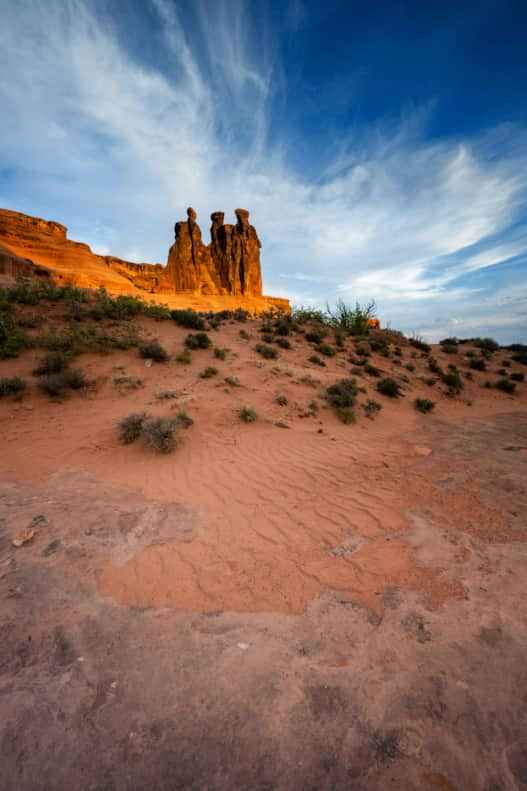 "This wondrous landscape has evolved over 300 million years, and as visitors, it is our responsibility to protect this cherished land for future generations."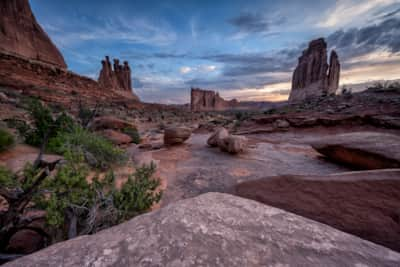 Take Care of Yourself
Take care of yourself and your companions by planning ahead and knowing what to expect on your visit to Arches.
Prepare for the Heat
Southeastern Utah gets hot in the summer, and daytime temperatures can exceed 100°F. Avoid exertion or overheating during the peak temperatures of the day. Consider hiking in the cool of the mornings and evenings. There is very little shade on most trails within the park. Protect yourself with sunscreen, sunglasses, a hat and protective clothing.
Stay Hydrated
Heat and dry desert air can quickly lead to dehydration. Bring a minimum of one gallon of water per person per day, and remember to drink it. You can top up your refillable water container at the visitor center or Devil's Garden parking area.
Pack Your Essentials
Bring plenty of water, food, navigational equipment (including a map) and all the gear you will need (including sun protection, sturdy footwear, layers of clothing, and a first aid kit) to be self-sufficient. People get into trouble and require rescue each year even on popular trails like Devils Garden and Delicate Arch. Food is not available in the park, so bring what you'll need.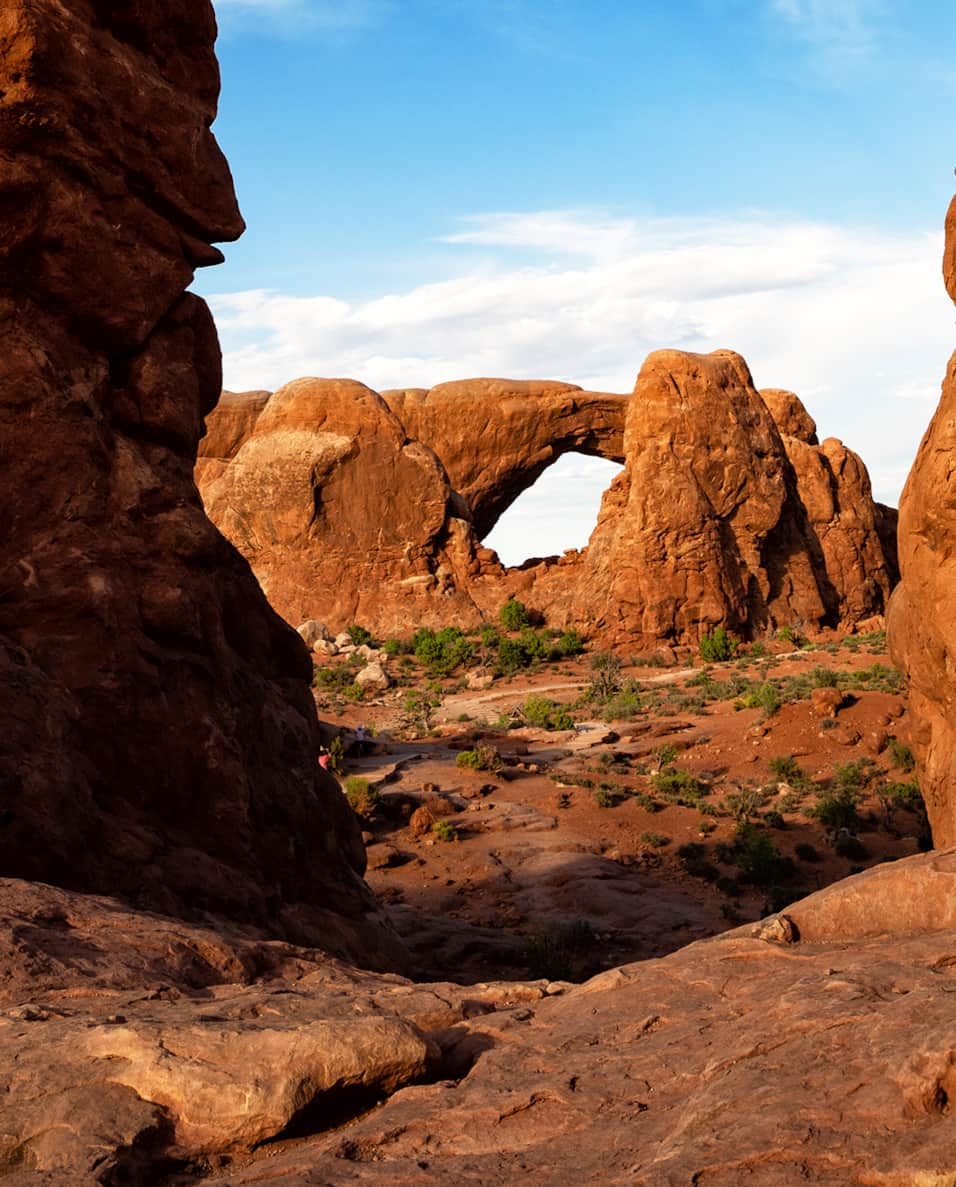 The Complete Arches Trip
Discover a new side of Arches National Park with this four day itinerary. Start exploring the hidden gems in the Arches region today.
Highlights
Arches National Park
Colorado River Rafting Trips
Delicate Arch
Dead Horse Point State Park
Manti-La Sal National Forest